JAC became famous worldwide in January when we showed pictures of a pickup prototype that looked very much like the Ford F-150. The first story on the JAC 4R3 is still the most commented story on this website. JAC planned to show the 4R3 on the Beijing Auto Show in April but Ford hired lawyers and it didn't happen. JAC, likely wisely, decided instead to redesign the thing.
The grille is completely new. Very chromed, perfectly in line with the manic chrome-trend that keeps all automakers in China busy adding more and more of the shiny stuff. The JAC-logo is the biggest brand logo on a Chinese vehicle I have ever seen. Impressive. Head lights new too, more round and sporty. This truck might actually look better than that old Ford…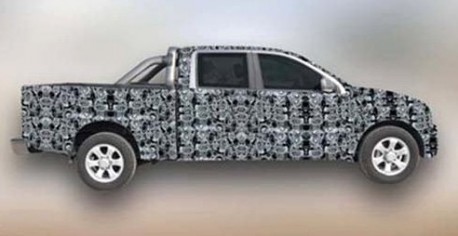 Except for the front the vehicle is exactly the same, even the 6-spoke alloys are the same as on the 4R3. Power will come from a 2.8 liter 4-cylinder diesel engine, good for 108hp and 240nm, and there might be a petrol engine as well. Size (unconfirmed): 5030×1720×1735. Price will start from around 100.000 yuan or 16.000 USD.
Pics via: Autohome.