A very interesting fourth generation Pontiac Firebird, seen in the great city of Shenzhen in Guangdong Province. The good car has been sexed up considerably with a Ferrari badge and a body kit that includes a completely new nose with Audi-style LED-lights.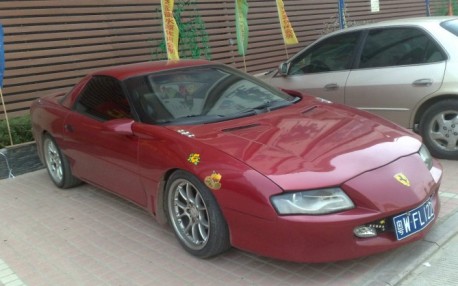 The kit continues with extra plastic under the doors, around the mirrors and on the back. The bonnet is made more sporty with fake air vents. Tires seem flat as slicks and 10-spoke alloys are very racy. But about which Ferrari exactly was the owner thinking when he created this masterpiece?
The 4th generation Pontiac Firebird was made from 1993 until 2002, power came from a 3.4 V6, a 3.8 V6, or a mighty 5.7 V8. We met a few non-Ferrari examples: red convertible, red wedding car, and yellow.