New spy shots of the Beijing Auto B80VJ testing in China. The last time we saw the vehicle was in July last year. The B80VJ is destined for the army, the 'B80V' is the civilian version. The B80 is design-wise inspired by the Mercedes-Benz G-Class, which should be all right by now, and is based on the platform of Beijing Auto Works Knight S12 which is basically a rebadged Beijing-Jeep Cherokee. Platforms really never die in China…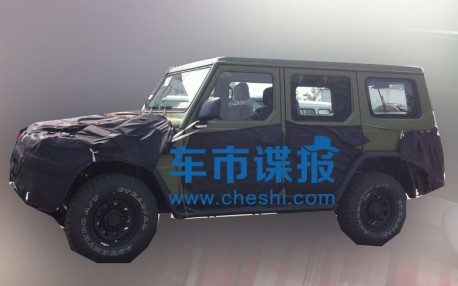 Power will come from a 2.0 with 122hp or a 2.2 with 141hp, both patrol, mated to a five-speed manual. The same engines also power the Knight S12. Chinese media say the B80VJ will be launched later this year for the army and other government agencies. When the civilian B80V will hit the market is yet unknown.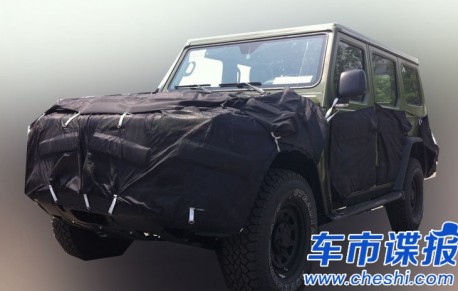 Beijing Auto is a very busy bee when it comes too Jeep-like SUV's. Besides the V80 they are working on the Beijing Auto 500, the Beijing Auto B40, the Beijing Auto Zhanqi and the Beijing Auto B70. That's five similar vehicles which will all be powered by the same set of engines. Go figure!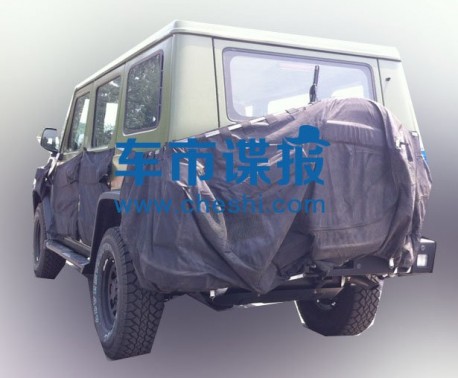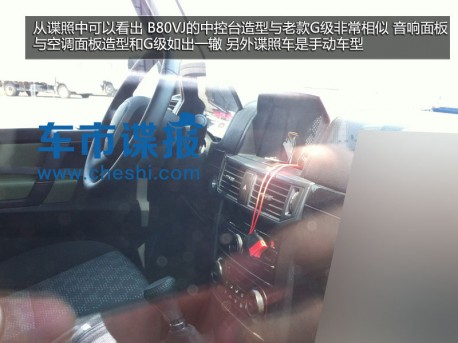 Dash very much inspired by the G as well. Manual gearbox here. Large screen in the center console. It all looks very ready for the market, but we said the same thing many a times about the B40, which has been looking ready for years and still hasn't been launched. The B80 will likely need some more time too.