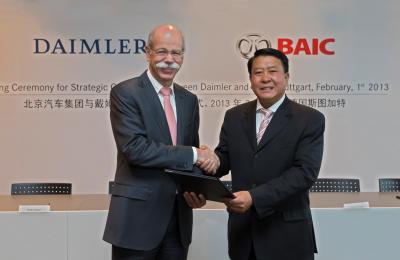 Daimler secured a stake in its partner BAIC Motor ahead of a planned stock offering by the Chinese carmaker, in an effort to catch up with larger German rivals in what could become the biggest market for luxury cars in the world.
Daimler will pay 640 million euros ($869 million) for a 12 percent stake in BAIC Motor and get two seats on the board in a deal that signals the German company's intention to reverse its flagging fortunes in China.
"We will be the first non-Chinese to take a stake in a Chinese OEM," finance chief Bodo Uebber said on Friday, using the industry acronym for a carmaker.
While Zhejiang Geely Holding bought Sweden's Volvo Cars, Germany's MAN is the only western truckmaker to take a stake in a Chinese peer, acquiring a blocking minority in Sinotruk in 2009.
As part of the new deal, Daimler agreed to BAIC Motor raising its interest in their production joint venture, Beijing Benz Automotive Company (BBAC), by 1 percent to 51 percent. This would allow BAIC to consolidate operations ahead of its IPO, Daimler said.
In what amounts to a swap deal, Daimler will receive a further 1 percent in the sales joint venture, Beijing Mercedes-Benz Sales Service Co., bringing its holding to 51 percent.
The deal with BAIC Motor is expected to close by the end of this year or in early 2014, Daimler said, suggesting that an IPO of the Chinese carmaker would not come any earlier.
Reuters first reported of Daimler's intention to purchase an equity stake last month.
Mainly because of difficulties in China, Daimler's Mercedes-Benz brand is now the smallest of the big three German luxury carmakers after BMW and Volkswagen's Audi, which together dominate the global market for high-end saloons and SUVs.
INCREASE VOLUMES
After admitting in July that its poor sales in China were more than just temporary, Daimler has moved aggressively to bolster its fortunes there and plans to increase annual volumes by half to 300,000 vehicles in 2015.
In December, Daimler brought in a new sales chief for China, appointed a new management board member responsible solely for its Chinese operations and in December unified its two competing sales channels for locally built and imported cars.
"There's been a lot of talk about Mercedes falling behind, but you can see in the way the deal with BAIC Motor is structured, also in terms of the governance, that this is a very strong signal Daimler really means business in terms of China," said a source with knowledge of the deal.
Daimler is not BAIC Motor's only partner, however. Hyundai also operates a joint venture with the Beijing-based company even if the mass market Korean carmaker does not directly compete with Mercedes.
"Daimler will be the lead automotive investor and partner for BAIC Motor, no other carmaker like Hyundai is going to come in on this IPO that they're planning. This is so important strategically because there will be a wave of consolidation in the automotive industry in China," the source said.
"There's around three dozen manufacturers there currently and Daimler doesn't want to wait to see how things play out but actively shape it, strengthening the position of its partner."
Chinese parent group Beijing Automotive Group Co Ltd. is planning to take BAIC Motor public after the Daimler transaction clears, with the proceeds used to further bolster its own Chinese brand of passenger cars to be known as "Beijing", which greatly lags its domestic rivals.
"Daimler's investment in BAIC's stake will go a long way in accelerating the development of BAIC's self-owned brand in terms of capital, technology, management, and brand. At the same time, this will help Mercedes-Benz to boost its business performance in China," said Xu Heyi, Chairman of BAIC.
The IPO of BAIC Motor would see it follow rivals Dongfeng Motor Group Co and Geely Automobile Holdings Ltd onto the more international Hong Kong market, eschewing the Shanghai stock exchange.
RARE FEAT
Daimler's inability to keep pace with its two German rivals in China has made it that much harder for Chief Executive Dieter Zetsche to achieve his goal of overtaking them as the world's largest premium carmaker by 2020.
Whereas BMW sales soared 40 percent in China to around 303,000 vehicles last year and Audi gained 30 percent to nearly 406,000 cars, Mercedes sales barely budged from their far lower level.
The historic marque could only manage a 1.5 percent increase to just over 196,000 vehicles over the past year – poor figures given the market's potential.
"On an international base, China will be probably be the biggest market in the long run as a single market," Audi Chief Executive Rupert Stadler said in Beijing on Friday, adding that he plans to ramp up his production capacity to 700,000 vehicles in the longer term.
By securing a stake in BAIC Motor ahead of its IPO, Daimler has pulled off a rare feat that could help it regain an edge over the competition.
While Chinese companies have been on a buying spree in Europe recently, such as Sany's purchase of machinery group Putzmeister and Shandong Heavy's 25 percent stake in fork lift truck maker Kion Group, investments in the other direction are not as common, and often hindered by foreign ownership rules.
But with a growing middle class and expanding population, China is a vital consumer market, and not just for carmakers. A study by consultancy BCG shows that there are now 80 cities in China with over 500,000 people seen as middle class. That is forecast to rise to 300 cities in 10 years' time.
"Western companies who want to take part in this growth must act now," BCG globalisation expert Nikolaus Lang said this week. "They must acknowledge that while the balance of power is transferring to China and India, they can still benefit from this development."
Examples of European companies buying stakes in Chinese firms include Carlsberg increasing its holding in brewer Chongqing Jianiang Brewery Co. Ltd to about 49.6 percent in November.
Via: Reuters.