This must be, the most pretty, Chevrolet Cruze in China, and probably in the whole wide world. The good vehicle was seen on a local tuning festival here in the Capital, parked next to a shiny purple BYD F0. The Cruze has been Pinkefied with a pink bonnet, pink mirrors, triple pink wheel are extenders and pink alloys. More sexing up came with a body kit in a cartoon wrap, a grille in light pink, light green and light blue, and best of all two orange traffic pylons sticking out of the sunroof.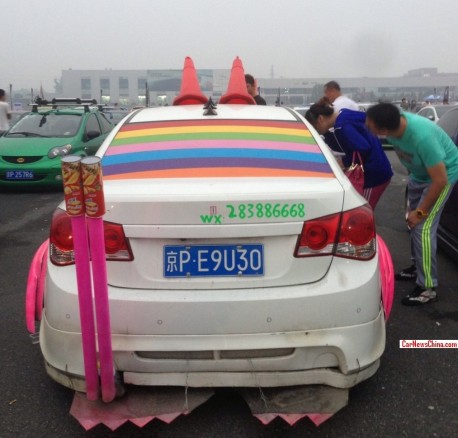 Pink exhaust pipes in the best bosozoku-style, partly pink spatters, and the rear window in red, yellow, green, light pink, blue purple and orange. Now, hold thy heart for a look inside!
That is just, beautiful. Dash draped in fake crystals, seats in checkered flag, door and roof in pink, and a giant see-through extension on the gear lever. Wadda work, wadda fantasy, wadda car.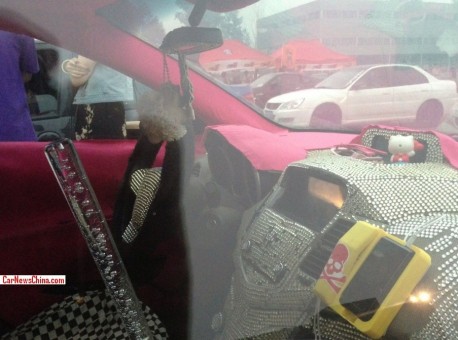 A yellow telephone with a red skull on the hook is always good. Hello Kitty waving on top of the dash. "Hello, Hello Kitty!"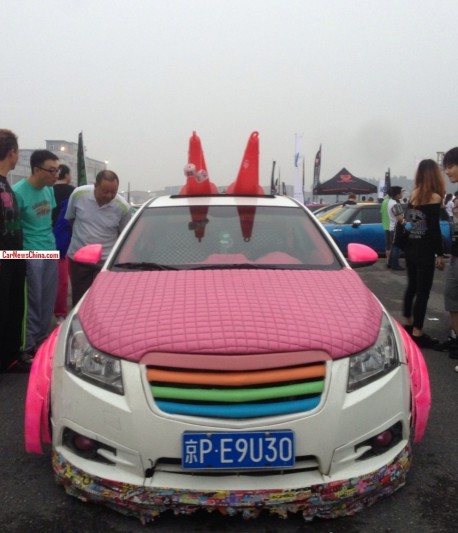 Left pylon, left from our position, that is, with dices hanging from the tip. Fog lights in purple for some contrast with license plate. Original color seems to be white.
The normally rather boring Chevrolet Cruze is made in China by the Shanghai-GM joint venture. it is, not surprisingly, not a very popular vehicle for customization. We got only three!: body kit, matte black and an M in orange.