A very smooth matte-black Chevrolet Cruze seen at the Auto Tuning Car Show in Beijing. The cool Cruze is further cooled up by Audi-like head lights, a first on a Chevy, a body kit with led-lights in the bumper, lowered supension, huge 20inch tires and shiny alloys. A fine combination indeed, almost as good as the M Cruze we saw earlier.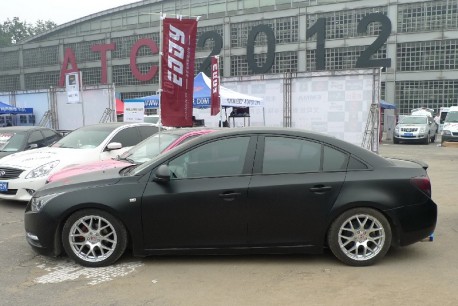 The base Chevrolet Cruze is made in China by the Shanghai-GM joint venture, priced between 99.800 yuan and ends at 148.900 yuan. Chevrolet also knows the Cruze ain't that exciting, earlier on they launched the Cruze Transformers Edition which sadly didn't really sell. A Cruze hatchback however is on its way which might become kinda hot if combined with a new 1.4 turbo. No worry for those who prefer taking their dogs because the Cruze Wagon is coming to China too.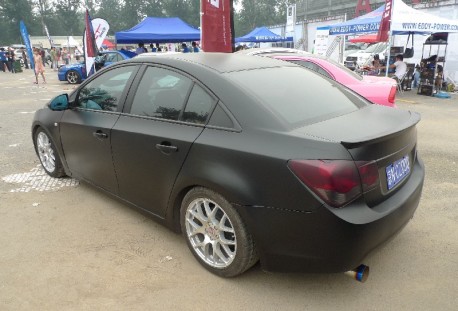 Kinda half-blacked-our tail lights, big but noot too big exhaust pipe. Must be a nicely tuned engine under that bonnet! Noticed something pink in the pics? More on that machine soon later, likely Friday.