An interesting Nissan Teana sedan, Spotted in China in Shenzhen in Guangdong Province. The good Nissan was wrapped in a never-seen-before bulbous black wrap, and further sexed up by white racing stripes over the whole length of the vehicle, blue headlights, a giant wing at the back, and racy 10-spoke matte black alloys.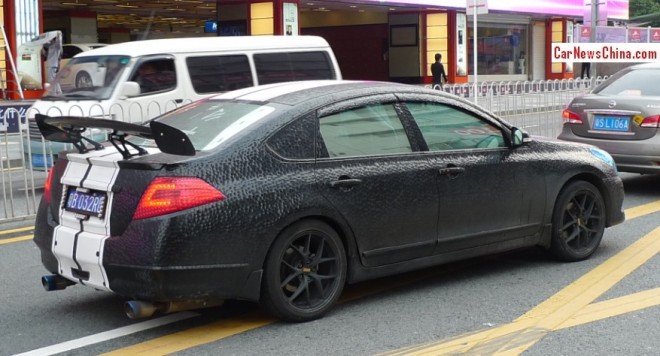 Rear window, mirrors, and door handles in bulbous black. Two fat exhaust pipes sticking out from under the bumper. I snatched the Teana just when it was waiting for a red light, and the sound at acceleration on green was very impressive.
The Nissan Teana is manufactured in China by the Dongfeng-Nissan joint venture. They also make a stretched variant called the Teana VIP. Engines: 140hp 2.0 and a 186hp 2.5 V6. This bulbous black example however, likely has a few horses more.