A very beautiful E36 BMW 328i Convertible, Spotted in China on a car market in Beijing by Reader & Serial Spotter Navigator 84, thank you for the pictures! The E36 3-Series was manufactured from 1990 until 2000 with a facelift in 1996. This particular red example is a rather rare kind, made only for the 1995-1996 model years, mixing pre-facelift lights with post-facelift bumpers.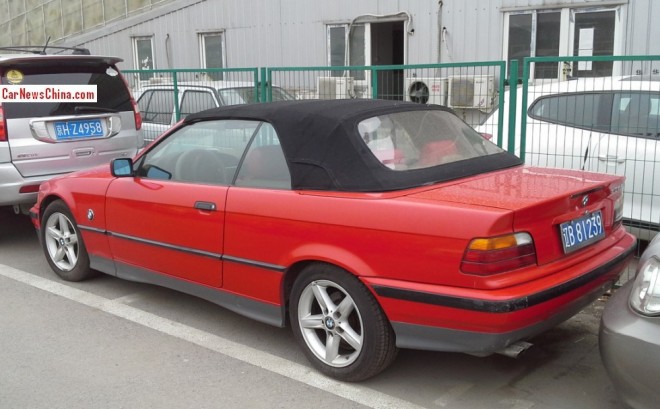 The vehicle seems in good shape. Paint is all right and no dust in sight. The roof however is in need of a good cleanup. BMW badge on front fender is a non-original addition. License plates indicate this Bimmer hails from Liaoning Province up in the northeast. The 328i is powered by a 2.8 liter six-in-line, good for 190hp and 280nm. The Convertible has a top speed of 230km/h and 0-100 is gone in only 7.7 seconds.
The E36 was never officially exported to China so seeing one in country is a rare pleasure. We have only two more: 325i Convertible, and a sporty 325i sedan.