A very sleek Chevrolet Cruze low rider, Spotted in China near the Golden Port race track in Beijing. The good Chevy is lowered to the max and further sexed up by a fatass body kit, a black grille with a black Chevrolet logo, black windows, a ski rack on the roof (with a spoiler!), and super size tires with gray six-spoke alloys.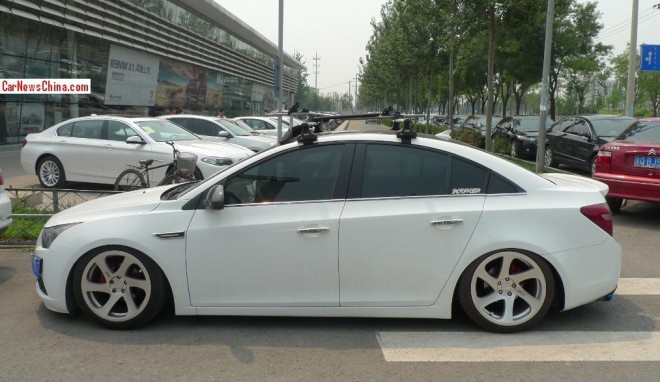 B-style in black too for max contrast with white bodywork. Chrome strip under windows doesn't really fit in. Door handles in white with black detailing. Small wing at the back for extra low riding down force.
The Chevrolet Cruze is manufactured in China by the Shanghai-GM joint venture, it will soon be replaced by an all-new China-only Cruze. Price of the current car starts at 108.900 yuan and ends at 159.900 yuan. Engines: 121hp 1.6, 184hp 1.6 turbo, and a 147hp 2.0. The Cruze is sadly not too popular for tuning, we only got a small collection: purple low, very pretty, body kit, matte black and an M in orange.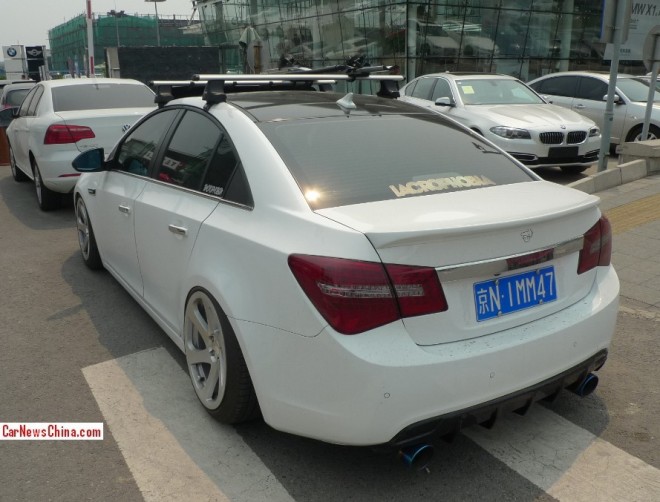 Two fat exhaust pipes complete the job at the back. License plate is very special too. 'MM' is the Chinese censor-fooling internet-phrase for 'hot chick'. Check Baidu for some examples (could be a bit NSFW).