Today in Spotted in China & China Car History the Geely Pride SRV, seen here on a parking lot just outside the eastern section of the mighty Fourth Ring Road in Beijing. The Pride SRV was a sub-compact wagon based on the Geely Pride hatchback. It is very rare to see any Pride on the roads of the capital today, and an SRV is even more special, let alone one as well-maintained as this particular example! There was basically nothing wrong with it; it was clean, the paint looked bright,  no dents or rust, no missing parts, and everything seemed original.
The Pride, called 'Haoqing' in China, was made from 1998 until 2007, the Pride SRV joined the party in 2002 and left rather early in 2005.
Lime green was a factory color, and the most popular color among buyers. Other available colors were red, white, gray, light blue, and dark blue. The funky sporty alloys were standard. Popular options were the roof rack, as fitted on this car, a rear-window spoiler, as seen on this blue example, and peaceful stickers on the doors, as seen on this gray SRV. Another interesting factory option was a full fledged body kit, and seen here on the road.
The SRV was available with two engines: a 1.0 3-cylinder with 53hp and a 1.3 4-cylinder with 86hp, both mated to a five-speed manual transmission. Size: 3900/1650/1420, wheelbase was 2340. Luggage compartment could hold 520 liter and the roof-rack an additional 55kg. Price for all this pretty in 2005: 39.000 yuan for the 1.0 and 43.000 for the 1.3.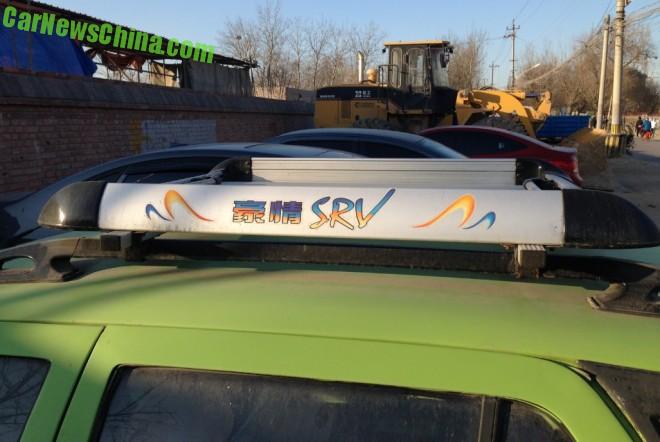 Stickers came with the rack. Characters write 'Haoqing'.
The SRV was aimed at young and cool first-car buyers who considered the hatchback too boring an too small. Sadly it never became the success Geely was hoping for. The market didn't have any experience with 'lifestyle' wagons yet and Geely wasn't exactly known to be cool. General Motors tried pretty much the same thing with the Buick Sail SR-V, what's in a name..?, but fared only marginally better.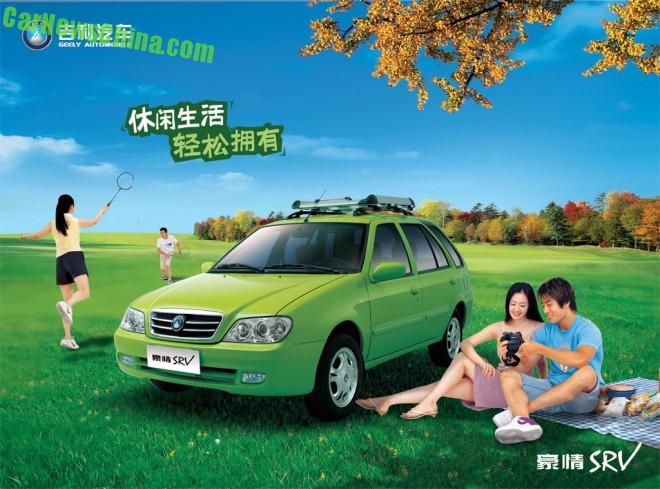 An original advertisement for the SRV, showing a lime-green example just like the one I spotted. The vehicle brought two young and cool couples to a green field. They are sporty playing badminton. They like tech playing camera.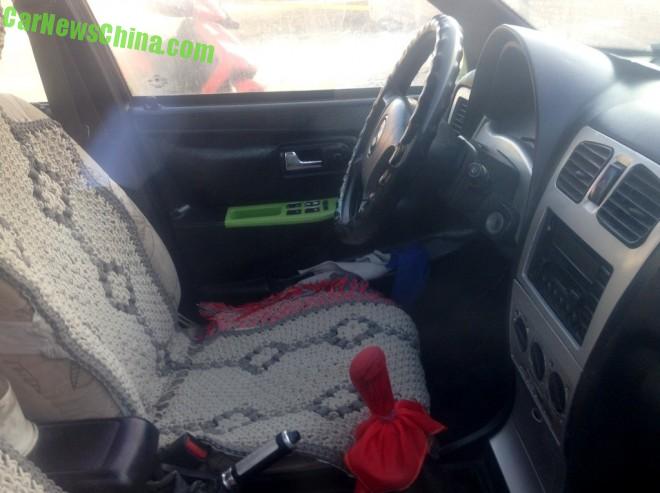 The interior was in a fine overall shape but the owner added some: red handkerchief over the gear knob, chromed handbrake handle, and typical Chinese seat covers. Green decoration on door, steering wheel, and chromed center console are all original.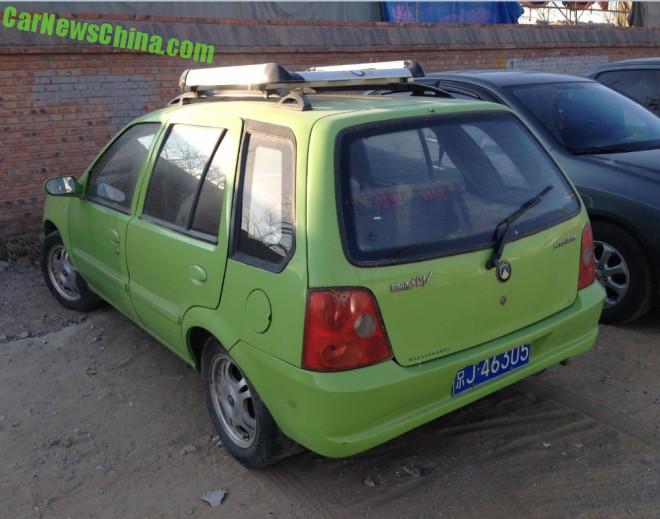 Rear-windscreen wiper was standard on all versions.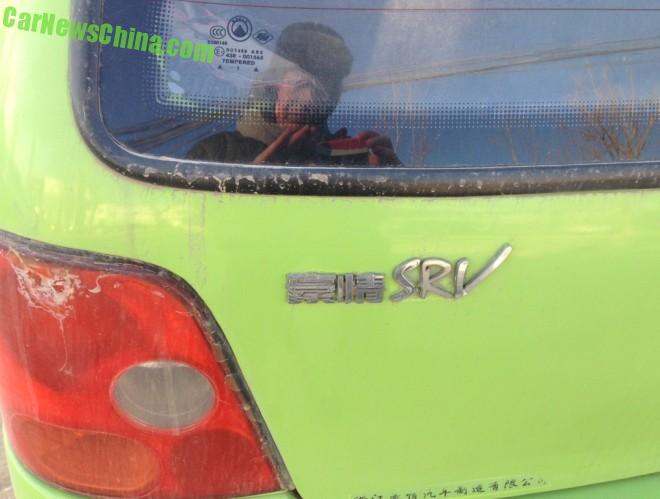 That's me in the window, wearing a warm hat. It was a cold day in Beijing but the Geely Pride SRV made me so hot I thought,  for a second, that it was summer again.