Here we have the wonderful Fulaiwo Polaris mini-mini bus, a new low-speed electric vehicle (LSEV) from China, seen last month on the Shandong EV Expo  (intro) in Jinan City. The Fulaiwo Polaris was one of the very few vehicles on show painted in green. The body is very aerodynamic with a rounded front and a tiny black grille. Tires stand wide in their arches and are fitted with sporty matte chrome alloys. But the best part of the design is…
… the mirrors. What a beauty. Completely mismatching with the rest of the vehicle, and therefore simply brilliant. Shiny to the max, standing on a simple single stalk, bolted on the A-pillar.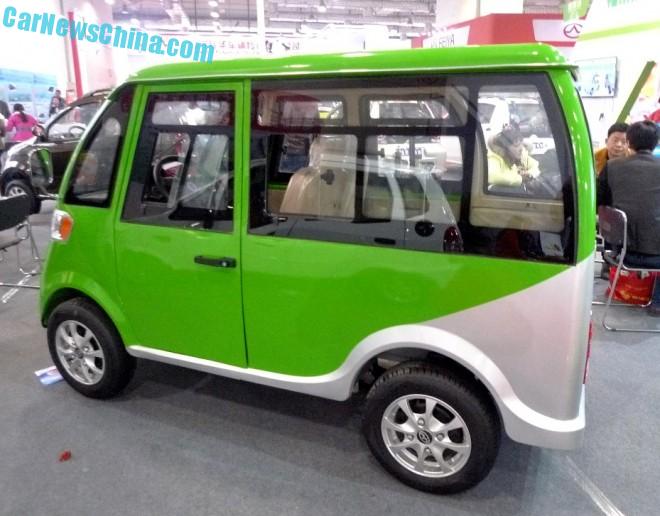 The Fulaiwo Polaris has one door on the left and two doors on the right. The vehicle is similar in concept as the Qianli Kele we saw earlier on, both designed for taxi and school bus duties in third and fourth tier cities and the countryside.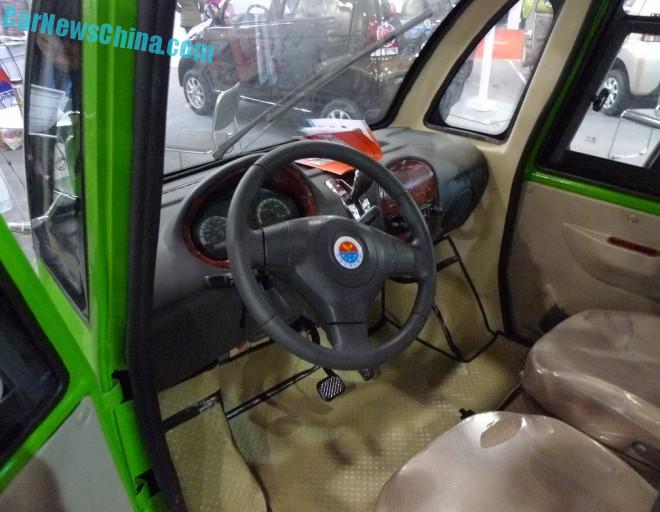 The interior was all right with a black dash and a lot of beige. Fake dark woods makes dash just a bit nicer to look at. Drive selector sits on top of the center console. The stereo system can handle MP3 music via a USB connector. The handbrake is located low on the floor between the front seat, grab it and you won't see the street.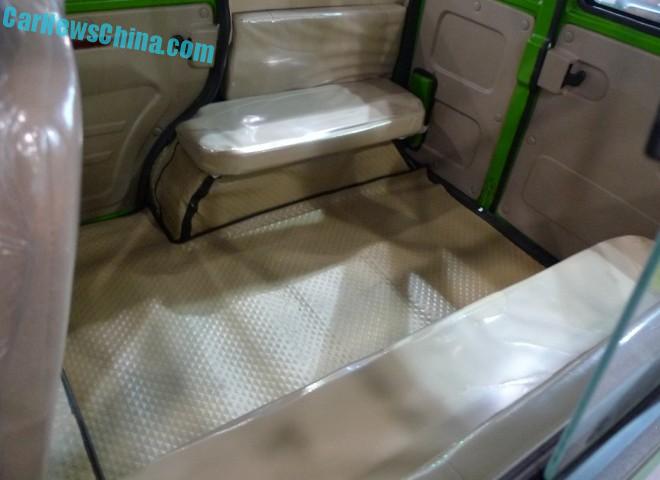 Single rear door. Two seats on the right and four on the left, but all in all surely enough space for twenty children. The Fulaiwo Polaris is powered by a tiny electric motor with 1.5Kw, mated to a lead-acid battery. Top speed is 40 kilometer per hour and range is 130 kilometer. It is a true mini-mini bus:  2900/1280/1660, and weight is 750 kilo. All specs as claimed by the manufacturer.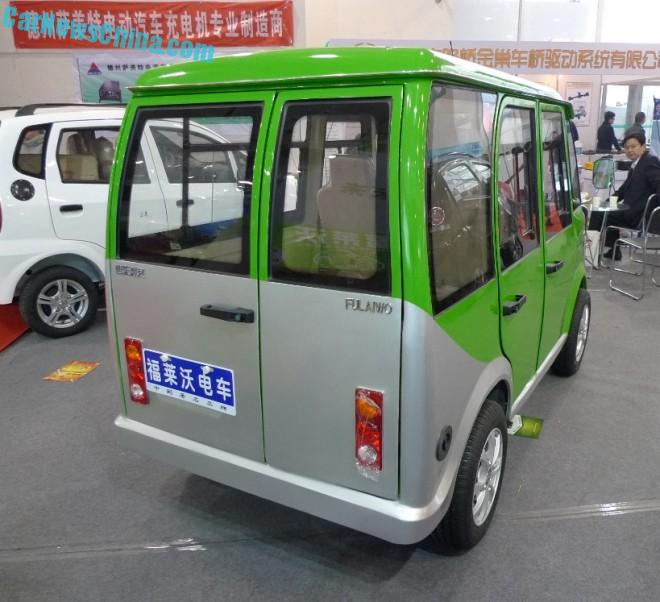 The vehicle is so new it still has the protective plastic on the taillights. The Fulaiwo Polaris is manufactured by a company called Shandong Dezhou Fuxing Electric Cars Corporation (web), based in the great city of Dezhou in Shandong Province. Fulaiwo is their brand name for a range of small electric cars, including a three-door version of the Polaris and a fuzzy four-door hatch.