The all-new Nissan Lannia sedan has been launched on the Shanghai Auto Show in China. The Nissan Lannia is a China-only mid-size B-segment sedan, it is the production version of the 2014 Nissan Lannia concept. The Chinese name of the Lannia is 'Lanniao' (蓝鸟), or Bluebird.
The Nissan Lannia is based on the new Nissan MFA platform. Power will come from various 1.6, 1.8, and 2.0 four-cylinder petrol engines, but Nissan hasn't disclosed any details yet.
The Lannia will be manufactured in China by the long-running Dongfeng-Nissan joint venture that makes a wide range of Nissan-branded cars for the Chinese car market. The Lannia is expected to launch near the end of this year, with a price starting around 150.000 yuan.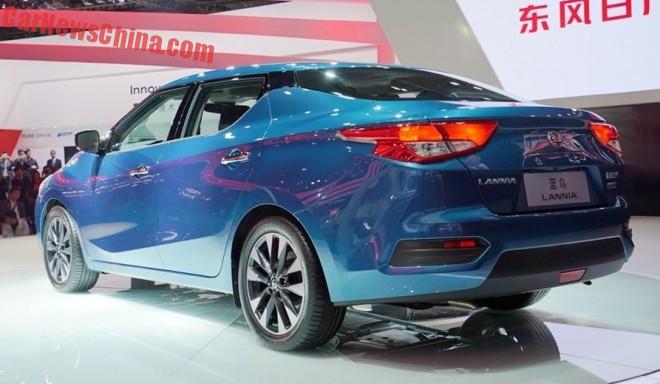 The C-pillar is arguably the most interesting and most controversial aspect of the Lannia's design. Nissan calls the design language 'V-Motion', for showing movement when standing still. well…. the rear lights are kinda hip.