This is the new Lamborghini Huracan Zhong, seen here on the Lamborghini booth of the Guangzhou Auto Show where it will officially debut tomorrow. The Zhong is a limited edition Huracan to celebrate ten years of Lamborghini in China.
Zhong is short for 'Zhongguo', the Chinese name for China. Only fifty examples will be made, in red or yellow or black, with special alloys and shiny pipes. Best news however is the price.
The Zhong is a real cheapo. Normally, the Huracan costs 4.29 million yuan or 680.000 USD. The Zhong however goes away for only 3.5 million yuan or 550.000 dollar. A cheap special edition, now that is special indeed.
But isn't Lamborghini so admitting they normally charge far too much..? Or that they can't move enough non-special examples? Or both? Sure wuzzy. Special editions should be extremely rare and extremely expensive, and this Zhong is neither.
Engine is unchanged: a 5.2 liter V10 with 610hp and 560nm. Top speed is 325km/h, 0-100 is gone in 3.2 seconds and 0-200 is done in 9.9 seconds.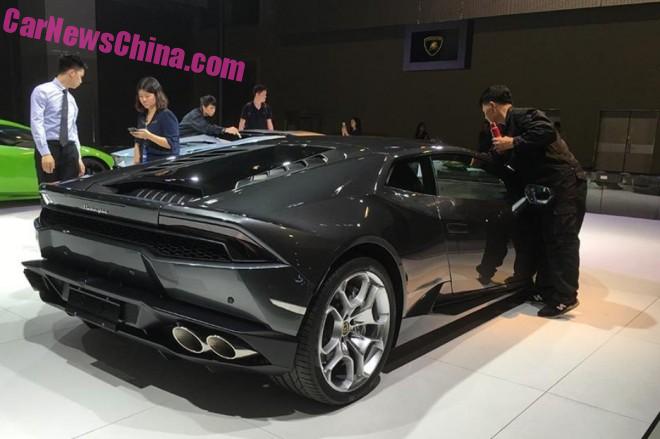 The rear is entirely in black bar for the pipes. Alloys a work of art.