A super speedy Lamborghini Huracan supercar, Spotted in China in the great city of Shanghai by Reader Antoine Chalendard, thank you for the pictures! The good 'Can is painted in Tiffany Blue, and further sexed up with a black front spoiler, black air ducts on the sides, black mirrors, a black roof, darkened windows, and super shiny alloys with orange brakes.
The lettering on the rear fender is a nod to to Aventador SV. The letters are PM which stands for 'Prima Facie', according to the small sticker just in front of the rear wheel. Prima Facie is Latin and it means 'at first sight'. Love at first sight, we bet, with this Huracan speed machine.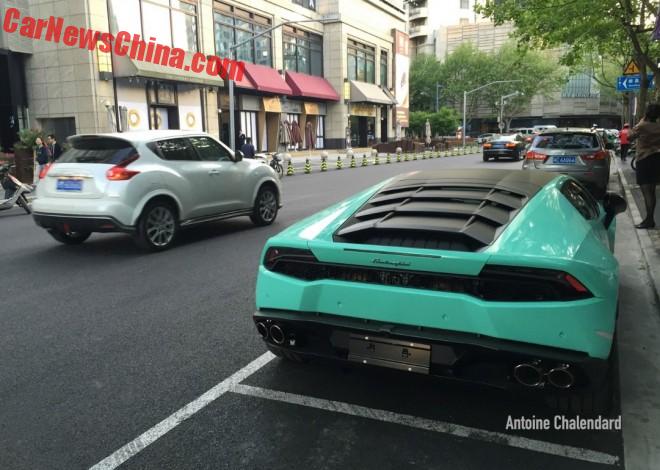 Engine cover in the same black color as the roof. Note Infiniti ESQ passing by on the left.
The Huracan is powered by a 5.2 liter V10 with 610hp and 560nm. Top speed is 325km/h, 0-100 is gone in 3.2 seconds and 0-200 is done in 9.9 seconds. Price matches the specs: a steep 4.29 million yuan or 700.000 USD.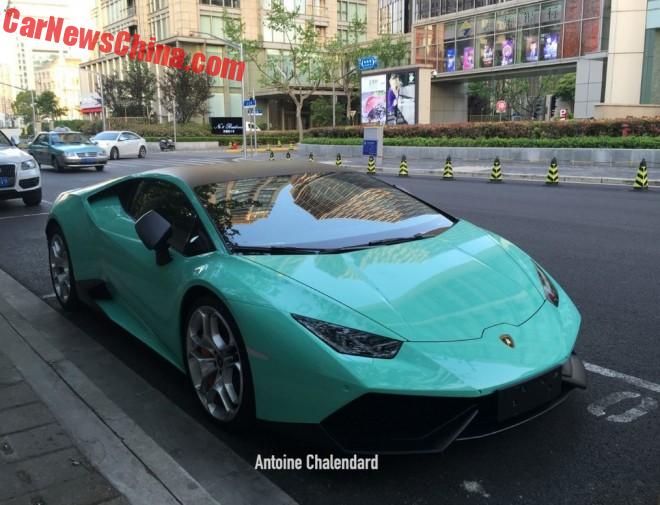 A fantastic looking Lamborghini in Shanghai, and absolutely the best Huracan we have seen so far.