Tri Axle Motorcycle Dump Truck
This is superbly badass petrol-powered tri axle motorcycle dump truck. It is beautiful, big, blue, and Chinese. It also has nine wheels.
These massive machines are mostly sold in China's endless countryside, you won't see them in the mega cities. They are called, translated: agricultural-use tricycle-motorcycle. 
They are officially categorized as 'tricycles', even though they have obviously more wheels. Perhaps the government just didn't bother to add a new category. And after all; it has a tricycle layout. Sort of. Kinda.
The brand name of the blue truck on the first photos is brilliant: Shenghuoshen (圣火神), meaning Holy Fire God. The type name is SHS175ZH-2.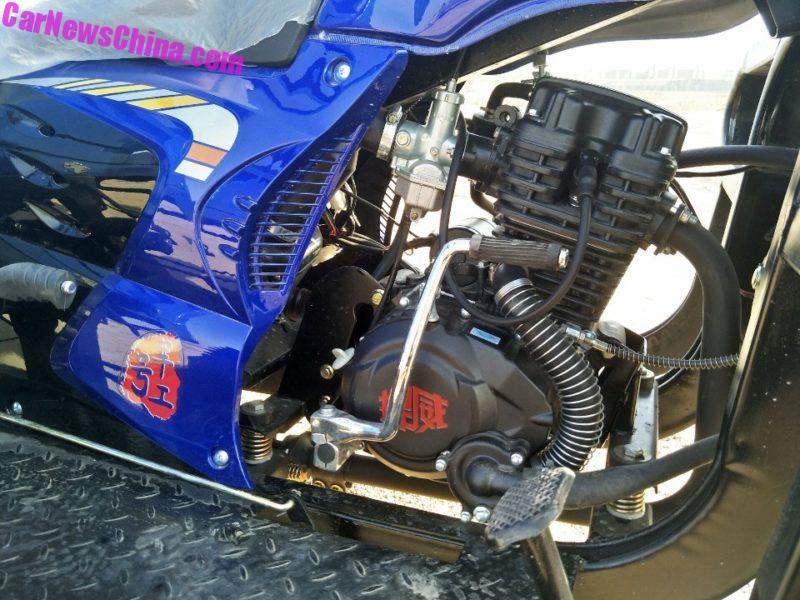 All of these large motorcycle dump trucks are petrol powered, whereas most smaller agricultural tricycles are electric these days. The current generation of electric tricycle motors isn't strong enough to power these beasts, but it seems only a matter of time before they will.
The Holy Fire God SHS175ZH-2 is powered by a 175 cc one-cylinder four-stroke water cooled engine, good for between 10 and 20 horses, depending on exact specifications. Top speed is 60 km/h. Fuel tank capacity is 16 liter, and the manufacturer claims a cruising range of 500 kilometer, which seems a bit too optimistic.
Size: 3490/1360/1370, and curb weight is 365 kilo.
Price for all that pretty: 16.999 yuan or $2520. Yez, that's two thousand five hundred and twenty. That's basically for free.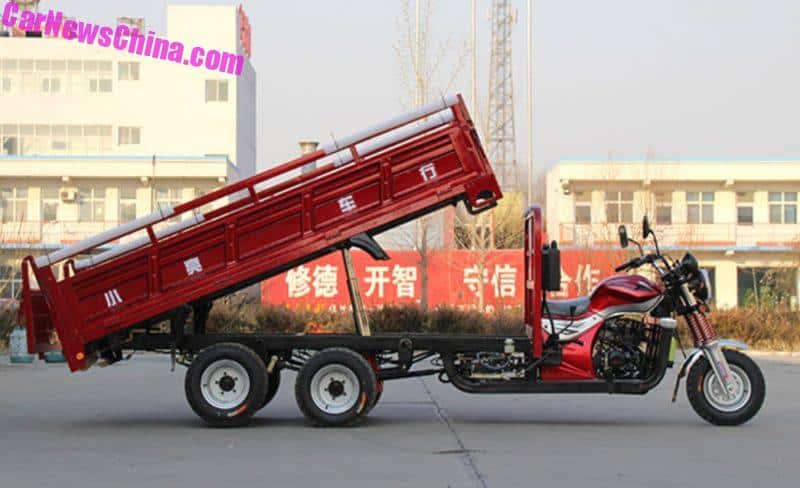 This is another one, branded Xinling and designated XL175ZH-A. It has very similar specifications as the SHS175ZH-2, with a similar 175 cc motor, but it is slightly slower with a top speed of 50 km/h. The factory also tells us there is no ABS. Price starts at 13.588 yuan or $2017.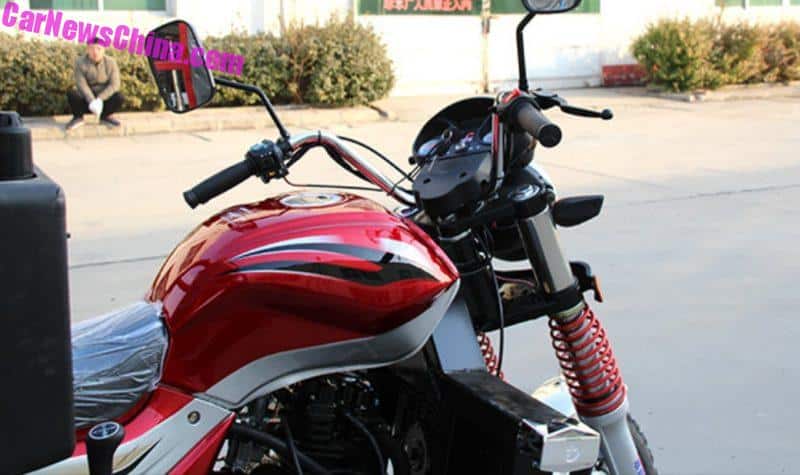 The front end looks pretty standard-motorbike, with handlebar-mounted mirrors and a small dash with two dials.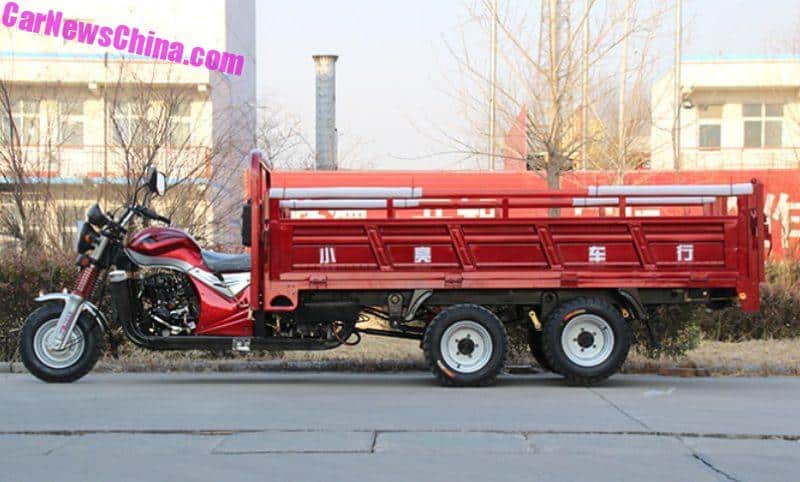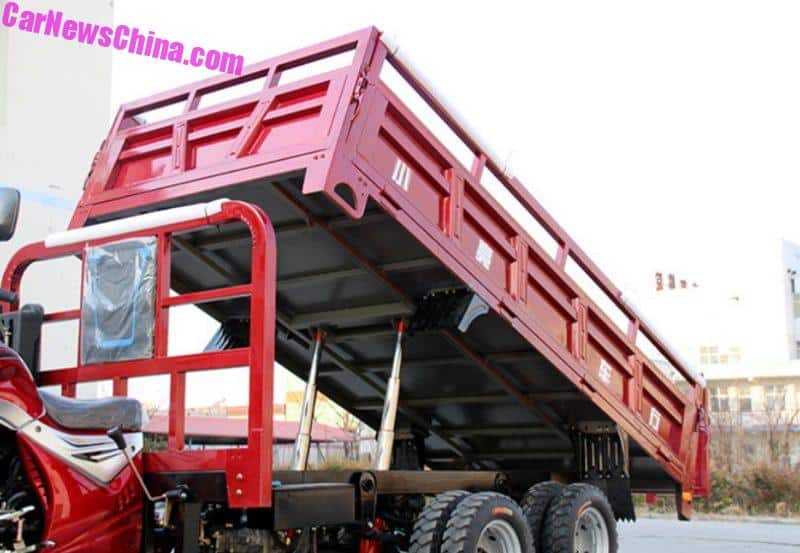 Up she goes, dumping those goats into a ditch.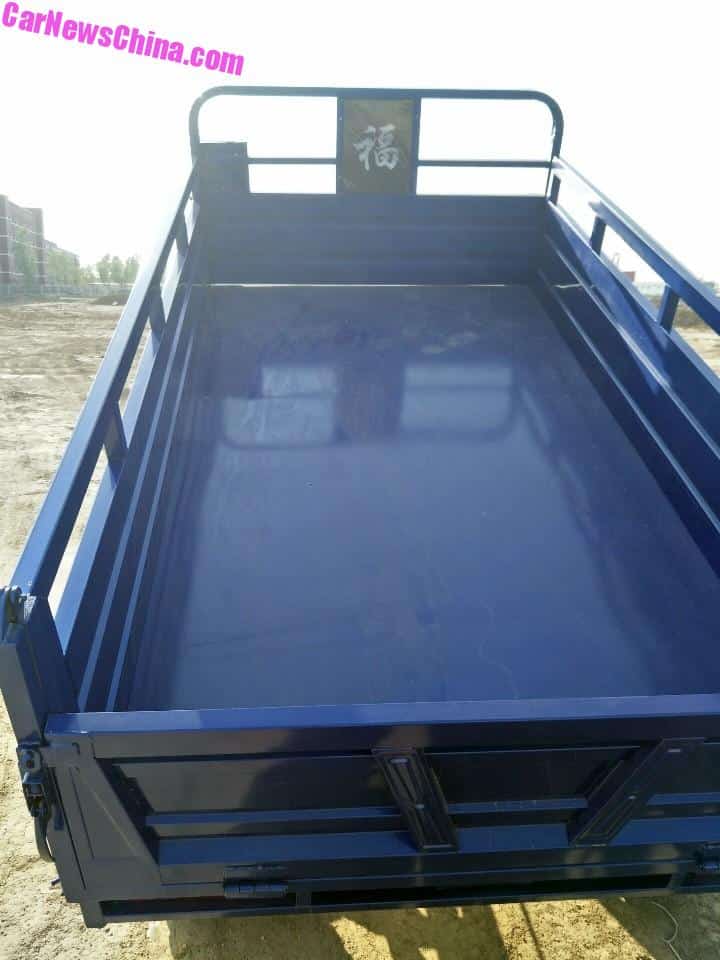 The character on top of the bed is fu (福), meaning luck. Many vehicle makers in this segment put this character in a visible place on their cars, because they and their customers believe this brings good luck.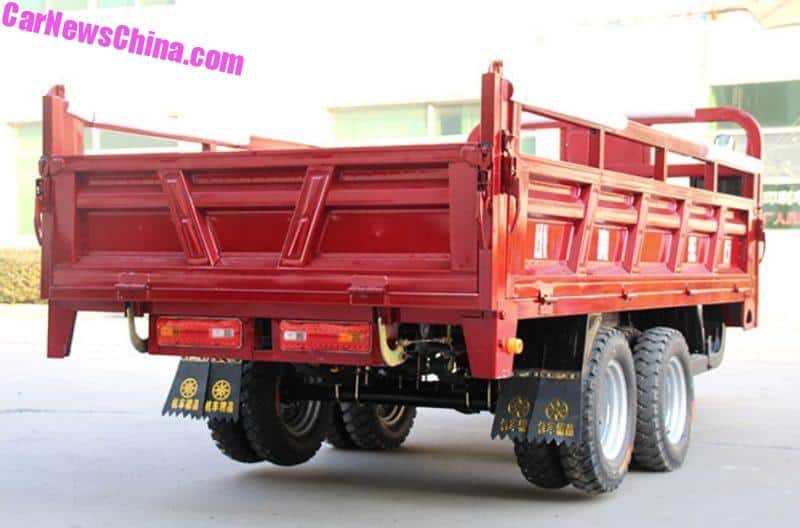 Note the double mudflaps over the rear wheels. Developing a larger-single flap was probably deemed as too expensive. Margins are indeed tight; there is a lot of competition in this and all the other farm-vehicle segments.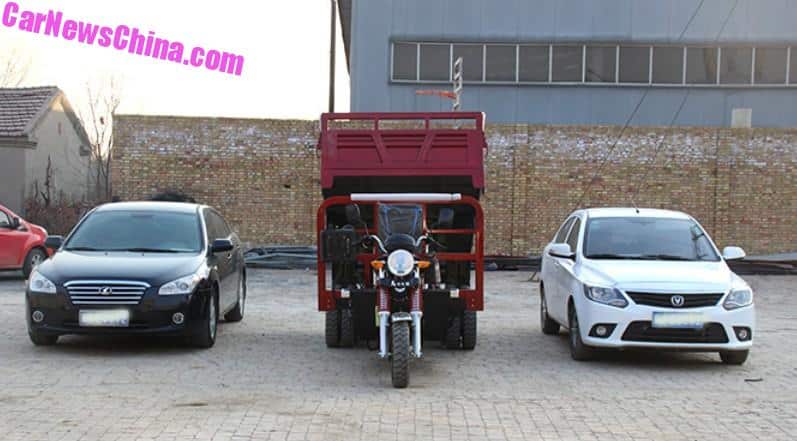 The XL175ZH-A compared to two compact sedans, a Besturn on the left and a Changan on the right. The bike is a big.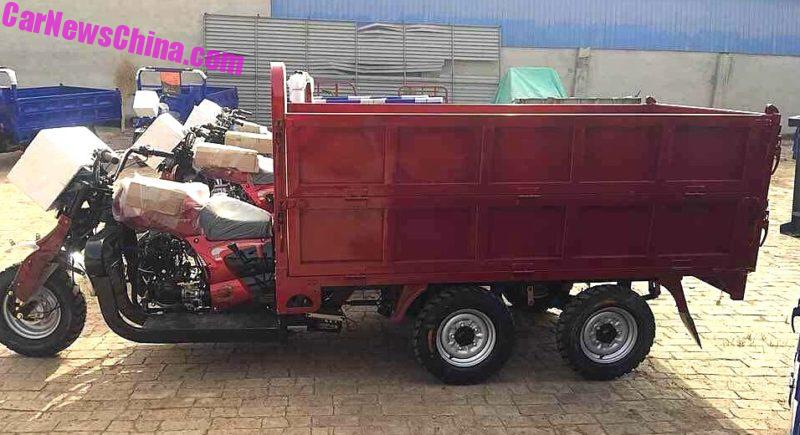 A variant with a extra high bed.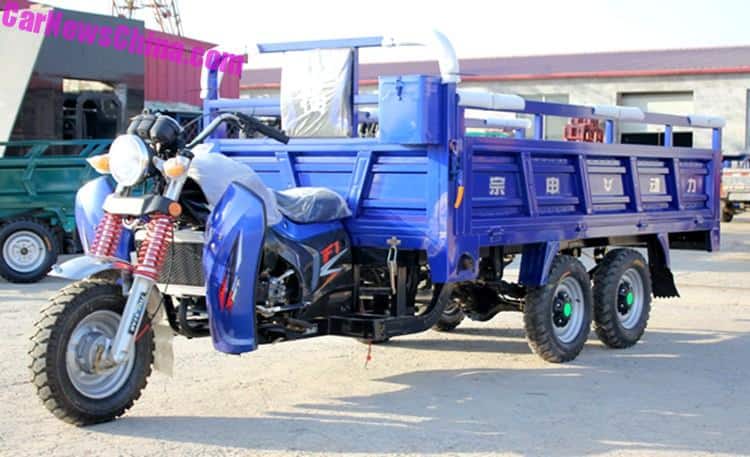 A variant with single wheels on the rear axles. This one is branded Shuangshi, meaning Double Lion. It has a longer bed than the other two. Top speed is claimed to be 70 km/h. It is much cheaper, with a base price of just 9980 yuan, or $1481. That seems a very good deal, but it just doesn't look as badass and heavy as the others.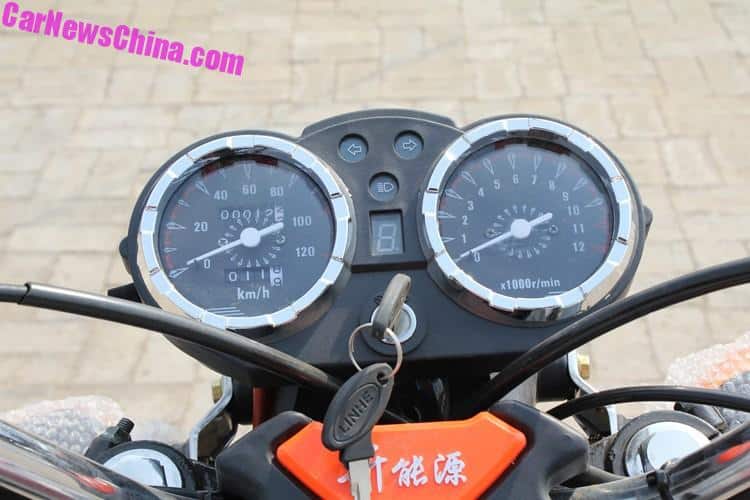 Revs to 10.000 rpm!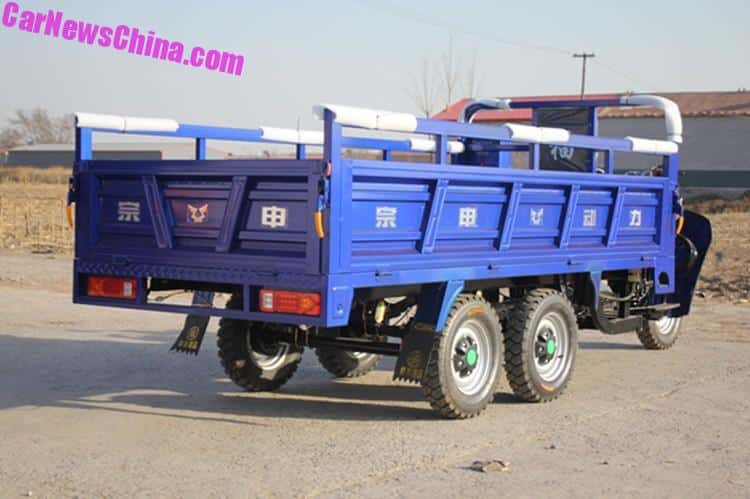 Very decent rear lights here.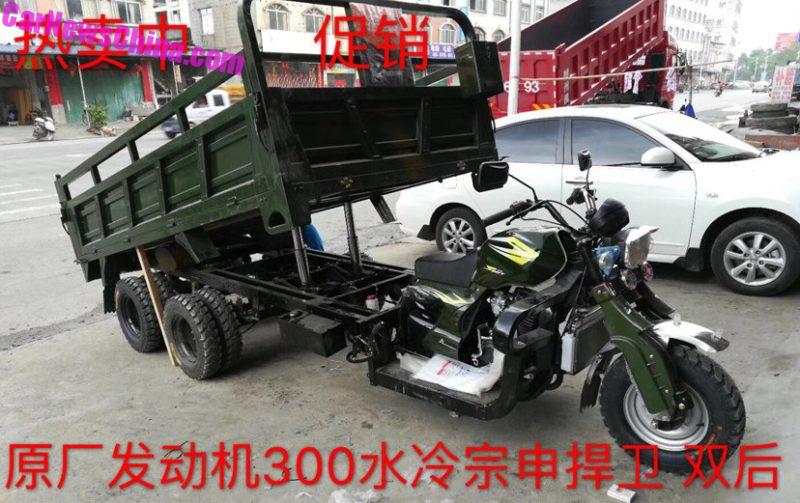 And we end this story with this wonder: a Zhongqi (Heavy Ride) ZQ200ZH-2A painted in army green, with rather small wheels and yellow stripes on the fuel tank. Motor is 300 cc, top speed is 50 km/h. It looks very dangerous and racy. Price is a crazy 10.350 yuan or $1537. Get the beer and the anti-aircraft gun and let's hit the road!