A dusty Infiniti ESQ, Spotted in China in the Lido area in Beijing. The controversial ESQ was launched on the Chinese car market in September last year, but this was only the first I met on the road, and it was somewhat of a shocker, as she ain't exactly pretty to the eye…
This particular example was painted in black with some hip orange detailing. All these extreme looking body parts are factory standard. The Infiniti ESQ is a China-only SUV based on the Nissan Juke Nismo, but other than most China-only cars it is not made in China but imported from Japan, and thus expensive, and thus in combination with its challenging looks not very popular.
Price starts at 199.800 yuan and ends at 299.800 yuan (32.060 – 48.170 USD). Power is good; the screaming 1.6 turbo delivers Power 200hp and 250nm. But!, the only available gearbox is a bloody CVT.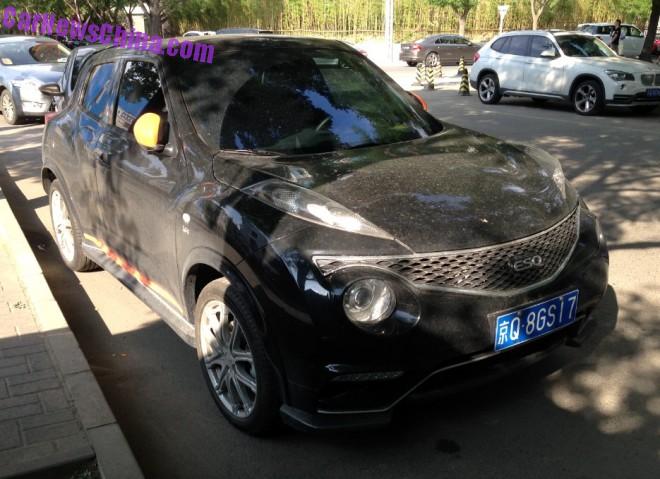 Only her mama loves, or an interesting experiment? ESQ badge on the grille lead to persistent rumors that Infiniti was planning an 'ESQ' sub-brand for hip and young Chinese car buyers in the big hip Chinese cities, but the lack of success for the ESQ itself likely means those planes have been cancelled, if they ever existed.