GAC Group revealed that it has partnered with Huawei in developing Level 4 autonomous vehicles, and the mass production is planned to begin in 2024. Whether Huawei or GAC will sell the model wasn't yet revealed, but most probably, it will be launched under GAC's EV brand Aion.
It is no surprise that Huawei chose GAC. These two had so many strategic cooperation agreements memorandums of understanding that it is hard to count.
Starting 2017, GAC and Huawei signed an agreement to carry out strategic cooperation in intelligent, connected electric vehicles. In 2019, they deepened their partnership to develop a new generation platform for intelligent connected vehicles jointly. In September 2020, they signed another strategic partnership about software-defined vehicles (SVD). In April 2021, Huawei announced at their Global Analyst conference that it signed another agreement with GAC about Huawei's autonomous driving solution (Huawei inside) in their cars. The partnership is real and cemented.
What L4 actually mean? As Synopsis says: "Level 4 vehicles can operate in self-driving mode. Cars do not require human interaction in most circumstances. However, a human still has the option to override manually".
The following Level 5 is final and its vehicles do not require any human attention. Many analysts are skeptical we can reach that level anytime soon in the next 10 years.
It's fair to say that Huawei doesn't put all eggs into one basket and signed cooperations with BAIC, Xpeng, Seres, and Changan.
The last one, Changan Automobile, emphasized its cooperation with Huawei to investors on 10 May, quickly after GAC. Changan said it would partner with Huawei and CATL to build a platform for intelligent connected electric vehicles. The company will launch a new smart EV under a separate brand. Changan didn't reveal its name yet. Marketing guys are most probably still brainstorming.
The latest Huawei success – Arcfox Alpha S manufactured by BAIC – is equipped with the Huawei Inside, which provides L3 autonomous driving features.  Other than that, Huawei's flagship stores began to sell its first Seres SF5, a nice electric SUV with dual motors, 510kw power, and starting price tag 216 000 CNY (33 000 USD).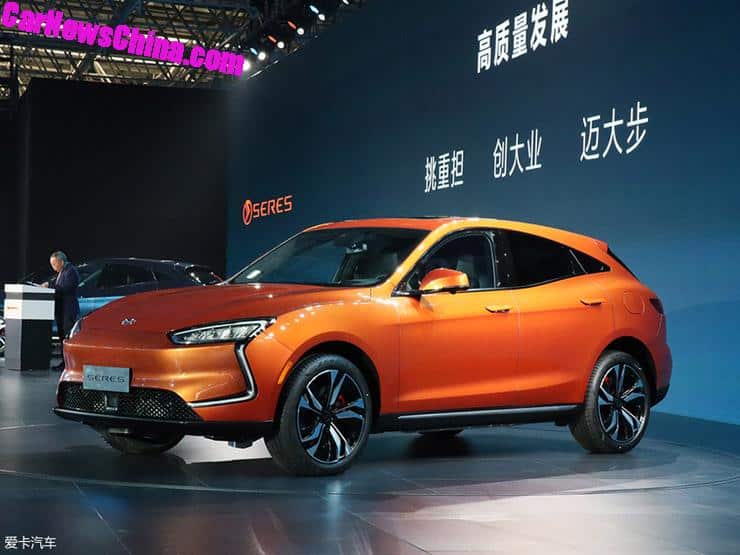 That might also be the reason why GAC itself invests heavily in its EV R&D  and doesn't rely solely on Huawei solutions. Some research results by GAC Group have been disclosed on 9 April, when GAC revealed its Neutron star strategy at its Tech Day. Its goal is basically to develop smaller and more effective batteries. They already have some results and claim that their new battery called Sponge Silicon Negative Plate Battery Technology (SSNPBT – yes, really) can reduce the volume by 20% and the weight by 14%. Its energy density is 280 Wh/kg, and the cruising range exceeds 1000 km (up to 650 km under low-temperature conditions).
State-owned Guangzhou-based automaker currently doesn't belong to Big 4, the four biggest Chinese car manufactures (FAW, Dongfeng, Changan, and SAIC). Thus, we can expect some big motivation from GAC in the next years related to electromobility, which they surely see as an opportunity to enhance its ranking.
In the last two years, Huawei officially denied it would build its own car at least a dozen times. Even its CEO Xu Zhijun stepped in and claimed in April, "I'm tired of answering the question that Huawei doesn't build cars." It makes sense. They need high-quality manufacturing partners. But high-quality automakers don't want to cooperate with a potential competitor. Thus Huawei is positioning itself as a Bosh-style supplier of technologies. So far, it seems that car manufactures have come to believe that. Also, Huawei keeps its promise. The true Huawei's ambitions we will see in the future. Let's keep an eye on it.