The China Evergrande Group is still struggling to repay its gigantic debts but the company's car unit appears to be alive. Earlier, Evergrande tried to sell its car business to Xiaomi, but the deal fell apart. So for now, Evergrande is at it alone. And there is some good news: their first car is ready for production and the car unit has issued new shares.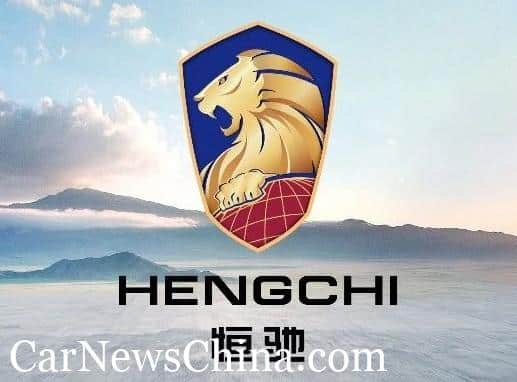 The structure of Evergrande's car business is a bit complicated. The car unit is called Evergrande New Energy Auto (恒大新能源汽车)(web). It is a subsidiary of Evergrande Health Industry Group (恒大健康产业集团)(web), which, in turn, is a subsidiary of the China Evergrande Group (恒大集团)(web). The Evergrande Group and Evergrande New Energy Auto are listed separately on the Hong Kong stock exchange (group, auto).
Evergrande New Energy Auto has several assets. The most important one is the Hengchi EV brand (恒驰). This is the brand that the company plans to use for its massive EV offensive, if it ever happens. Beside Hengchi, Evergrande also owns National Electric Vehicle Sweden (NEVS), the company that owns several Saab assets and developed an electric version of the Saab 9-3. NEVS in turn owns 20% of Swedish supercar maker Koenigsegg.
Today, November 10, Evergrande New Energy Auto announced that it sold HK$500 million ($64.2 million) of shares to fund the development of new electric cars. But. The shares are not sold to eager investors but to its own parent company, the Evergrande Health Industry Group. And the group got a nice discount: Evergrande New Energy Auto sold its shares for HK$2.86 per share, an almost 20% discount on the stock market's price on November 9.
So yes, the car company gets a bit of extra money, but the money really comes out of its own pocket.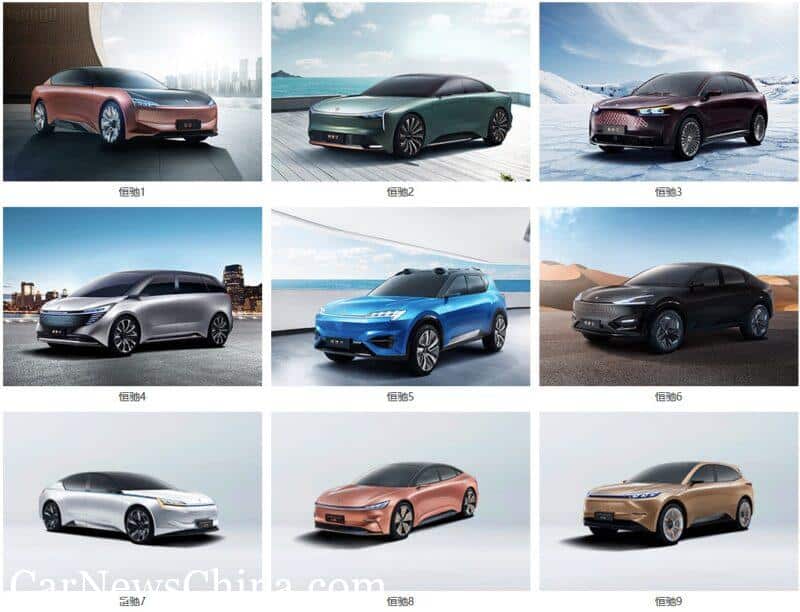 Earlier, Hengchi showed no less than nine concept cars, handily numbered Hengchi 1 to Hengchi 9. The concepts were shown to the media and on several car shows. But until now nobody had ever seen a real production car. And that brings us to the Hengchi 5. Strangely, the production car doesn't really look like the concept car (center in the picture above).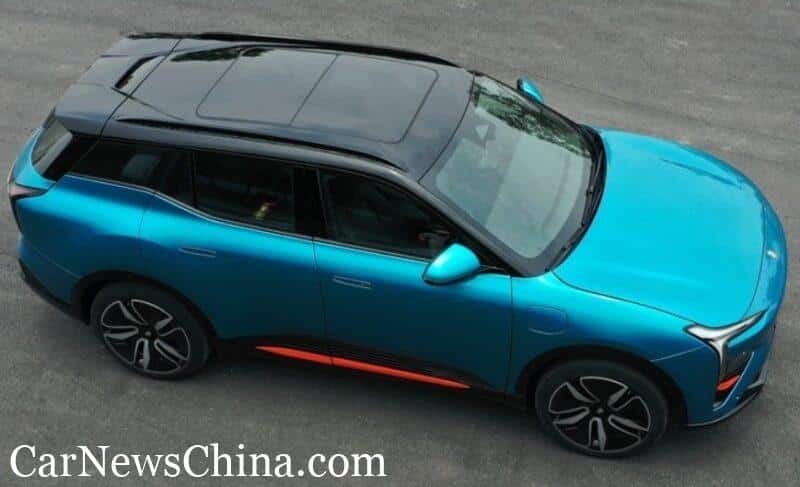 This is it. The first Hengchi production car, fitted with Hengchi 5 badges. It is a nice looking vehicle, with a design that is neither overly exciting or overdone. The fenders are wide, especially at the back, making for a sporty look. It has a complex wing-spoiler structure atop the rear window, a large sun roof, and big wheels.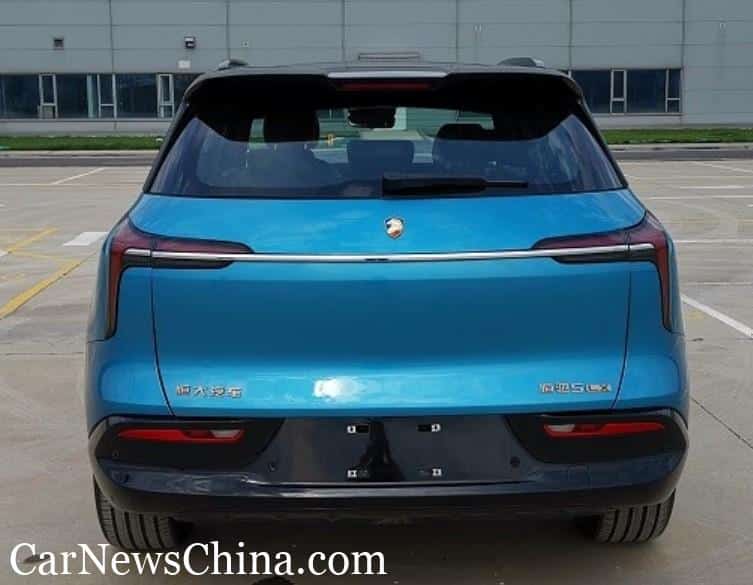 Badges. Left: 恒大汽车, Evergrande Auto. Right: 恒驰5 LX, with 恒驰 for Hengchi. LX is presumably a trim level.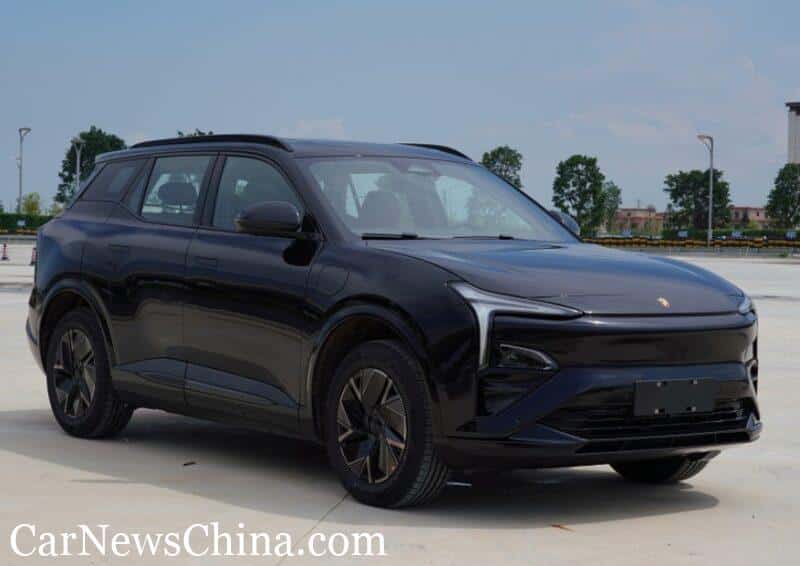 The Hengchi 5 is a compact 5 seat electric SUV. Size: 4725/1925/1676, with a 2780 wheelbase and a 1985 kg curb weight. The single electric motor is supplied by Shanghai-based UAES, a joint venture between Germany's Bosch and China's CNEMS. Output is 201 hp for a 180 km/h top speed. Other specs are yet unknown.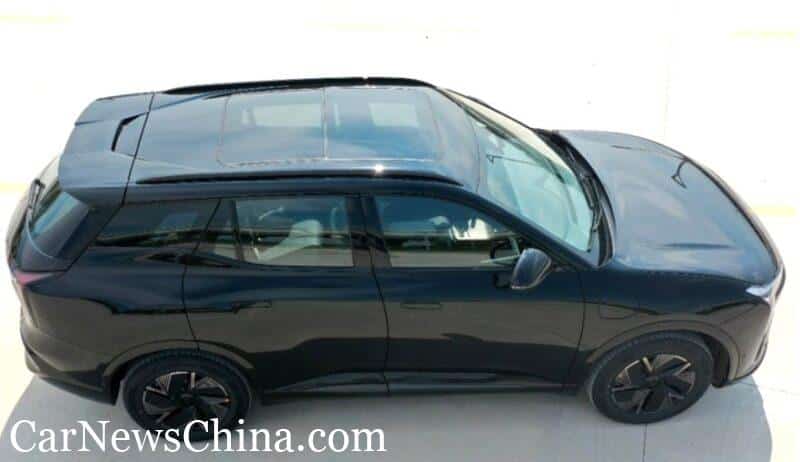 The Hengchi 5 will be manufactured by a subsidiary of Evergrande New Energy Automobile, called Evergrande New Energy Automobile (Tianjin) Co., Ltd. (恒大新能源汽车(天津)有限公司). As the name implies, the factory is based on the port city of Tianjin. It is a good sign that Evergrande has at least its own factory, something many other new Chinese EV makers do not have.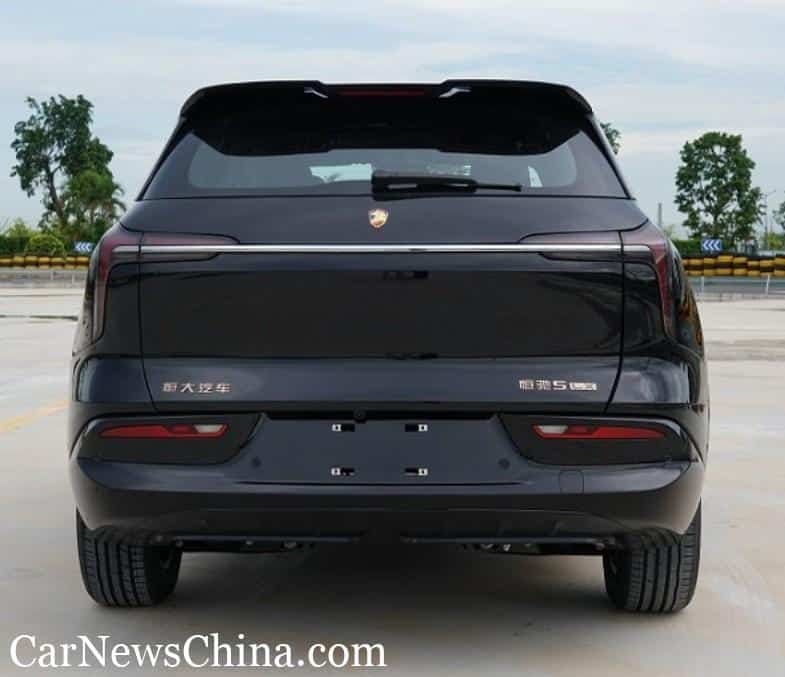 The Hengchi 5 will have its public debut on the upcoming Guangzhou Auto Show later this month. So what will it be? A promising start for a troubled company or a car that came too late..? More as we get it!