Chinese MIIT unveiled the XPeng G9 all-electric SUV. It has 551 horses, LiDAR sensors under high beams, an air suspension, etc. And, if you wonder, it can tow up to 1,500 kilos. Its deliveries will start somewhere in Q3 2022. Let's get acquainted with the G9.
Dimensions and Styling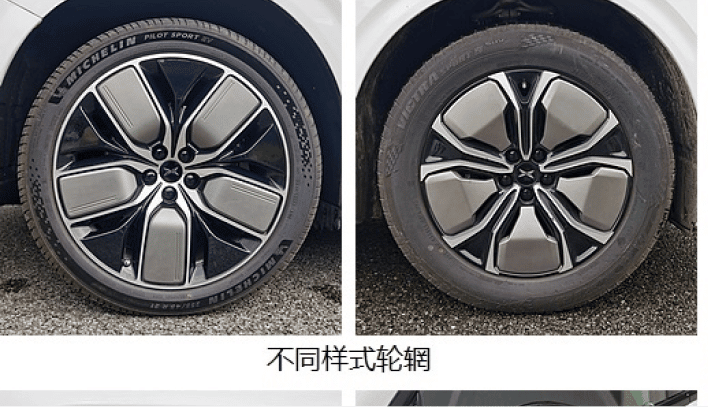 Let's start with the size of the XPeng G9. It is a D-SUV with dimensions of 4891/1937/1680mm (1670 without the air suspension) and a wheelbase of 2998 mm. As for the wheels of the G9, it has got 255/55 R19 or 255/45 R21. Its approaching and departure angles are 19 and 20 degrees, respectively.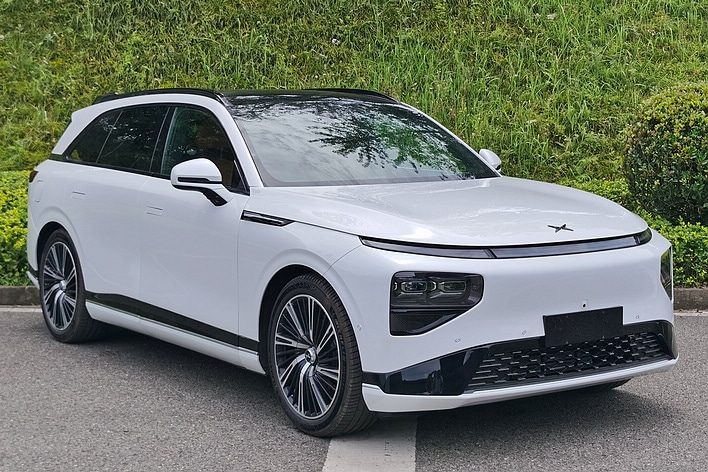 Previously, many Chinese media compared the G9 with the Li Auto L9. But now we see that these two cars play in different segments. Speaking about numbers, the L9 is 327 mm longer, 61 mm wider, and 120 mm taller than the G9. So the XPeng SUV will be a closer competitor to the upcoming Li Auto X02 (L7), the NIO ES6, and the Tesla Model Y.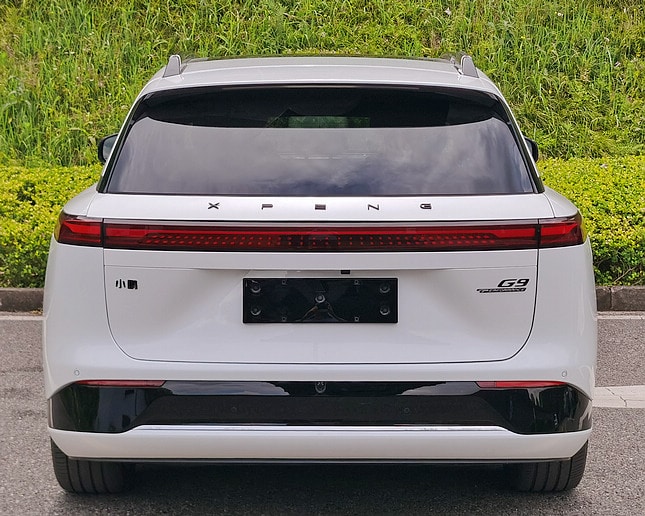 The XPeng G9's appearance isn't a surprise as XPeng has been showing it at different Auto Shows in China since 2021. It maintains a very clean and smooth design. The G9 has a traditional shape but also got some fine modern features. We should also mention that in MIIT Announcement's images, the XPeng G9 sits very close to the ground. So the car in the shots is likely to have air suspension.
Interior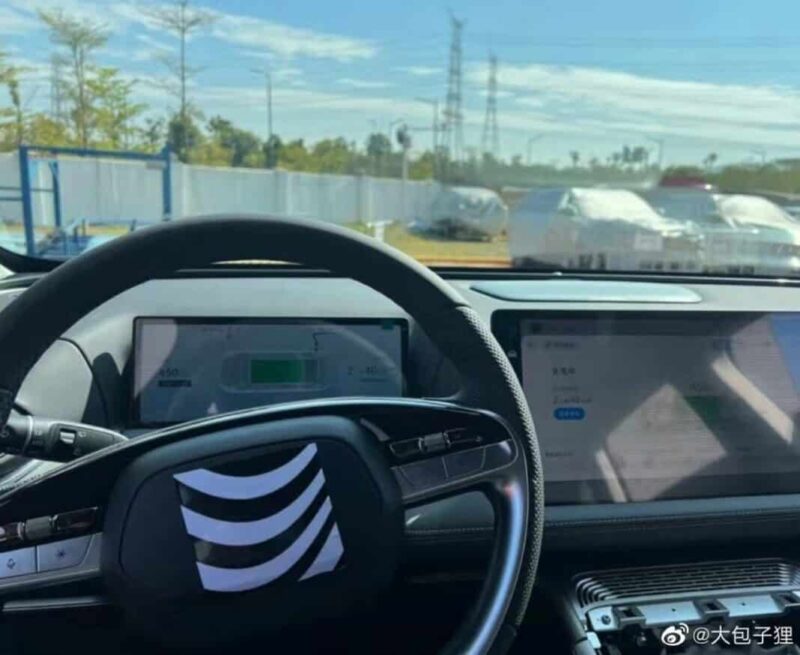 MIIT didn't share an interior of the XPeng G9. Anyway, we have seen its spy shots several times. We can see a twin-screen for infotainment and passenger in the interior spy shot. Under the screen, we can see blue ambient lighting. The center tunnel of the XPeng G9 got two cup holders and two wireless charging pads for phones. There is also a long armrest. A roomy space is under the central tunnel with USB, USB-C, and 12V ports.
Specs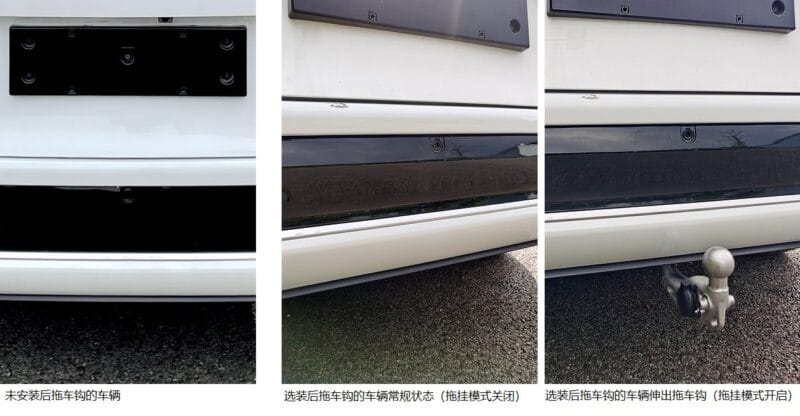 The XPeng G9 is a powerful SUV with two electric motors and combined power of 405 kW (551 hp). On the other hand, it is a heavy SUV with a curb weight of 2335/2355 kilos and a gross weight of 2800 kg. We should underline that the G9 can tow! According to the MIIT, the total mass of the trailer can reach 1,500 kilos. As for the top speed, it is limited to 200 km/h.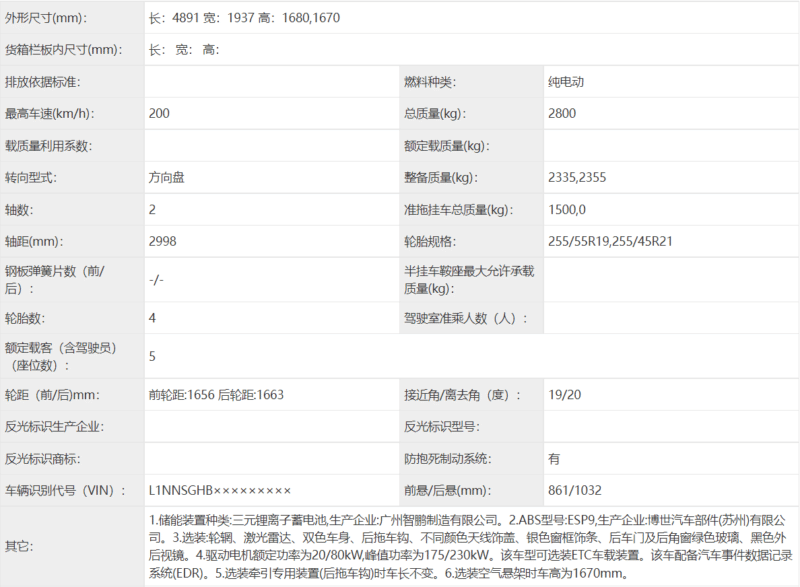 Unfortunately, MIIT didn't share the battery capacity of the G9. But we know that it will be a ternary (NMC) battery manufactured by Guangzhou Chengxing Zhidong Motors Technology, a company under XPeng Motors. The XPeng G9 has the XPower 3.0 battery technology package, according to previous information. It features an 800V high voltage Silicon Carbide (SiC) system and a high-voltage overcharge capability of more than 480kW. This technology will allow the G9 to charge up to 200 km in 5 minutes.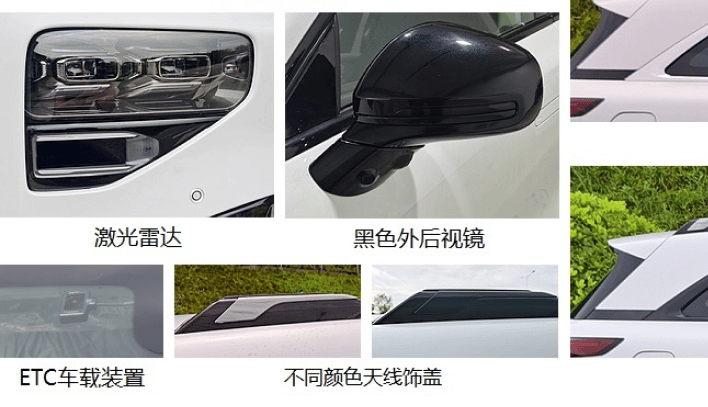 Another feature of the XPeng G9 is an autonomous driving system. This vehicle got two LiDAR sensors under the high beams, as we see in the announcements. They will be a part of XPeng's XPILOT 4.0 intelligent assisted driving system.
Deliveries
XPeng G9's deliveries are planned for Q3 2022. According to various sources, there are different dates. For example, the financial services company Guosheng Security did research on XPeng's supplier Sunwoda. According to this research, the XPeng G9 deliveries are planned for October. But a lot of Chinese media sources consolidate around August-September. We will monitor further information about the G9, so stay tuned!
Source: MIIT, Guosheng Securities