When you spend a lot of money buying a flagship car, you expect near-flawless operation. This was why netizens were surprised by the news of a NIO ET7 stopping suddenly when the driver did not apply the brakes.
The NIO ET7 started delivery to pre-order holders around March this year. It starts at RMB448,000 (US$70,900) in China after subsidies and is meant to be sold in Europe too.
The ET7 owner in question posted his experience with his car on the NIO community website. He had waited 16 months for his car to be delivered, only to find it malfunctioning on the 13th day of ownership. He reported that the car, while in motion, the vehicle suddenly lost power, and the brakes lost power. The car stopped slowly on its own.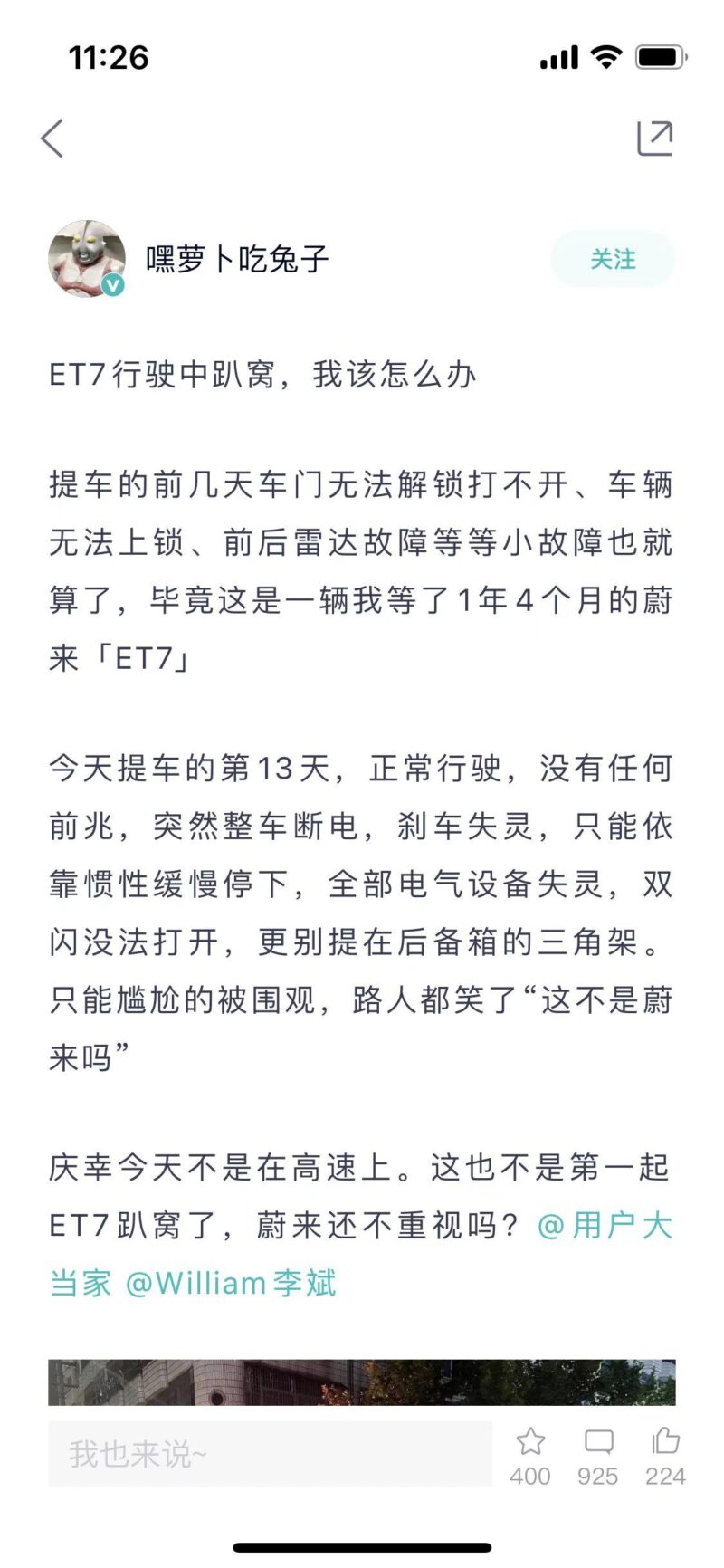 The driver also noticed all the electrical components stopped working.
However, NIO's senior director confirmed the hapless driver was not alone in this predicament. He revealed NIO had recently got two similar complaints of the car suddenly stopping.
The NIO's official further said their initial findings point at the vehicle's 12-V battery. The low-voltage battery failed, and a notification appeared on the dashboard, although it was not obvious enough.
To address the situation, NIO has come up with an urgent software update that will make the notification of such a failure more noticeable. Cars already delivered or shipped will get the update over the air.
For the 12-V battery, NIO said it affects only a small number of ET7s. It will trace the units likely to be affected and do a replacement after-sales.
NIO will study the failed components with the vendors to pinpoint the issue.
The carmaker instructs owners to immediately stop driving when they notice the battery failure alert and contact the company.
The NIO ET7 is offered in three trims and either as a single or dual electric motor configuration. Maximum power from the drivetrain is 480 kW, torque is 850 Nm, and 0 to 100 km/h is 3.9s. The battery pack comes in 70 kWh, 100 kWh, and 150 kWh corresponding to a driving range of 500 km, 700 km, and 1,000 km, respectively, using CLTC standard.
You can read my colleague Mark's test drive of the NIO ET7 here.