The Changan Oshan Z6 is a D-SUV with a hip design. It was launched in China with a triple-screen dashboard, a 1.5-liter engine, and a starting price of 99,900 RMB (14,930 USD). The Z6 also has a PHEV version with 150 km of fully electric range and a starting price of 155,800 RMB (23,290 USD). Let's get acquainted with this exciting vehicle.
Oshan is a brand under Changan, which is aimed at young buyers. It is considered a premium brand, but its lineup has some cheap cars. So, not all the cars of Oshan are premium.
Changan Oshan Z6 Styling and Dimensions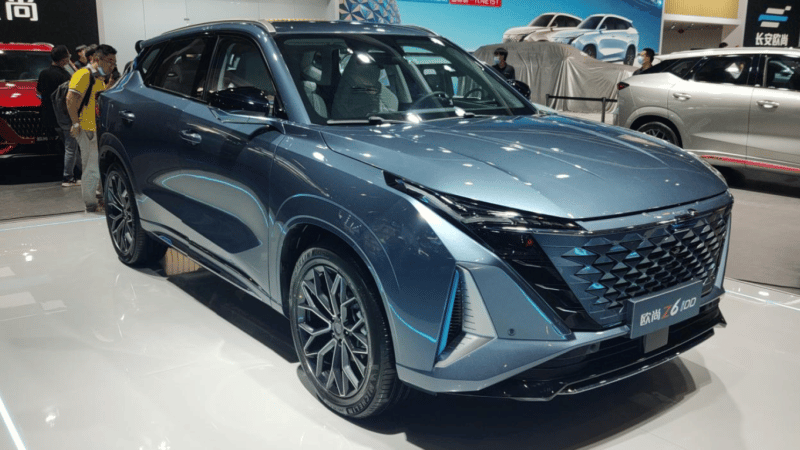 The Changan Oshan Z6 is an attractive SUV with many sharp lines. Its front end has narrow headlights, a frameless grille, and a sporty bumper. From the side, the Z6 looks sporty, thanks to the inclined D-pillar and a rear spoiler. The rear end of the Oshan SUV got two continuous taillights. As mentioned, the Z6 has ICE and PHEV versions with slightly different appearances. The Z6 PHEV got blue trim and less sporty exhaust pipes.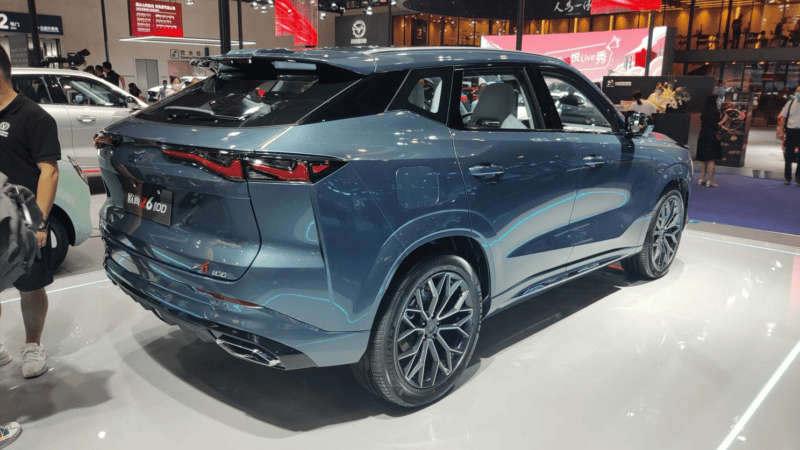 As for the size, the Changan Oshan Z6's dimensions are 4699/1890/1660 mm, with a wheelbase of 2795 mm. The wheels of the Z6 can be 225/55 R19 or 245/50 R20. Worth mentioning that the Z6 has the Macpherson suspension on the front axle and the Multi-Link suspension on the rear.
Changan Oshan Z6 Interior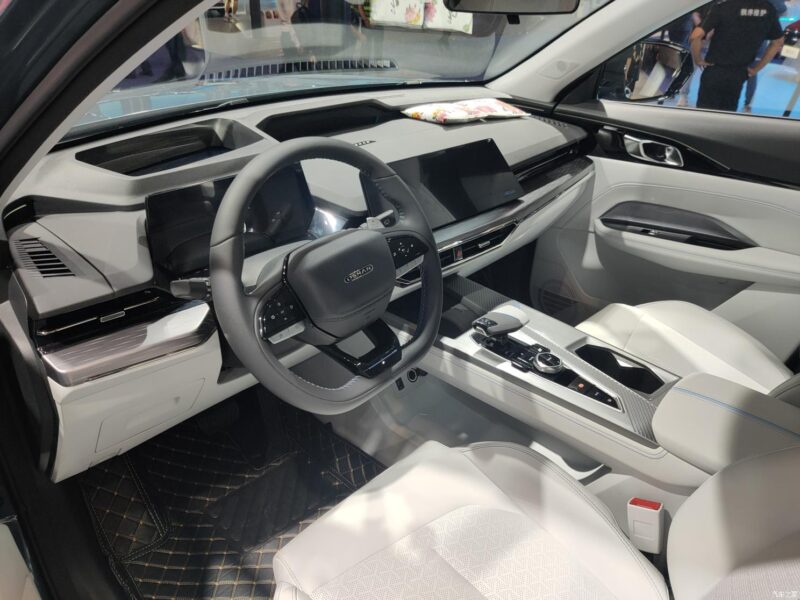 The Z6 has a total of three screens in its interior, which is decent for such a low price tag. Its main screen has an uneven shape and a diameter of 12.3 inches. As for the instrument panel, it has 3D technology and a diameter of 10.25 inches. The third and the smallest screen is mounted on top of the center panel. It has a 9.1-inch diameter and is mainly used for navigation. In addition, the high trim levels of the Z6 have an AR-HUD. Worth mentioning that this SUV is equipped with the EaglePilot 7.0 driving system. It got 12 radars, 3 millimeter-wave radars, and 5 cameras.
Similar to the exterior, the interior of the ICE and PHEV models has some differences. The Z6 PHEV has blue trim everywhere, while the Z6 ICE got red.
Changan Oshan Z6 ICE Specs and Pricing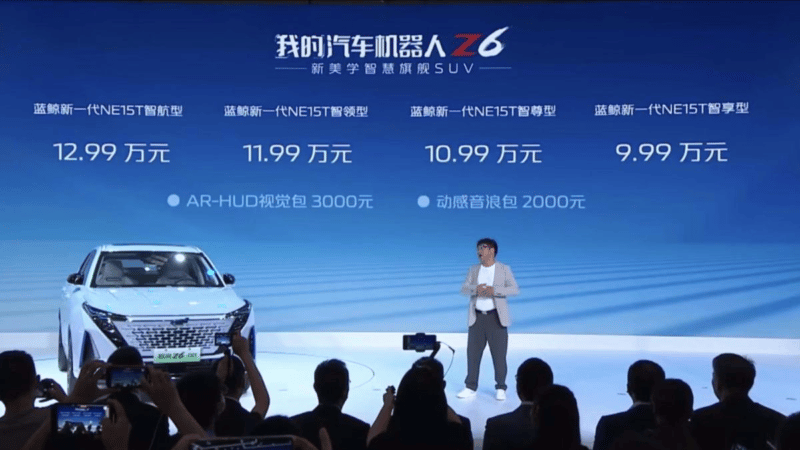 The Changan Oshan Z6 ICE has a 1.5-liter four-cylinder turbocharged petrol engine developed by Changan with a peak power of 188 hp and 300 Nm. It powers only front wheels and works with a 7DCT transmission. In the future, the Z6 will also get a 2-liter engine for 233 horses.
The base model of the Changan Oshan Z6 has a price tag of 99,900 RMB (14,930 USD). For this price, it will be equipped with a rear-view camera, LED lights, 4 speakers, cruise control, and only two screens (without a 9.1-inch one). As for the top trim level, it has adaptive cruise control, an emergency stop system, a 360-degree camera system, 6 speakers, 64-color ambient lighting, etc. The price of the top Z6 ICE is 129,900 RMB (19,420 USD).
Changan Oshan Z6 PHEV Specs and Pricing

A PHEV version of the Z6 is called Z6 iDD. It goes standard with a 1.5-liter turbocharged engine also designed by Changan with an output of 166 horses and 255 Nm. It is mated with an electric motor on the front axle with a peak power of 110 kW (150 hp) and 330 Nm. The transmission here is the 6-speed triple-clutch. The Z6 iDD has a 28.4-kWh LFP battery from CATL. In a fully electric mode, it can run up to 150 km (NEDC) or 110 km (WLTC).
Now let's speak about pricing. The entry-level of the Z6 costs 155,800 RMB (23,290 USD). It has a 360-degree camera system, cruise control, battery heating system, 4 speakers, and only two screens. The top-trim level is way more luxurious. It has an L2 autonomous driving system, adaptive cruise control, three screens, 9 speakers from Sony, etc. Its price tag reaches 175,800 RMB (26,280 USD).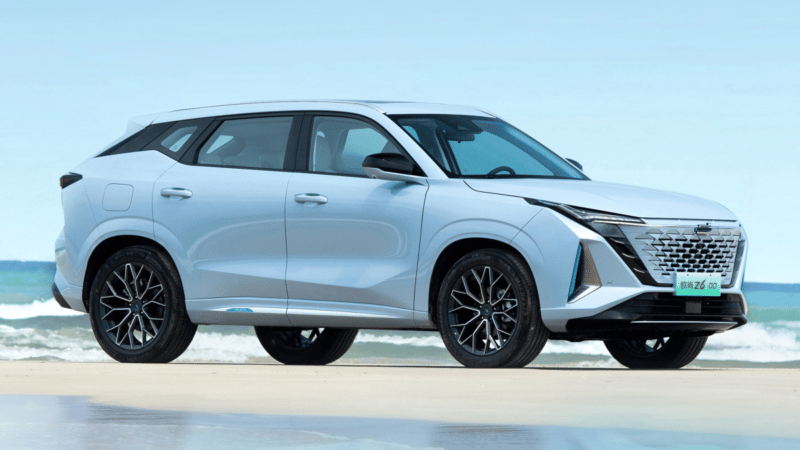 So the Changan Oshan Z6 is an exciting vehicle that offers a spacious interior, awesome exterior, great tech, and good power for a comparatively small amount of money. We will keep an eye on the Oshan Z6 and wait for the 2-liter ICE version to launch.
Source: Changan Oshan Weibo, Autohome