The Radar RD6 electric pickup truck from Geely Group was finally launched in China. It stands on the SEA platform, has a 632-km range, up to 272 hp, and a starting price of 178,800 RMB (24,600 USD). Let's get to know it better.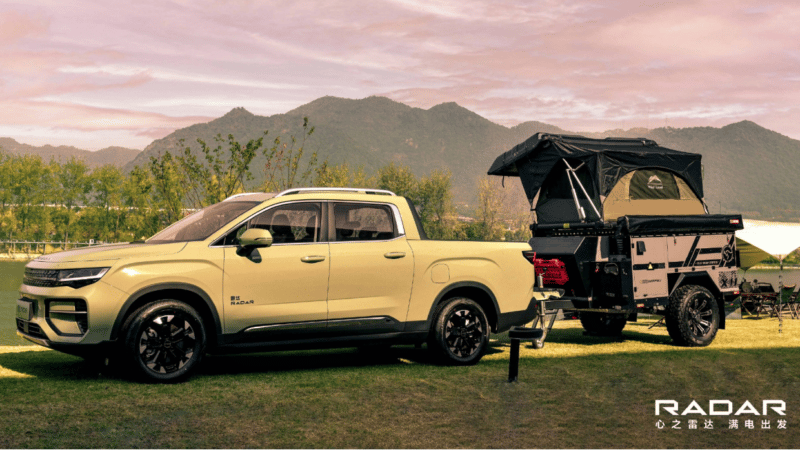 Radar is a brand under Geely aimed at young buyers living in big cities who like to go out to the beach or mountains on the weekend. In the near future, Radar will launch four new cars, including an SUV, a small pickup truck, a large SUV, and an ATV. And now, Radar has launched its first vehicle – the Radar RD6.
Radar RD6 Appearance and Dimensions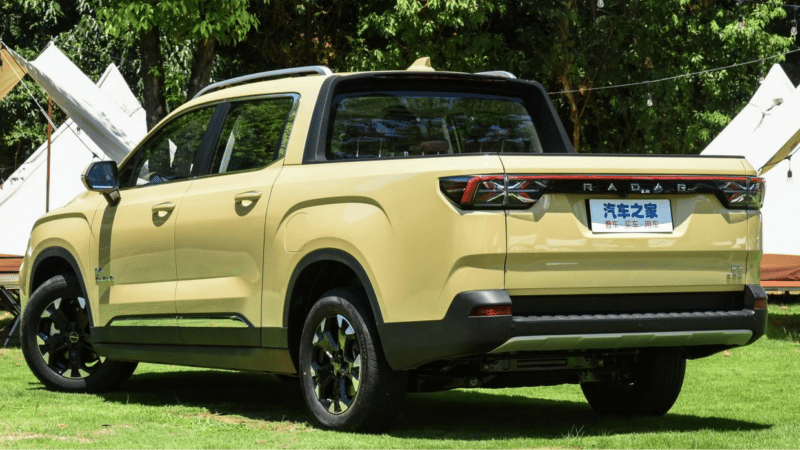 Radar mentioned that Geely Group's British modeling center has designed the RD6. But we can easily see that its exterior looks really close to the Geely Haoyue. Even the shape of its headlights looks close to the Geely's SUV. All in all, the RD6's exterior is quite simple, excluding an interesting taillight unit. Speaking about dimensions of the Radar RD6, they are 5260/1900/1830 mm with a wheelbase of 3120 mm. In terms of size, it is very close to the Toyota Hilux.
Radar RD6 Interior and Features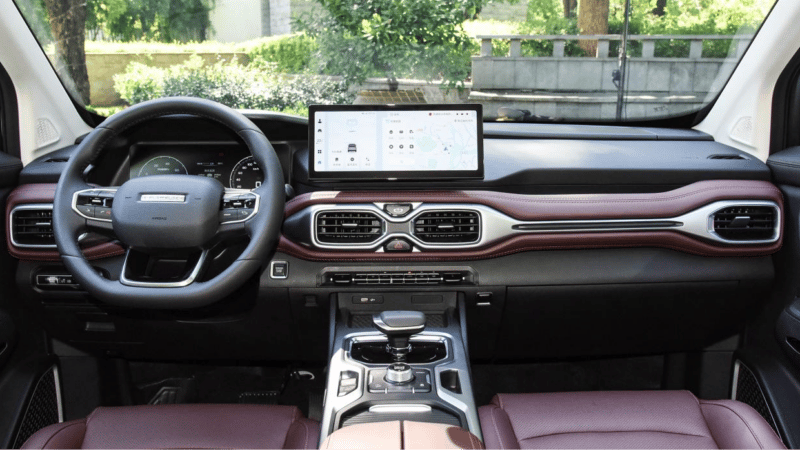 An interior of the Radar RD6 is just a 'clone' of the mentioned Geely Haoyue. Their main screens, center tunnels, vents, seats, and even steering wheels are equal. It seems like Radar has developed its first vehicle in a great hurry. Speaking about interior features, the RD6 got 72-color ambient lights, HUD, two 12.3-inch screens, etc. The screen will also adopt voice interaction.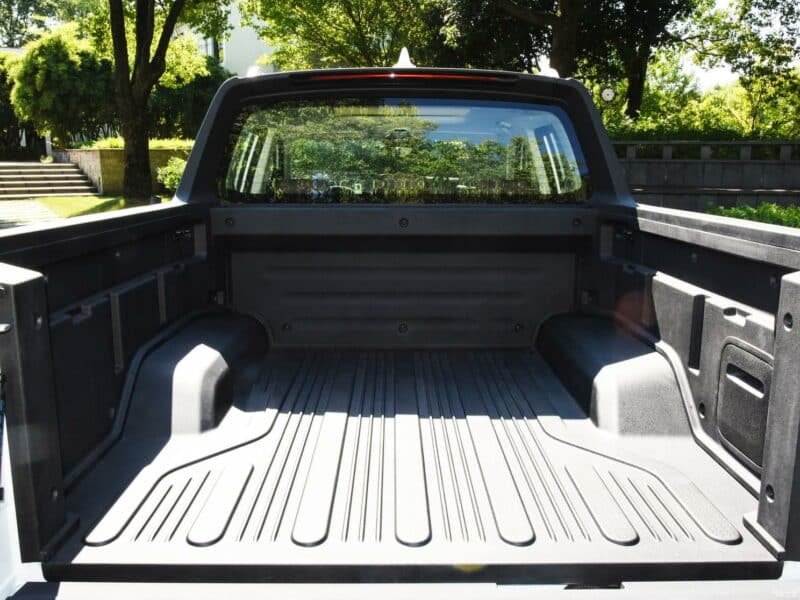 The trunk of the Radar RD6 has 6 different power ports. They can supply up to 2000 W. Radar mentioned that it is enough for supply energy to 5 household air conditioners. Bearing in mind that the Radar RD6 is made for young citizens accustomed to electricity and town comfort, it is definitely a great feature.
Radar RD6 Powertrain and Price Range
The RD6's powertrain is its major drawback. The thing is, this pickup truck got only one electric motor on the rear axle for 200 kW (272 hp). Of course, its acceleration time in 6 seconds range is impressive. But it has no off-road capabilities at all. This is a huge drawback of the RD6.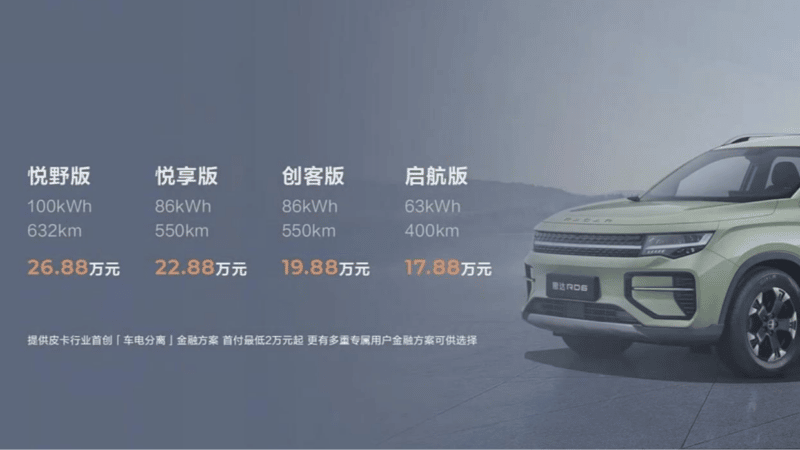 Speaking about batteries, the RD6 has got several options here. The entry-level model got an LFP battery for 63 kWh and 400 km of range. There is also a bigger ternary (NMC) battery for 86 kWh and 550 km. And the most expensive RD6 got an NMC battery for 100 kWh and 632 km.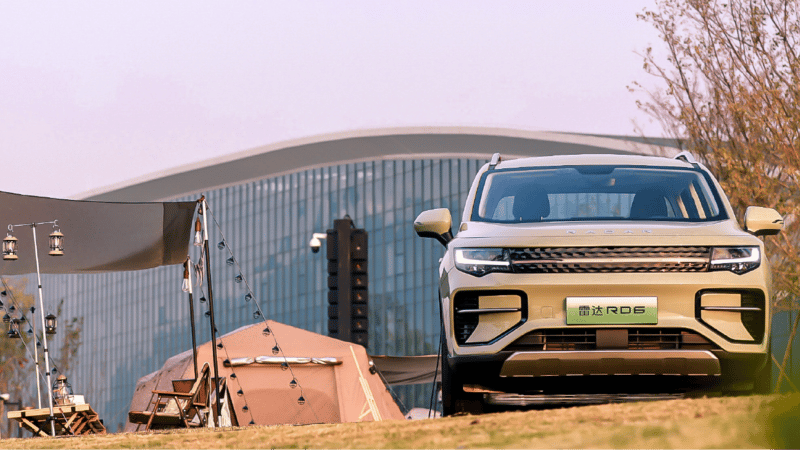 As for the price range of the Radar RD6, it lies between 178,800 – 268,800 RMB (36,950 USD). The new car has a warranty for 4 years or 100,000 km. Will the controversial Radar RD6 find its market niche? Only the future knows.
Source: Radar, Radar Weibo, Autohome