The new Toyota bZ3 is on display on the 2022 Tianjin Auto Show. The new sedan is right at home because it is manufactured in Tianjin. It was the first time that the Toyota bZ3 was shown to a large audience. It stood side by side with the Toyota bZ4X SUV, seen on the left side.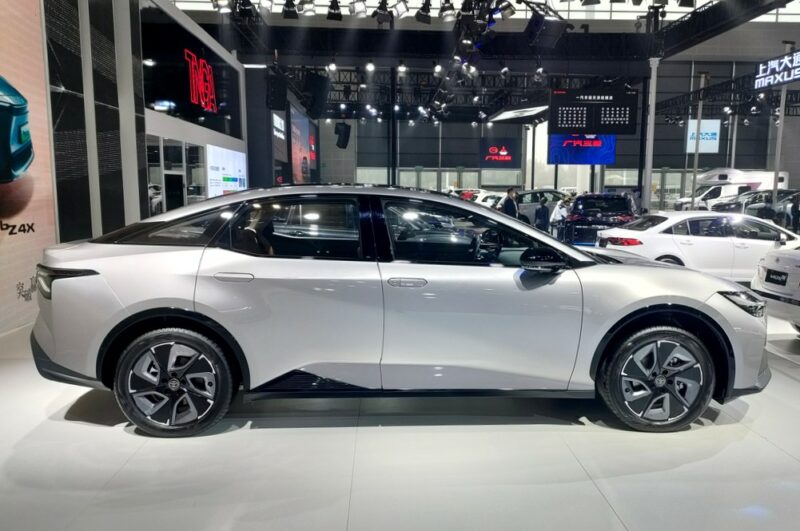 The Toyota bZ3 is a wildly styled electric sedan for the Chinese car market. It is manufactured by the FAW-Toyota joint venture in their Tianjin factory. Amazingly, the bZ3 is actually Toyota's first electric sedan ever.
Toyota held on to its hybrids for so long that it totally missed the EV boat in China. Worse, most of Toyota's hybrids are HEVs, instead of PHEVs. In China, only EVs, PHEVs, and FCEVs are counted as New Energy Vehicles (NEVs), and only NEVs qualify for various subsidies and other perks.
The technology of the Toyota bZ3 is a unique blend of brands. As mentioned, it is made by FAW-Toyota. It is based on Toyota's own e-TNGA platform. But the battery and the electric motor are sourced from Fudi Industrial, a wholly-owned subsidiary of BYD that sells EV technology to other car makers.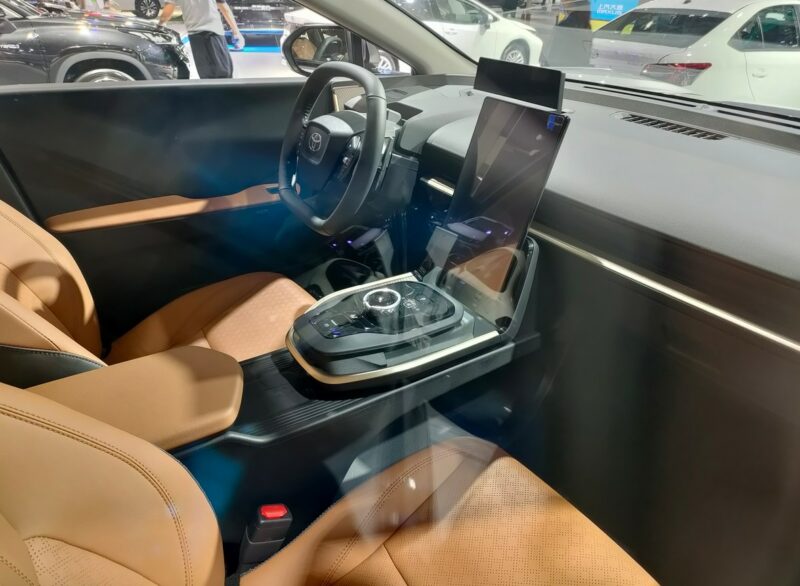 The dashboard is wild too, for a Toyota. It has a steering wheel with a flat bottom and top, with flappy pedals to control the regenerative braking. Far in front of the wheel is a letterbox digital instrument panel. There is a platform on the center tunnel with a central control knob. Center piece is the gigantic vertical touch screen.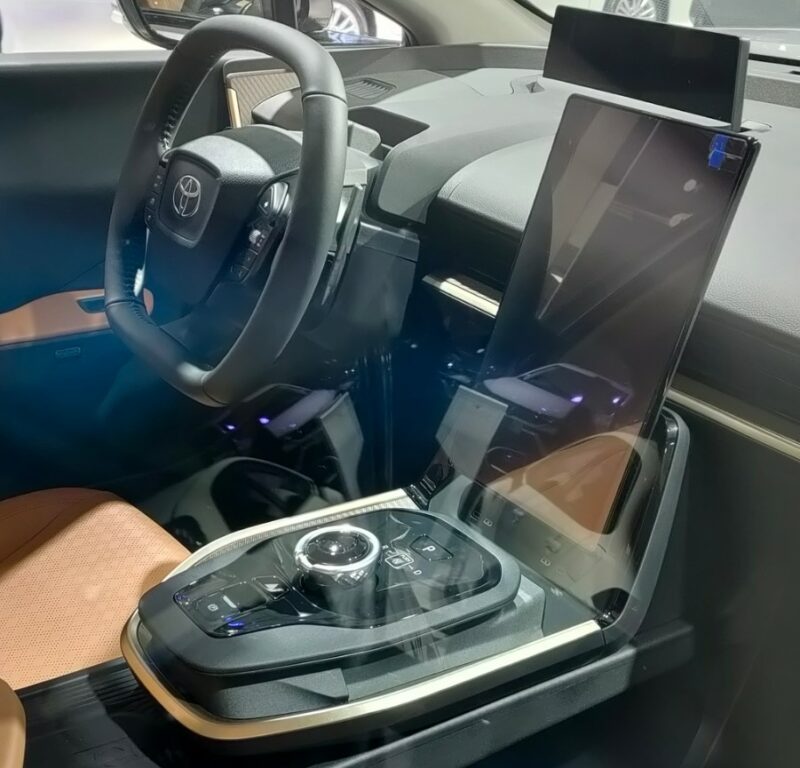 The platform, called "island" by Toyota, seems more complex than it ought to be. The car on show was locked and the screen appears to have some damage, note the blue tape on the right-upper corner.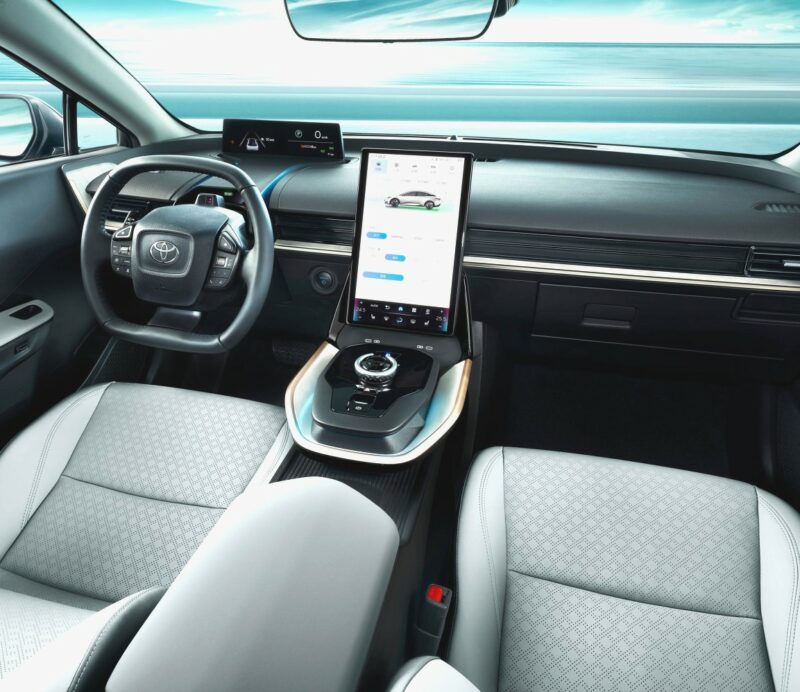 This is how it looks when all is well. The seat fabric comes, or so it seems, from a 1985 Toyota Corolla.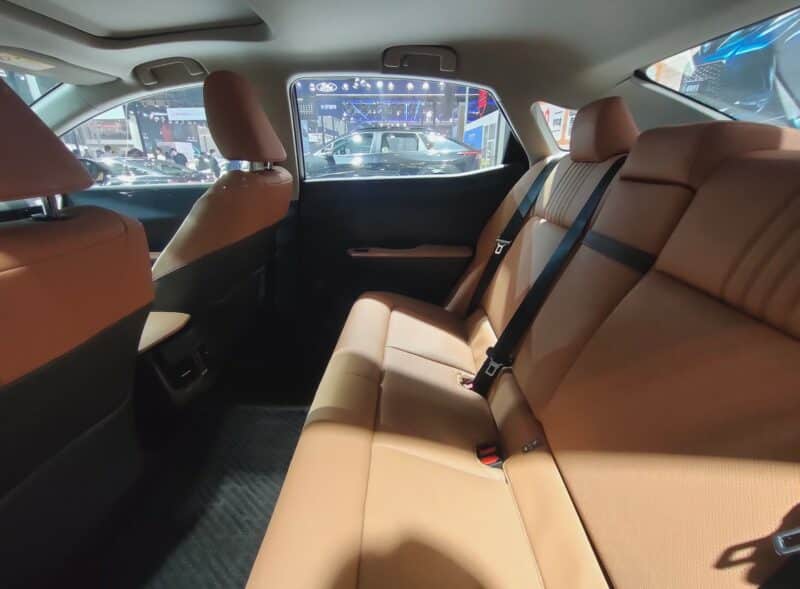 This is probably the least exiting rear cabin I have seen in a long while. A flat bench. That's it. Fine for a taxi, I guess, but a tad too boring for a new electric sedan.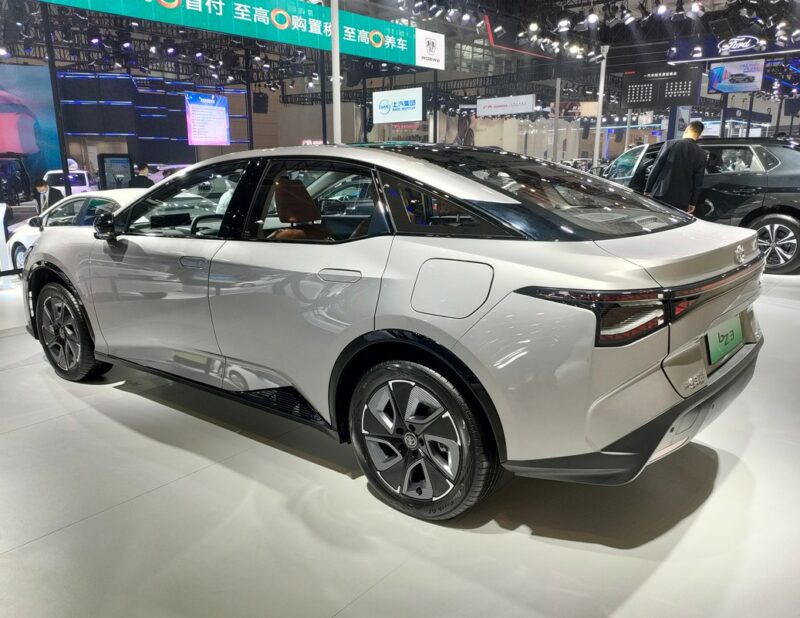 The layout of the Toyota bZ3 is front-motor, front-wheel drive. The 'TZ200-XS002' motor comes in two kinds: 183 hp in the base model and 244 hp in the top-spec model. Top speed is limited to 160 km/h on both versions. Battery is a Fudi BYD Blade unit but Toyota hasn't disclosed the size of the battery yet, although they do say CLTC range is 600 kilometer. Size of the car: 4725/1835/1475, with a 2880 wheelbase.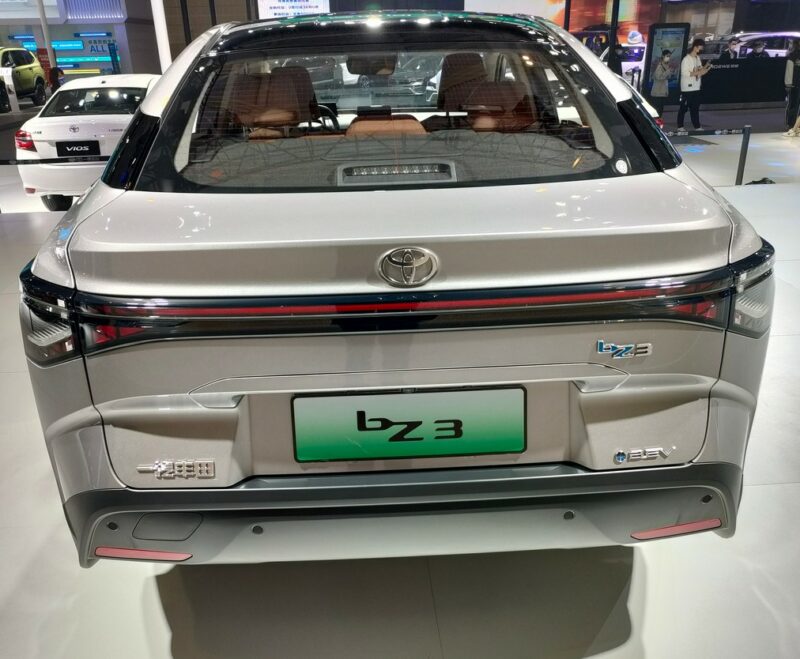 On the left: 一汽丰田, FAW Toyota. On the right: bZ3 with bZ in blue. And below that an odd BEV badge. BEV for battery electric vehicle. The Toyota bZ3 will launch on the Chinese car market in Q1 2023. We'll be back with an update when we know more about pricing and battery size.
Photos via Autohome.