On April 25, FAW-Toyota started delivering its second pure EV – bZ3 mid-size sedan. The EV was launched on April 16, and on the same day, Toyota announced it received 5000 orders. The car offers three trim levels, officially starting at 169,800 yuan (24,500 USD) on the first day.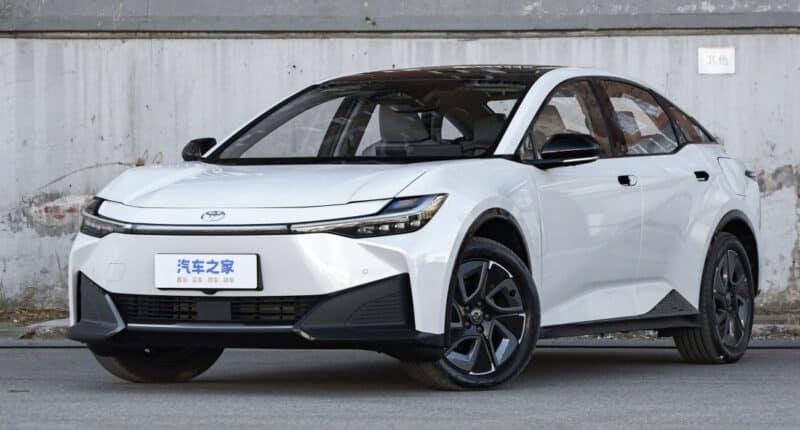 However, customers who purchase the car until July 31 will receive a discount of 15,000 yuan (2,200 USD), so the vehicle effectively starts at 154,800 yuan (22,300 USD).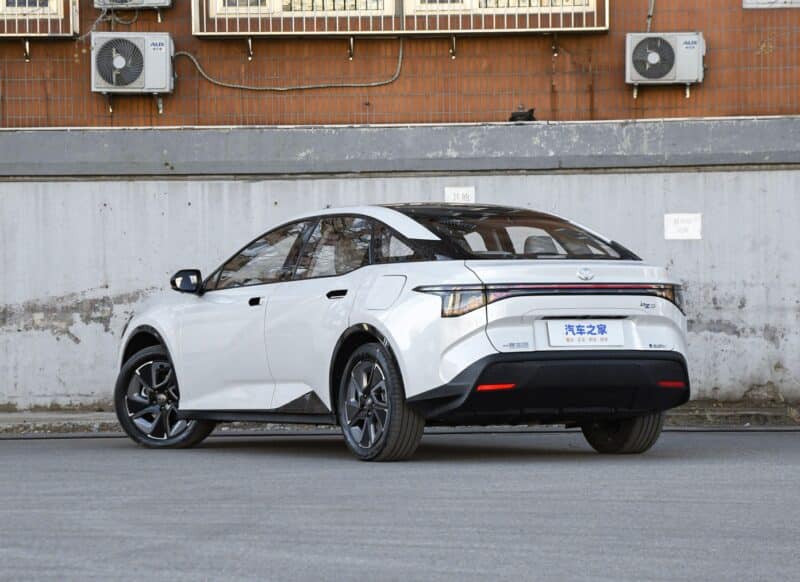 The car is based on Toyota's e-TNGA platform and manufactured exclusively by Toyota's joint venture with state-owned FAW. Despite bZ3 being made by FAW-Toyota, it feels like it's more BYD-Toyota baby. As the Japanese legacy is behind in the electric vehicle market, they had to buy lots of tech from other EV makers to stay relevant in the Chinese market, where NEV penetration in March reached 34.2%. And BYD offered help.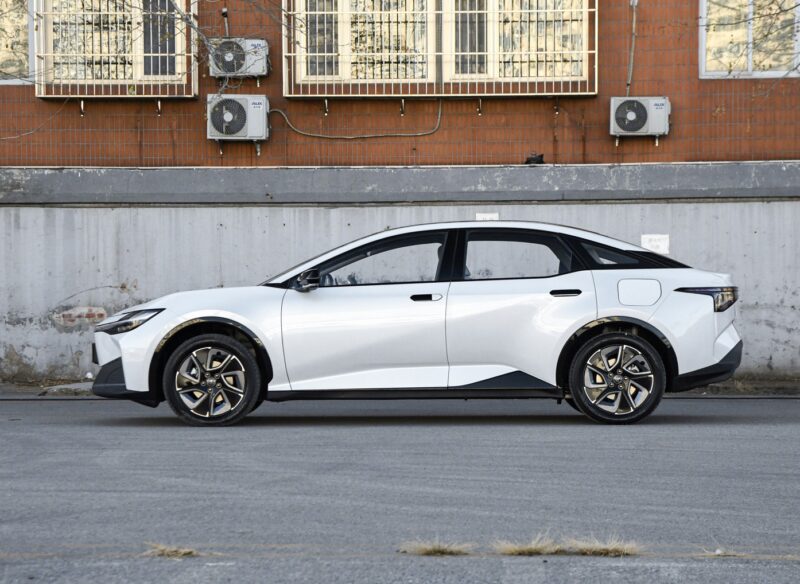 On the outside, the bZ3 sedan shares the design language of the bZ4X SUV – Toyota's first pure EV – but inside has a BYD drivetrain, including an LFP blade battery and electric engine from Fudi motor, BYD's subsidiary.
Talking about bZ4X, it is manufactured by two of Toyota's JV in China – FAW and GAC. For bZ3, it is not the case, as the FAW joint venture makes it exclusively.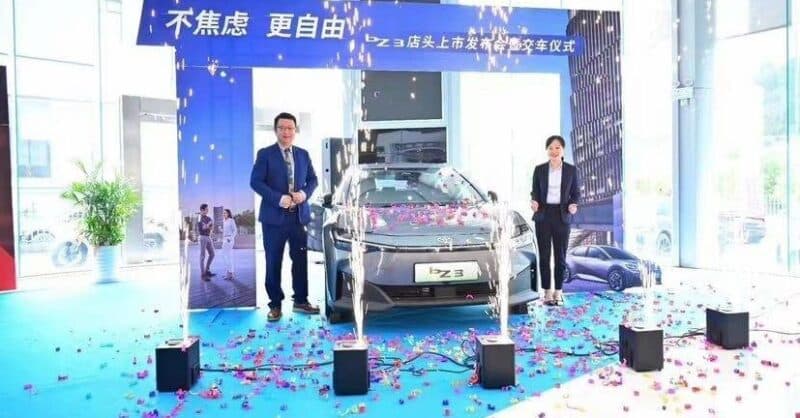 The electric sedan offers three configurations, with the top trim level having a 65.28 kWh battery good for the 616 km CLTC range and a price of 199,800 yuan (29,000 USD).
The bZ3 model also supports DC fast charging, with the Blade battery capable of charging from 30% to 80% in just 27 minutes. Additionally, the vehicle has a drag coefficient of 0.218 cd.
The entry-level Elite Pro version features a 49.92 kWh battery, which offers a CLTC range of 517 km and is powered by a single 130 kW motor. More trim levels in the table:
| | | | |
| --- | --- | --- | --- |
| bZ3 Trim name | CLTC Range (Km) | Motor (kW) | Price (Yuan) |
| Elite Pro | 517 | 135 | 169,800 |
| Long Range Pro | 616 | 180 | 189,800 |
| Long Range Premium | 616 | 180 | 199,800 |
The single rear motor offers 135 kW (181 HP) and 180 kW (241 HP) variants with a peak torque of 303 Nm. Both options also have a top speed limited to 160km/h. bZ3 can do 0-50km/h in 3.2 seconds, according to BYD.
bZ3 is a 4-door 5-seater with dimensions (length, width, and height) 4725/1835/1475 mm, respectively, wheelbase of 2880mm. An instrument LCD panel and a 12.8″ infotainment screen are inside the car.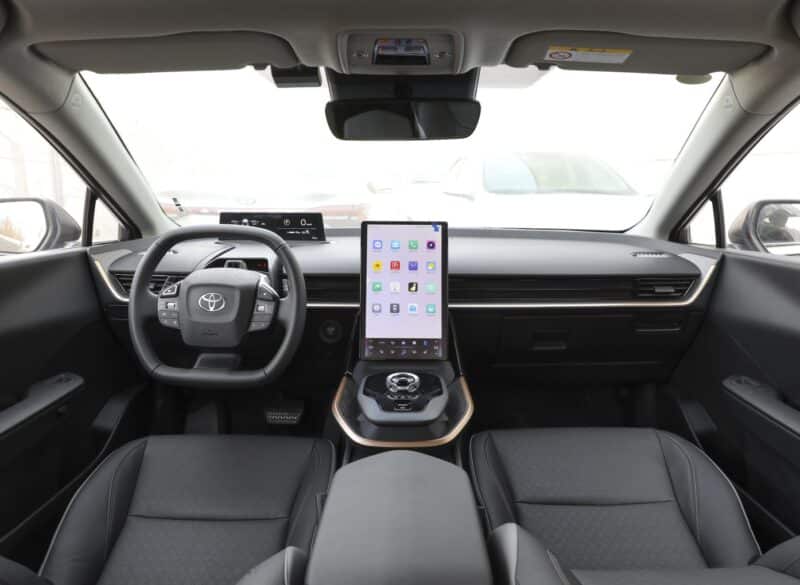 The bZ3 EV will be produced at the FAW-Toyota new New Energy Plant in Tianjin, which is a crucial port city in China and situated approximately four hours southeast of Beijing. This manufacturing facility spans 1.97 million square meters, and construction began in June 2020. It was officially inaugurated in October 2022 and has the capacity to produce 200,000 units annually.
The car is sold through the traditional dealership channels in China, which even organized a "No Range Anxiety and Freedom FAW Toyota bZ3 Delivery Ceremony" upon deliveries start.
Editor's comment
As the car reviewer Yuan Qijun said after the test drive, the 'electric Corrola' bZ3 is not as bad as expected. The car has the same issue as the ID. series from VW. It is of great rank in chassis and built-in quality, but the lack of connectivity, SW, and digital maturity makes this car hard to buy for Chinese consumers. Still, I expect sales won't be so bad as Toyota has immense power in its dealer network, which will do anything possible or impossible to accomplish the sales target. Expect great on-site discounts.