On April 16, FAW-Toyota joint venture launched the bZ3 'electric Corrola' in China, starting at 169,800 yuan (24,700 USD). Soon after the launch, Toyota announced it received 5000 orders for the new EV. bZ3 is Toyota's first electric sedan and only second pure EV in the lineup – so behind the Japanese carmaker is. Their first electric car was a bZ4x SUV launched last year.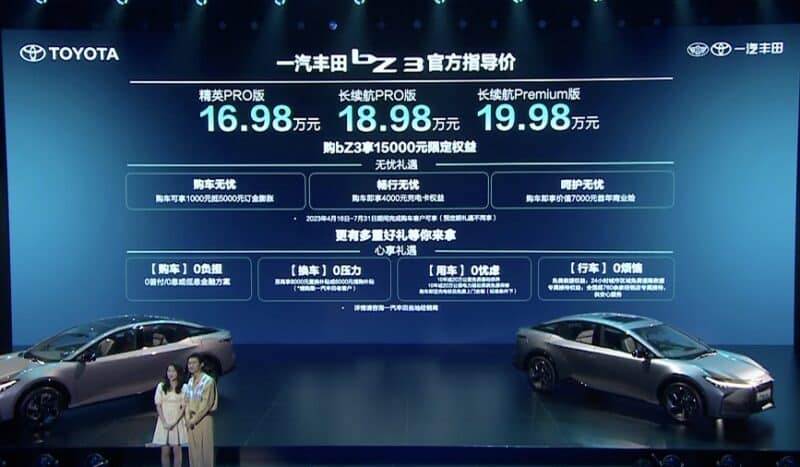 The bZ3 is built on Toyota's e-TNGA platform and features lots of BYD tech inside, including an LFP Blade battery and an electric engine from Fudi Motor, a BYD subsidiary. Regarding body dimensions, the bZ3 has a length, width, and height of 4725mm, 1835mm, and 1475mm, respectively, along with a wheelbase of 2880mm.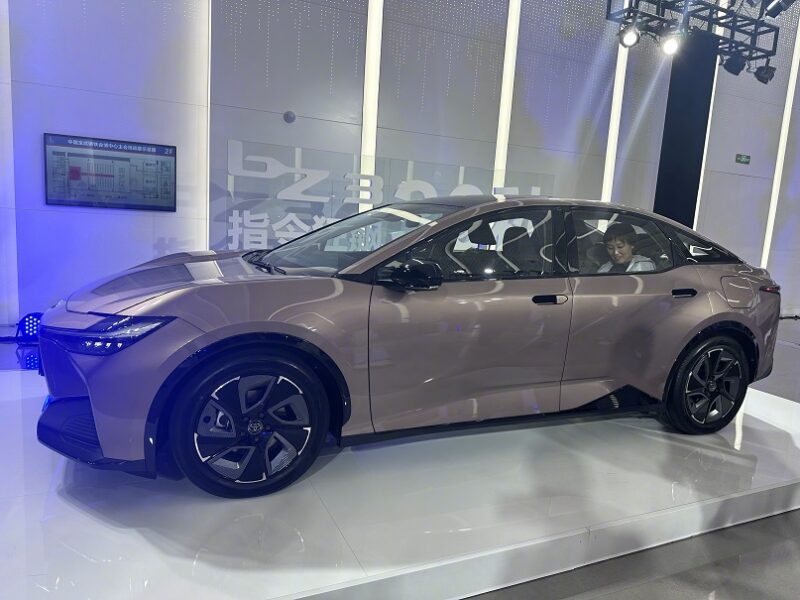 The car offers three options, with the top trim level having a 616 km CLTC range and a price of 199,800 yuan (29,000 USD).
| | | | |
| --- | --- | --- | --- |
| bZ3 Trim level | CLTC Range (Km) | Motor (kW) | Price (Yuan) |
| Elite Pro | 517 | 130 | 169,800 |
| Long Range Pro | 616 | 180 | 189,800 |
| Long Range Premium | 616 | 180 | 199,800 |
The lowest trim level Elite Pro has a 49,92 kWh battery good for a 517 km CLTC range and a single front 130 kW motor. The bZ3 supports fast charging – the Blade battery will refill 30% – 80% in 27 minutes on DC charge. The drag coefficient is 0.218 cd.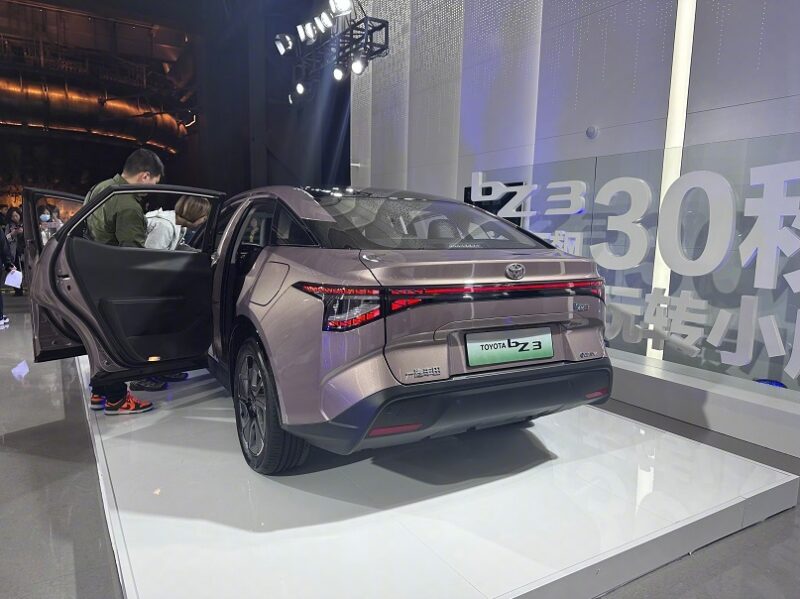 The version with 180 kW has a peak torque of 303 Nm and a maximum speed limited to 160 km/h. The acceleration from 0-100 km/h is in 7.5 seconds.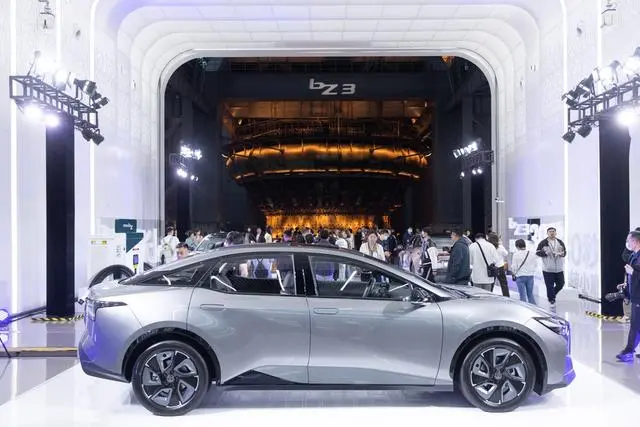 bZ3 EV will be manufactured in the FAW-Toyota New Energy Plant, located in Tianjin, one of the most important Chinese ports, about 4 hour drive southeast of Beijing. The plant has a total planned area of 1.97 million square meters. Construction started in June 2020 and was officially put into operation in October 2022. It has an annual capacity of 200,000 units.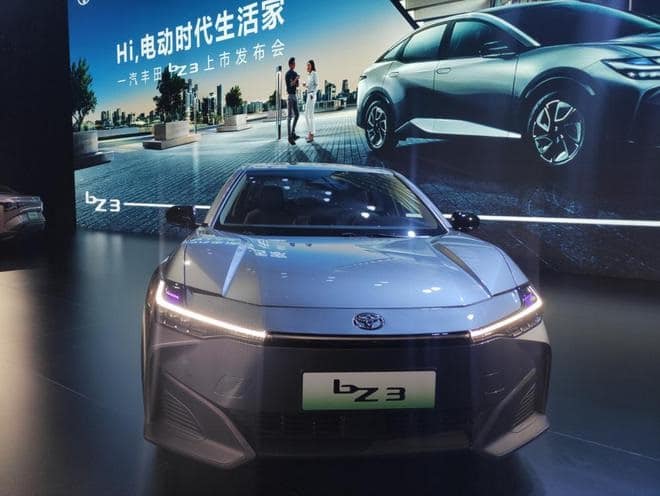 bZ3 was unveiled in China in October of last year. The first car rolled off the production line in Tianjin on March 3. On April 7, the presale started for a price of 20,000 yuan (3,000 USD) lower than what Toyota originally announced – a price war forces EV makers to discount cars even before launching in China.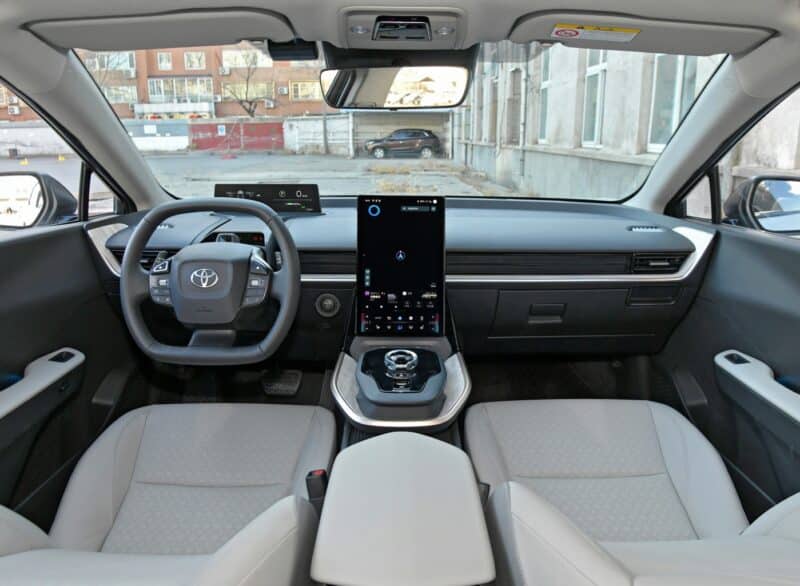 The first electric Toyota – bZ4X SUV had a similar fate when it dropped 30,000 yuan (4,300 USD) in February. Both Toyota EVs now have the same effective base price of 169,800 yuan.
The main competitor in China will be BYD Seal and Changan's Shenlan (Deepal in English) SL03.