Earlier this month I wrote about AM General trying to sell the Humvee to the Chinese army. It didn't work out exactly as planned, read the story here and here. But AM General was not alone, there was another American company trying to sell American vehicles to the Chinese army and it succeeded, sort of. That company was American Motors, later a part of Chrysler.
Today part one with the Jeep Comanche and the Beijing-Jeep 212E.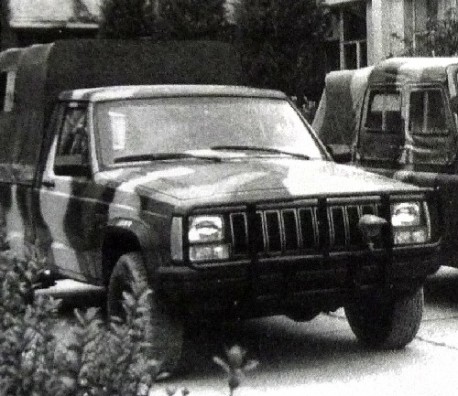 Beijing Auto and American Motors started a joint venture called 'Beijing-Jeep' in 1983 in China to make the Jeep Cherokee for the Chinese market. The second car in the joint venture was the Beijing BJ 212. The 212 had been made by Beijing Auto for many years and was renamed Beijing-Jeep 212, later again renamed to Beijing-Jeep 2020.
The 212 was originally designed for the Chinese army and sales to the military continued after 1983, the Chinese army so bought Beijing-Jeeps. Beijing Auto wanted to use the Cherokee's 2.5 liter 4 cylinder engine in the 212 as a replacement for Beijing Auto's own old engine. American Motors did not really want to give the engine to their joint venture partner but agreed to built a prototype in 1986 for a review by the Chinese army.
At the same time and for the same review Beijing-Jeep made one Comanche in military style, complete with a black-out lamp on the bumper. The vehicle was based on an imported Comanche and modified in China. It had the 2.5 liter under the bonnet.
In the end neither vehicle was ever produced or sold to the Chinese army. Both 'partners' couldn't agree on terms for production. Finally in 1999 Chrysler agreed to supply the 2.5 for the 2020. The army story however was not over yet, Beijing-Jeep tried again in 2003 and was then much more successful. More on that story later.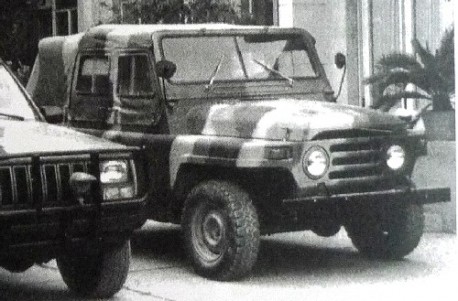 The Beijing-Jeep prototype with the American engine was called '212E'. Engine was rated at 103hp, mated to a 4-speed manual gearbox. Even though the 212E didn't work out sales of the normal 212 to the Chinese army continued for many years.
Thanks to the great book "Cars and 4 x 4s from Beijing and Tianjin" by Erik van Ingen Schenau for the picture.