The Beijing (BAIC) BJ60 was finally launched in China. It is a full-size SUV with a four-wheel drive, 267 horses, and an entry price tag of 239,800 RMB (~33,500 USD). Moreover, the BJ60 has five different trim levels with some exciting features. Let's get acquainted with it together.
At first, let's crack on with the BJ60's positioning. In terms of size, it sits between BJ80 and BJ90. Previously, a lot of media called it a competitor to the Tank 500 from GWM. But it looks like the Haval H9 is a closer rival of the BJ60 in terms of pricing. What will help the new BAIC SUV to overcome its competitors and get respect from Chinese off-road enjoyers?
Exterior and Size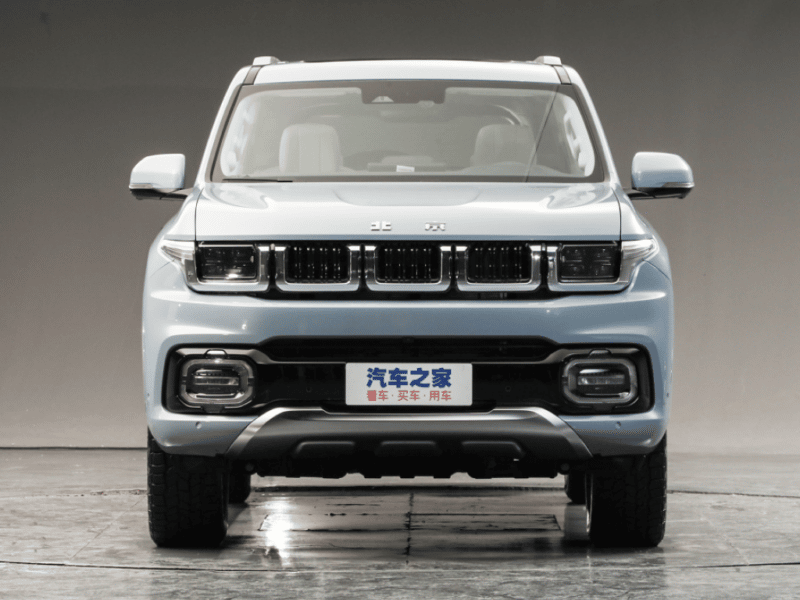 The BAIC BJ60 is a body-on-frame SUV with a strong BAIC design language. Its front end got a recognizable grille with integrated high beams and running lights. In terms of overall proportions, the BJ60 looks like a classy SUV with a high bonnet line, a huge ground clearance, blocky wheel arches, and a tailgate mounted spare wheel. T the same time, the exterior of the BJ60 looks clean and smooth, without unnecessary stuff.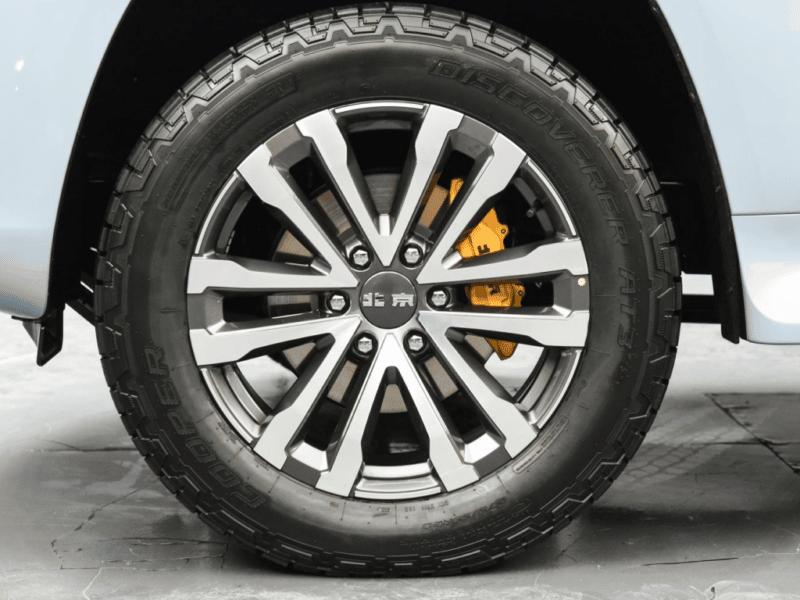 In terms of size, the BJ60's dimensions are 5040/1955/1925 mm with a wheelbase of 2820 mm. For a comparison, it is 184 mm longer, 29 mm wider, and 25 mm higher, that the mentioned Haval H9. We will also make a more clear comparison. The BJ60 is 183 mm longer, 70 mm wider, and 35 mm higher than the Land Cruiser Prado. The wheels of the BJ60 can be 265/65 R18 or 275/50 R20. In China, buyers can also pick all terrain tires for free.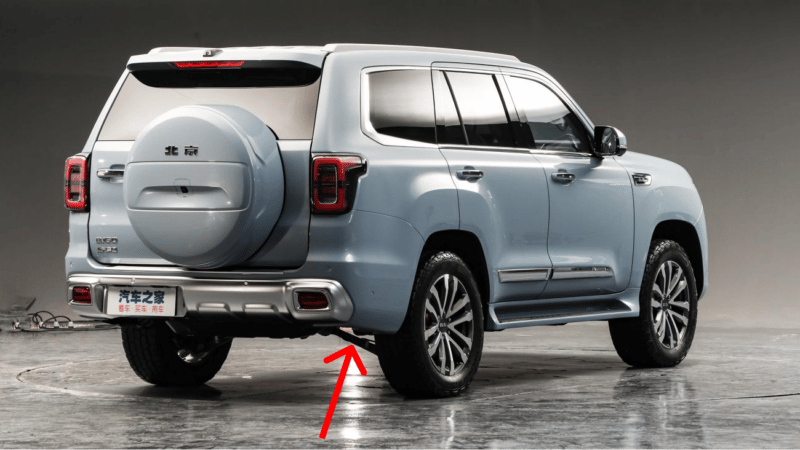 And here we also wanted to speak about the ground clearance of the BJ60. As mentioned, it is pretty huge. In numbers, it is 215 mm. The BJ60 has also got respectful approach and departure angles of 30 and 24 degrees, respectively. But looking at the back of this SUV, we can notice one problem. The thing is, the BJ60's rear suspension arms are connected to the wheels at a very low point. So its ground clearance is actually smaller than 215 mm. As a result, you can easily damage its suspension while off-roading.
Interior and Features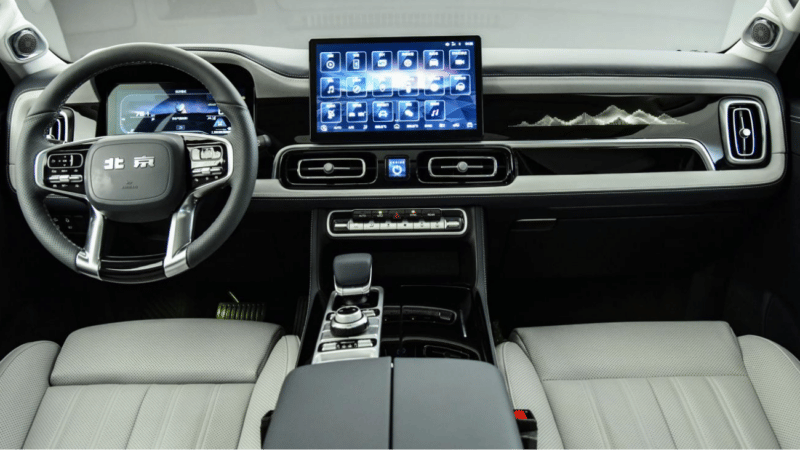 The interior of the BAIC BJ60 looks fine and clear. It has two screens: the first one for an instrument panel with a diameter of 10.25 inches, and the second is a main monitor with a diameter f 12.8 inches. You can also turn the rear-view mirror to a screen. It is a common thing among the SUVs with a spare tire mounted on the tailgate. The center tunnel of the BJ60 got a lot of physical buttons, a monostable gear selector, a wireless phone charging pad, etc.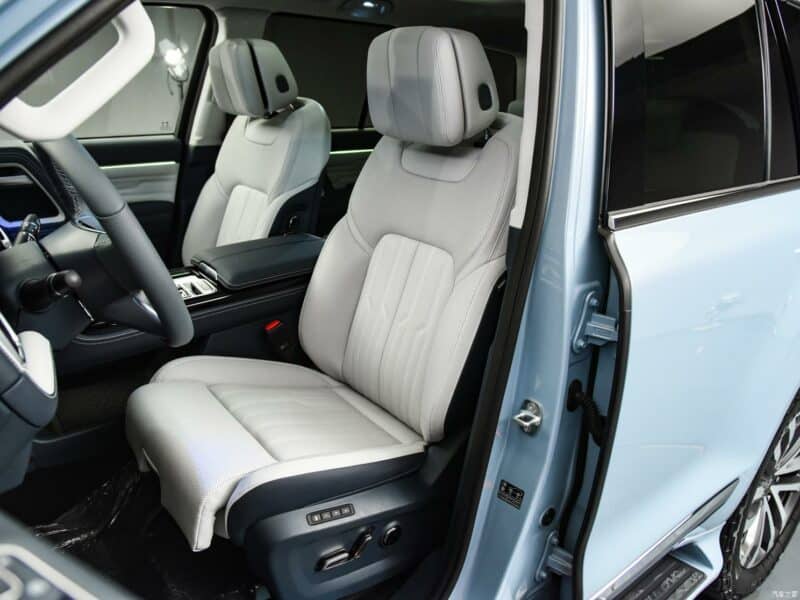 The BJ60 has got some valuable features like a heated steering wheel, the driver's seat with a leg rest, heating, ventilation and massage. Moreover, the rear seats can be also equipped with heating, ventilation and massage functions. In addition, the BJ60 got a 256-color ambient lighting, and an audio system with 12 speakers and 1 external power amplifier. Worth mentioning that the BJ60 got two versions of the interior. The first one got only five seats, while the second one got 7.
Powertrain and Prices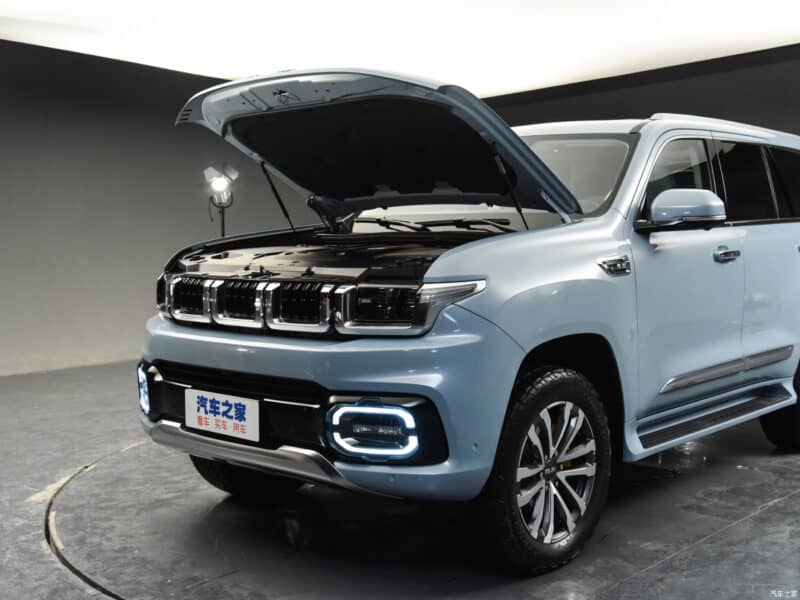 The BAIC BJ60 got a 2-liter turbocharged ICE under the hood paired with a mild hybrid (48V) system. As a result, its peak power output reaches 267 hp (196 kW). As for the torque, it is 406 Nm. BAIC hasn't shared the BJ60's zero-to-hundred acceleration time. But its top speed is limited to 180 km/h, which is fair enough for a body-on-frame SUV. The ICE here works with 8-speed automatic gearbox, and a part-time 4WD with front, middle, and rear locks. In addition, the BJ60's supports 9 different driving modes.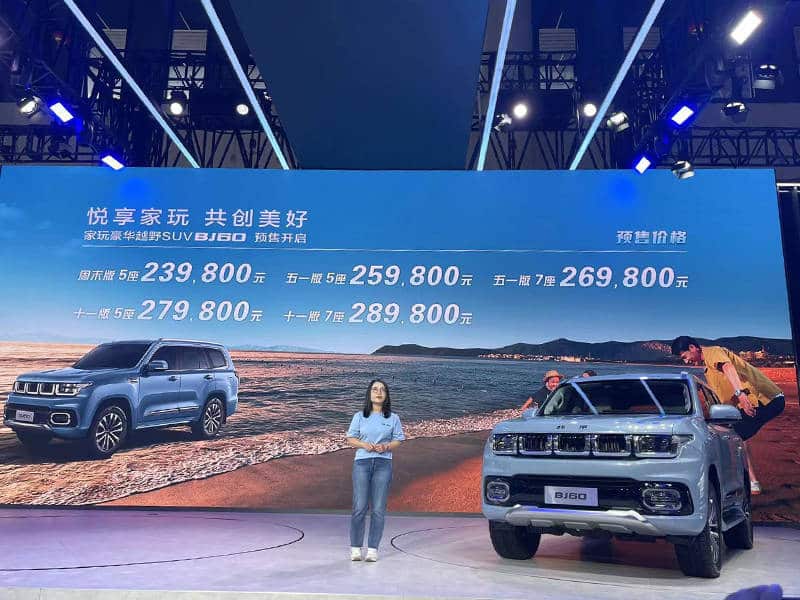 As mentioned, the BAIC BJ60 got five trim levels with a price range of 239,800-285,800 RMB (33.500 – 39,950 USD). It is a bit more expensive than the Haval H9 in China. Will the BJ60 attract attention of customers? We will keep an eye on it, so stay tuned!
Source: Autohome