Here we have a very nicely customized Beijing-Jeep Cherokee, seen on a car parts market in north Beijing. The good old Cherokee is cooled up with desert-paint, a large snorkel, a bull bar, side bars, fog lights, a roof rack and four spot lights. Best of all is a big black star on the bonnet. Good car.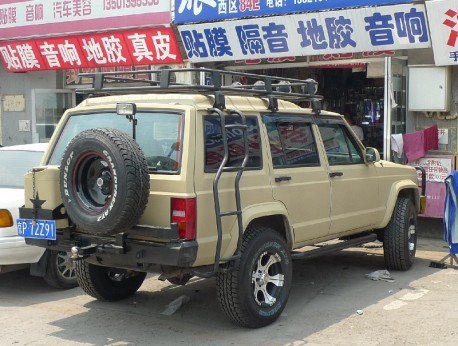 Ladder was a factory option. Big wheels with shiny alloys give timeless design a modern look. The Beijing-Jeep Cherokee was made in China from 1984 until 2009, and Beijing auto still makes a clone called the Beijing Auto works Knight S16.This particular starcar was a 1998 4.0 V6 with the optional raised roof. The China-made Cherokee was also available with the 2.5 four-cylinder and this engine was much more popular thanks to its much lower fuel consumption. Beijing Auto still uses clones of this engine in some of its more agricultural 4×4 vehicles.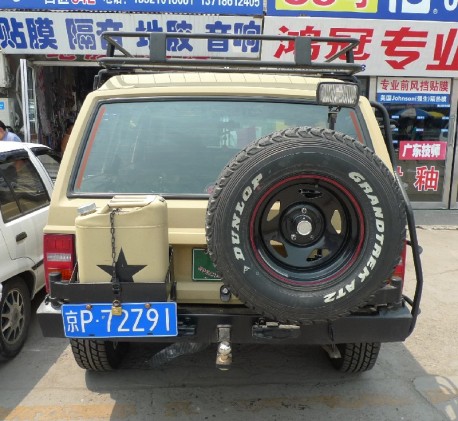 Another star there but it is sadly only partially visible. Messy thinking, this is… Spare wheel with different alloy than wheels. Messy again. But I am just picking on the only two things that are wrong with this vehicle. A car already so good, I want it to be perfect.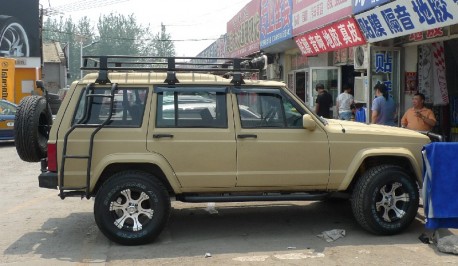 Sure the owner likes his Cherokee, he, she unlikely, is a better man than these bloody criminals! More Cherokee soon…