Here we have a sporty Geely Shanghai Maple C31 hatchback, seen on da streets in the great city of Chengdu in Sichuan Province. The C31 was made by 'Shanghai Maple Automotive', a subsidiary of Geely. The Shanghai Maple brand was killed in 2010 and replaced by 'Englon'. This great C31 hatchback is made more pretty by matte yellow paint, black racing stripes, a body kit, a wing at the back, F1 stickers and matte red alloys!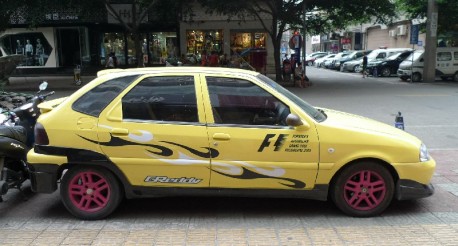 Production of the Maple-series started in 2000, over the ten years the brand existed many different variants were made with very different and sometimes confusing names. But the base was quite simple, a hatchback and a sedan based  on the Citroen Fukang (ZX) that was made in China by the Dongfeng-PSA joint venture.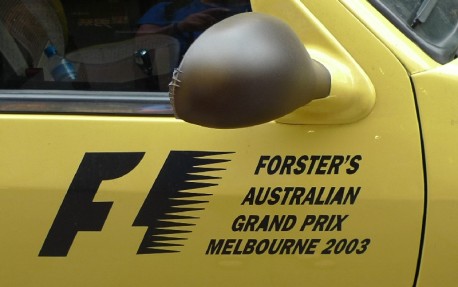 Geely didn't exactly 'copy' the Fukang, but went to the suppliers of Dongfeng-PSA and simply bought the same parts, including most of the body, and assembled everything in a new factory in Shanghai. Sure Citroen wasn't happy and launched several lawsuits, all of which came to nothing.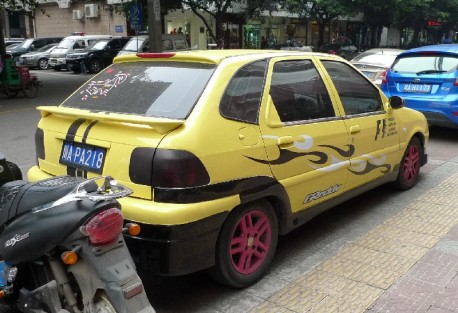 Blacked-out rear lights!
Geely however could not get the French engines since those were made in-house at Dongfeng-PSA. No worry, Geely managed to secure a cloned Toyota a 1.5 four-cylinder from an unknown manufacturer. That same engine is still widely used by small Chinese auto makers, such as Yema, and sometimes shamelessly advertised as a 'Toyota engine'. Bad…
Anyway and how, this yellow Maple is a good car. Geely knew car buyers liked something sporty and therefore did launch an official Maple racemachine, more on that one in a later post!