A very interesting Audi A8L, seen in the great city of Suzhou in Zhejiang Province by our traveling photoman Peter Xie, xiexie! The Audi's original color is black, the white is wrapped. An original idea… Fake air vent under the mirror is so so, white alloys however are very good.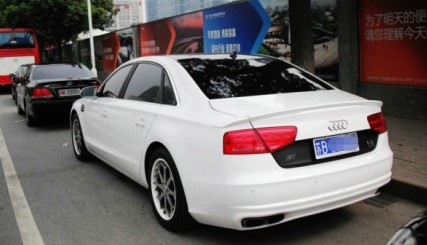 The madness continues at the back with only a little black left. Windows tainted black as well. The Audi A8L is imported into China and a bit expensive. Price starts at 871.000 yuan and ends at 2.49 million yuan. The short-wheelbase version is not available in China, Audi doesn't bother. The most popular A8L is the mighty 500hp 6.3 liter W12.
Well, back home in Holland we say: when someone gives you a horse for free you shouldn't check on its teeth. But Peter, dear friend, please set the resolution of your Nokia 252 a tad higher. Thanks man.