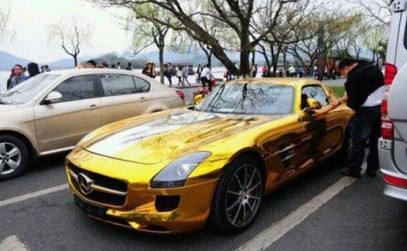 It is a rainy day in Beijing, dark clouds over the city, I need me some Bling! And I have, this is a very blinged Mercedes-Benz SLS, seen in the great city of Hangzhou in Zhejiang Province. The fantastic vehicle was seen near the word famous West Lake, which is a a UNESCO World Heritage site, which is all nice and such, but the Benz is more beautiful than any water anyway.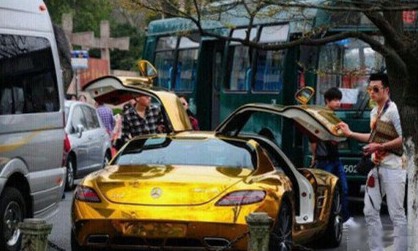 A man wearing a hand bag on the passenger side. Another man on the drivers side. Hmm…
The wrap seems to be of medium-high quality and is perfectly applied over the bumpers, doors and mirrors. The original color white is still a bit too visible inside. Tires are the biggest Mercedes sells, 21 inch with huge ten-spoke alloys. A fantastic car! Those strange man likely just borrowed it from their not-strange friend. Right.
Time now for our Famous China-Mercedes-Benz SLS Collection™: with babe on bonnet, purple, pink, bag trousers, pink-silver, bling (scroll down), crash,  Mansory Cormeum, and one with extra head lights.