A brutal Mercedes-Benz C63 AMG, seen in my very own street in Beijing, with a license that reads '18C63′, and they don't come any better than that. The C63 AMG is imported into China, unlike the standard C sedan that is produced locally by the Beijing-Benz joint venture. Price for the C63 starts at a steep 998.000 yuan, or 161.800 USD.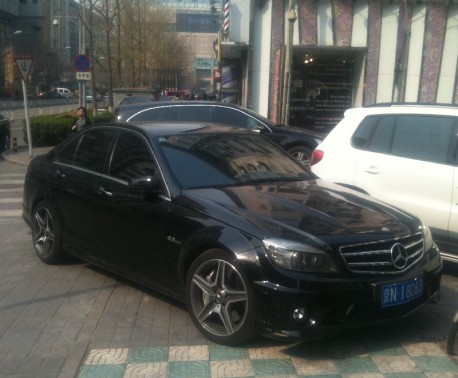 Big money, but big power! The C63 comes with a 6.2 liter V8 that poops out 460hp and 600nm, 0-100 is gone in 4.4 seconds at top speed would be 280km/h without the limiter, which is usually deleted anyway because wealthy Chinese car buyers accept no limiting things.
Time now for our Famous China-Mercedes-Benz C63 AMG Collection™: matte black, Bling, in purple, in matte-purple, Wald Black Bison, Renntech C74 and in pink.