A very Bling Mercedes-Benz C63 AMG, seen on the 'China International Auto Parts Expo' (CIAPE) in Beijing. The C63 AMG is further sexed up with a fat-ass body kit from American tuner GT Haus. I went to the show yesterday and found loads of freakin' vehicles, later more, now back to Benz: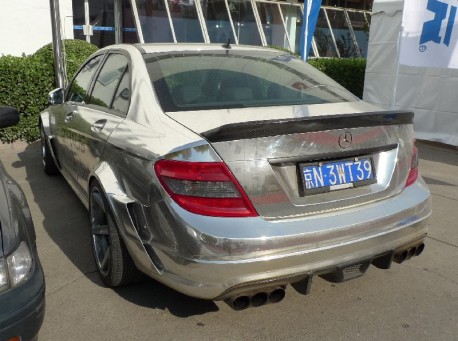 Best thing of the kit sits at the back; a titanium double-triple exhaust system with a diffuser in the middle. GT Haus doesn't have an official dealer in China yet, too bad, because stuff like this will sell like hot rice in China.  The Mercedes-Benz C63 AMG is powered by a 6.2 liter V8 with 460hp and 600nm, the new exhaust system adds about 10 more horses.

Earlier on we met some other interesting Cees: pink pink C200, orange C180, C63 AMG in purple, C63 AMG in matte-purple, Wald Black Bison, Renntech C74 and a pink C63.