A wine red Opel Omega GL, Spotted in China close to the Chaoyang Park in central Beijing. The vehicle didn't look very good but was clearly still driven, and that is better than good. The Opel Omega was never officially exported to China but strangely there are quite a few around. This particular car was fitted with period-optional racy tires and alloys. The tires looked very old and were in urgent need of replacement.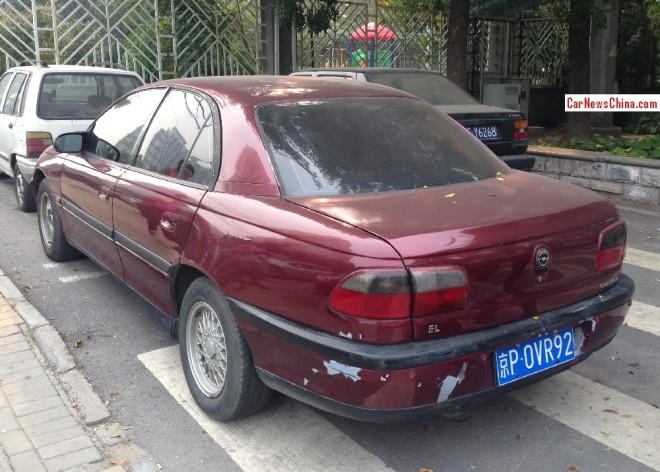 The third generation Opel Omega, also known as Omega B, was made from 1994 until 1999. It also spawned the not-too-popular Cadillac Catera. When the Omega B launched in Europe it was a rather revolutionary car with a sleek aerodynamic body and powerful engines. For a short while good old Opel was ahead on the competition.
The Omega was available with seven petrol and diesel engines. The most powerful petrol engine was a 3.0 V6 with 208hp and 270nm that powered the weirdly named Omega X30XE. The wine red car in Beijing didn't have an engine badge anymore, but the GL trim level usually came with the 134hp 2.0 16V or with the 114hp 2.0 8V.
The owner of this Omega has some work to do, but in China parts and expertise are very hard to get. Let's hope this fine German sled will keep roaming the streets of the Capital for a while more.