A very black Chevrolet Corsica sedan, Spotted in China on the Wufang Tianya Automobile Parts City in east Beijing. The Chevrolet Corsica was manufactured from 1987 until 1996 and became the second best-selling car in the United States in 1988.
Interestingly, the Corsica was exported to China under a rather misty trade-for-trade-status agreement between the U.S. and Chinese governments. Part of the agreement was the purchase by China of a large number of American automobiles, including the Corsica, the Ford Tempo, and the Plymouth Sundance.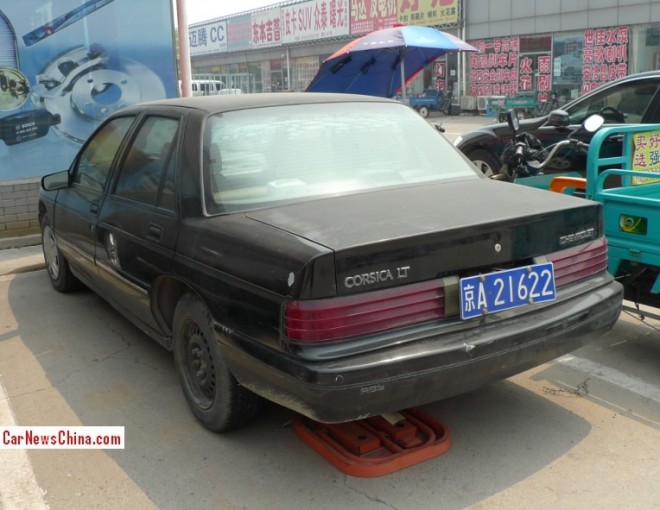 The Chevrolet Corsica was available with many different engines. The smallest engine was a 2.0 liter four cylinder and the largest engine a 3.1 V6. The early cars came with a 3-speed auto or a 5-speed manual, later on the 3-speeder was replaced by a 4-speed manual. The LT was the base model of the Corsica range and was available with the 2.0 or a 2.2 liter four-cylinder.
This particular example in Beijing was in reasonable condition and still used as a daily driver. One wheel cover was missing and the Chevrolet badges were sadly gone. Finding parts will become harder by the year since the 1990's purchase didn't come with many extra parts, let alone with dealers or other expertise. The only way to keep any of these cars alive is by cannibalizing on others.

The LT, may she ride well for a long long while to come!
---