A very sleek Jaguar F-Type 3.0 S, Spotted in China in the great city of Chongqing by Reader Colin, thank you for the pictures! Note EE in license plate, a fine tribute to the E-Type. The Jaguar F-Type was launched on the China car market in November last year and, amazingly, this is only the very first example we see in the wild, indicating sales are moving slow.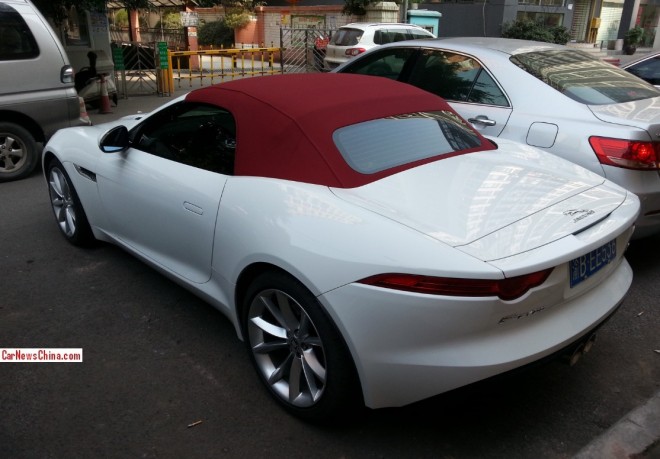 Red hood on white body a surprising combination, but looking good.
Potential Jaguar buyers are likely waiting for the closed roof Coupe variant, as convertibles are not very popular in China due to noise, pollution and endless traffic jams. The Jaguar F-Type 3.0 S is powered by a bumbling 3.0 liter supercharged V6 petrol engine with an output of 375hp and 460nm,  good for a 275km/h top speed and 0-100 is gone in 4.9 seconds. This car will be a monster on the scary mountain roads around Chongqing…  Price of the F-Type in China starts at 1.04 million and ends at 1.81 million yuan ($170.000 – 300.000). Lotta money but fast Jaguar.
---