A brand new variant of the Beijing Auto BJ2022 'Brave Warrior' army utility vehicle. This is the attack-helicopter-pull variant, seen here with a freakin' Z-10, nicknamed the 'Fierce Thunderbolt'. The vehicle seems to be based on the three-door pickup, with an extended cabin for the pull-operator.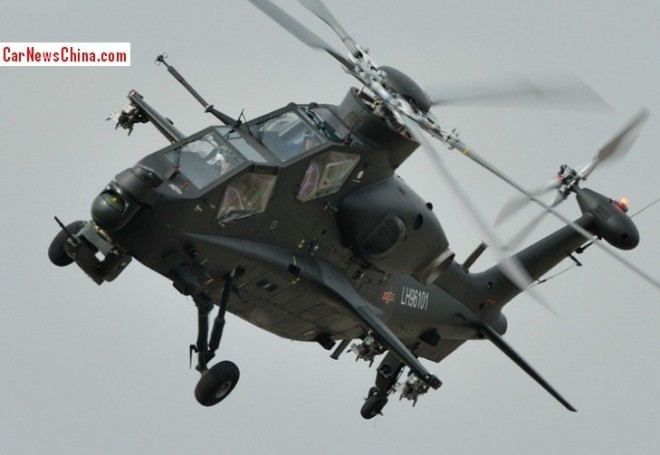 The Z-10 is roughly comparable with the American Apache. I have seen this monster in action during the 2012 Zuhai Air Show and that was an impressive sight. The Z-10 is armed with a 30mm automatic cannon and can be equipped with various missiles, including HJ-8 and HJ-9 air-to-ground missiles, TY-90 air-to-air missiles, and the super heavy PL-7 and PL-9 air-to-air missiles that can blow a Globemaster out of the sky.

The Z-10 is manufactured by the Changhe Aircraft Industries Corporation (CAIC). The company was in passenger cars as well with Changhe Automotive and the Changhe-Suzuki joint venture. In 2013 the car business was bought by none other than the Beijing Auto Industry Corporation, the owner of the Beijing Auto brand. The BJ2022 Brave Warrior is powered by a 3.2 diesel 6-cylinder with 140hp and 380nm, the Z-10 is powered by two WZ-9 turboshaft engines, each good for 1350hp. It better not pull back!
---