The Lincoln MKC SUV will be launched on the Chinese car market on October 23, marking the start of a large Lincoln sales offensive in China. Price for the Lincoln MKC will start around 350.000 yuan and end around 450.000 yuan (57.000 – 73.000 USD). The MKC will be imported into China but it might be manufactured locally in the not-so faraway future.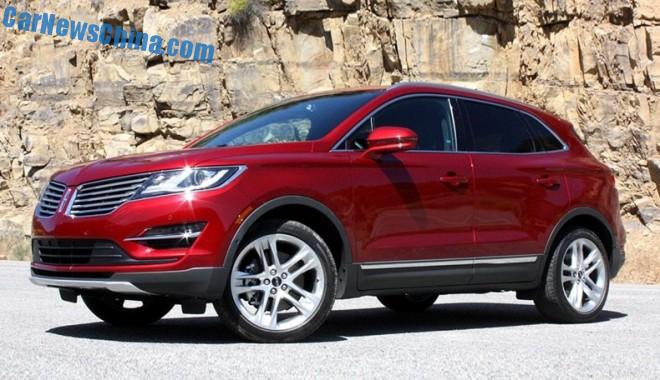 The MKC will be available in three trim-levels: Exclusive, Elegant, and Honor, the latter being the most expensive level. Power will come from the 2.0 turbocharged EcoBoost petrol engine in two configurations: 203hp and 350nm, and 240hp and 366nm. Lone transmission is a 6-speed SelectShift automatic. The Exclusive and Elegant are FWD with optional AWD, the Honor is always AWD.
The MKC is a good looking car with a modern engine and the price seems about right for an imported SUV. But the question is how Lincoln is going to sell it. As of this moment Lincoln only has three (3) dealers in China; a flagship store in Beijing, one in Shanghai, and one in Hangzhou. Lincoln will soon open three more dealers in Guangzhou, Chengdu, and Qingdao, bringing the total to six (6). Lincoln's China headquarters is based in Shanghai.

The website also has a page where potential dealers can apply for a dealership. A picture lists all the 35 cities where Lincoln wants to have dealers.