The Cowin Auto i-CX SUV will see production in 2016. Interestingly, Cowin Auto has announced that the final looks of the i-CX (factory code CF5) will be determined by a crowd sourcing project that will start in the second half of this year and announce its result in April 2016. The crowds will have input on exterior-details such as the headlights, the interior design, and the design of the interaction systems such as the infotainment system and the various buttons and switches.
A very hip idea indeed, but isn't just covering up a serious delay? The i-CX debuted as a concept in August 2014. At the time Cowin said the vehicle would see production in 2015. That has now been moved to 2016, and when the results of the crowd sourcing projects are 'announced' in April, it will sure take at least another six months to actually start production. No matter how this might or might not be, we will closely follow this interesting project, a first-of-a-kind for China.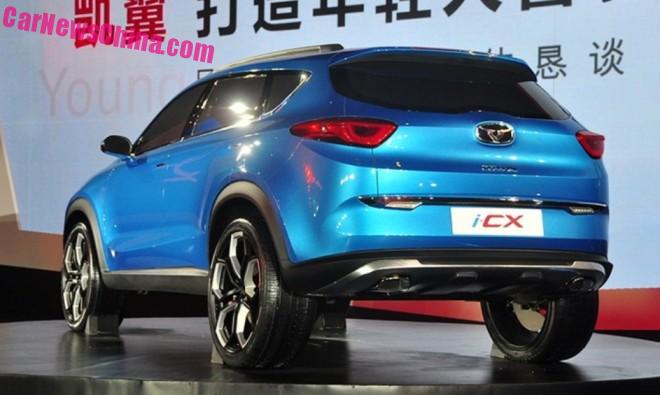 The i-CX will be powered by 1.4 turbo and 1.6 turbo four-cylinder petrol engines, both mated to a 6-speed manual or a six-speed DCT, sending power to all four wheels. Cowin is also working on a plug-in hybrid variant.
Cowin Auto is a new car brand under Chery Automobile, focused on making cheap vehicles for young car buyers, a booming market in China. Cowin Auto will develop new vehicles from scratch and they will inherit several vehicles that are now sold under the Chery name.