This is the Kaimali K50, a new low-speed electric vehicle (LSEV) from China, as seen on the Shandong EV Expo (intro). This particular example is top-of-the-line, the base versions looks like this. The vehicle features a shiny grille sitting low in the bumper, large truck-like mirrors with integrated indicators, speedy decals on the sides and sporty silver five-spoke alloys.
The interior is very good, fake wood on the doors, a comfy carpet, seats with brown fake leather, and slightly different brown fake leather on the steering wheel. All dials are digital, and the infotainment system in the center console even comes with a rear-view camera (!), the first such we have seen on an LSEV. The drive selector is located on the dash between the dials and screen.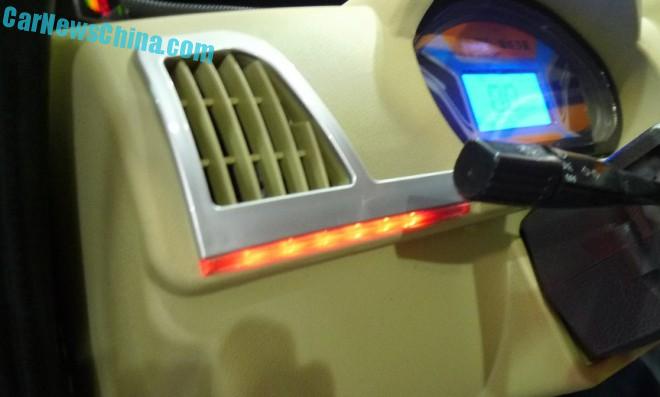 Best of all however are these running-light strips on each side of the dash. A driver can set the running-speed, just like on a Christmas tree. Fake alu breaks slab of beige plastic. Stalks looked very 1985.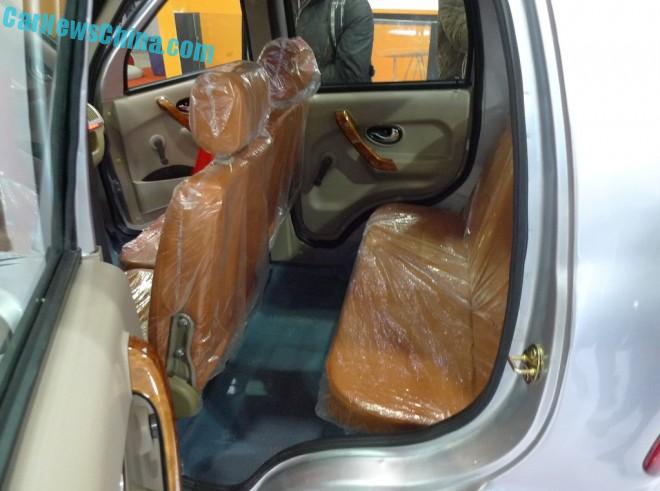 More brown and fake wood in the back, but no trendy lights.
The Kaimali K50 is manufactured by a company called Shandong Kaimali New Energy Company (web, but not working), based in the great city of Qingzhou in Shandong Province. The make various mini electric cars and electric utility vehicles, including a pickup truck.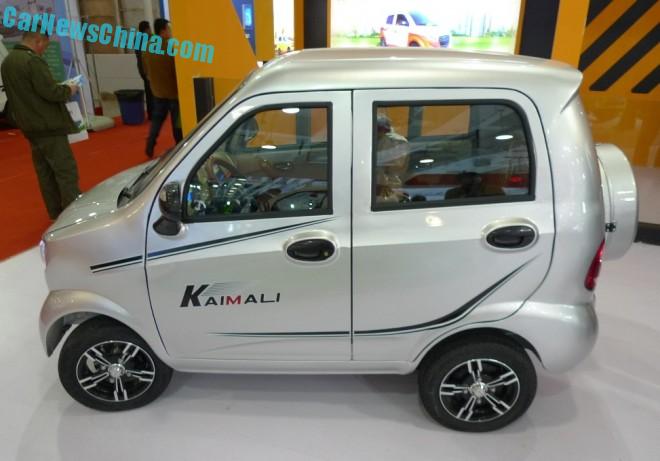 The K50 is the smallest car they produce: 2552/1320/1550. Power comes from a tiny 3Kw electric motor, which is good for a 35 kilometer per hour top speed. Battery is lead-acid. Curb weight is only 300kg, resulting in a reasonable 110 kilometer range. A full charge takes six hours on 220V.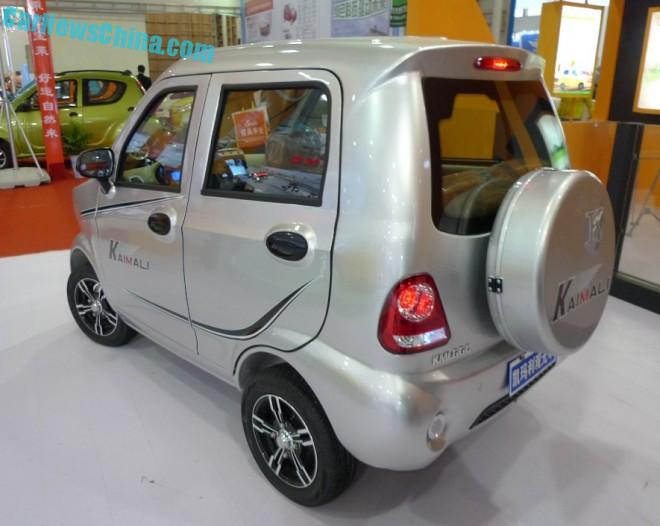 Small wing on top of the window, fully integrated in the body. Spare wheel box with a real spare wheel inside (I checked, the boxes are empty nine out of ten times), and techy rear lights. Price for the base Kaimali K50 starts at 15.000 yuan, and this dressed up variant goes for 17.998 or 2910 USD.