This is the mellow-yellow Rodi RD220 Scootercar, seen last month on the Shandong EV Expo (intro) in Jinan City. The Rodi D220 Scootercar is is designed for holiday resorts and features a striking design centered around a steel structure starting at the nose, going up to the roof, en ending down the sides. The vehicle is designed by a fellow Dutchman (Delft!) and the man in charge of production in China hails from Holland as well. May they succeed.
The Scootercar seats two and comes with a bike-like handlebar for steering. Single dial on top of the wide open dashboard. Seats are very racy and very black. Gear selector with a black knob and two cup holders in the center tunnel. The Scootercar on show was the petrol version powered by a 150cc motorcycle engine. The electric version is powered by a 2.5 Kw electric motor mated to a lead-acid battery (a lithium-ion variant is under development). Top speed is 45 kilometer per hour and range is 120 kilometer. Size: 2430/1300/1310, wheelbase is 1600 and weight is 450 kilo. All specs as claimed by the manufacturer.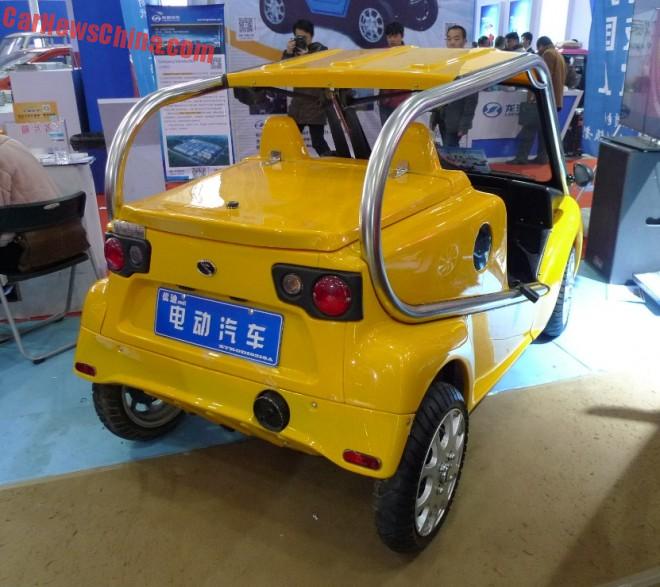 Exhaust pipe sticking out of the bumper. Taillights in a black frame. Engine sits in the back powering the real wheels.
The Rodi RD220 Scootercar is manufactured by a company called Shandong Rodi New Energy Automobile Corporation (web), based in the great city of Liaocheng in Shandong Province. The company makes a range of small electric cars including the sporty Rodi 320, the four-door Rodi RD300, and the upcoming 1+2 Rodi 330.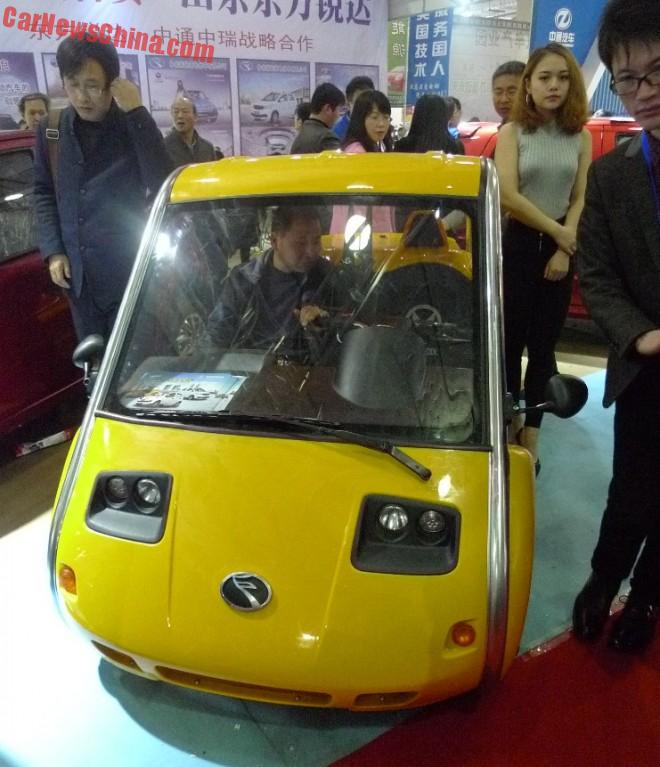 The RD200 was a popular car on the show, so popular indeed that the model, seen on the right wearing a sleeveless sweater, was almost invisible.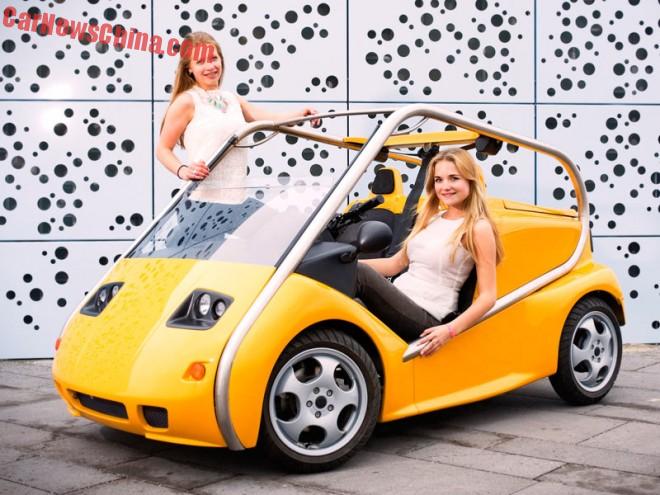 With two very visible Dutch chicks, and different wheels.