The all-new 2016 Ford Taurus has debuted in China, two days before the start of the Shanghai Auto Show. The 2016 Ford Taurus stands on a new platform called 'ABB', it will be manufactured in China by the long-running Changan-Ford joint venture.
It is the first time that Ford is using the Taurus name in China. Chinese name is Jinniuzuo (金牛座). The Taurus will be positioned above the highly successful Ford Mondeo (Fusion), which is made in China by Changan-Ford as well. Price for the Taurus will start around 300.000 yuan or 48.400 USD, it will be launched on the Chinese car market in H2.
Initially, the Taurus will only be available with one engine: a 2.7 liter V6 'Ecoboost' turbo with an output of 325hp and 475nm, mated to a six-speed automatic gearbox. Later on a 2.0 turbo will become available as well.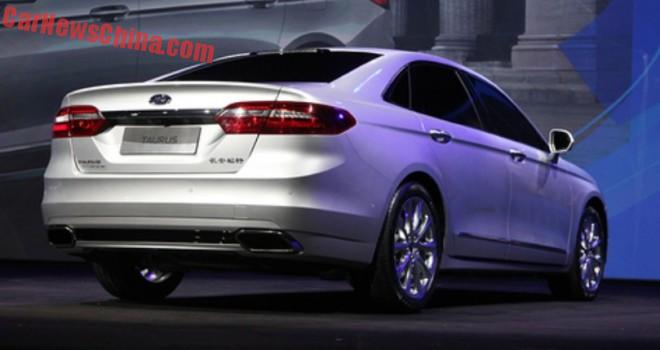 A very clean design, perhaps a bit too neutral for Chinese taste, where a bit more bling is hugely appreciated.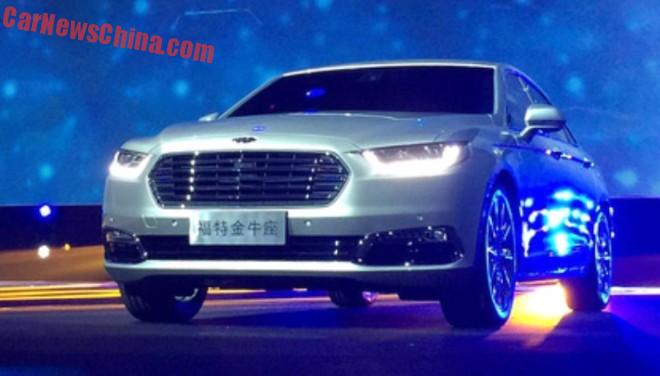 Grille is just shiny enough…
The Taurus will have its public debut on said Shanghai Auto Show, so expect more photos and more details on Monday.