The California-based car wrapping company Impressive Wrap opened shop in the great city of Guangzhou in Guangdong Province in China, and to celebrate they invited a zillion very speedy supercars, starting here with a Zenvo ST1, a Ferrari LeFerrari, a Porsche 918, and a McLaren P1, and a few babes, but sadly not too many.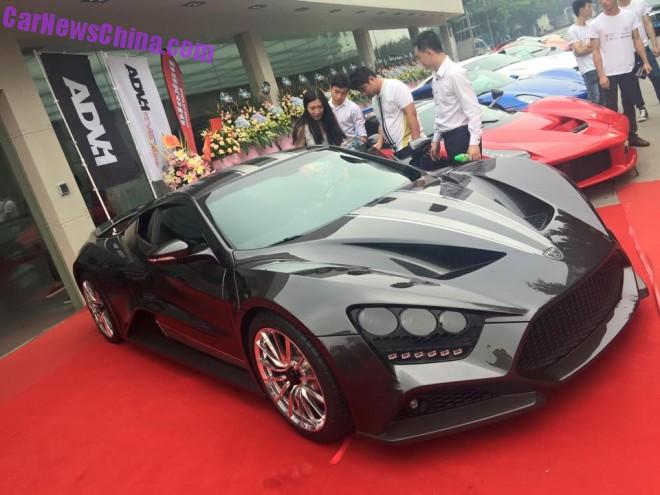 The Danish Zenvo brand started business in China only in April when the ZT1 debuted on the Shanghai Auto Show, but it hasn't officially launched on the market yet. Price is expected to start at around 20 million yuan or 3.22 million USD. Lotta money, but a lotta fiery speed: the manic turbocharged and supercharged 6.8 liter V8 has an output of 1104hp and 1430nm, good for a 375 kilometer per hour top speed and a 0-100 in 3 seconds.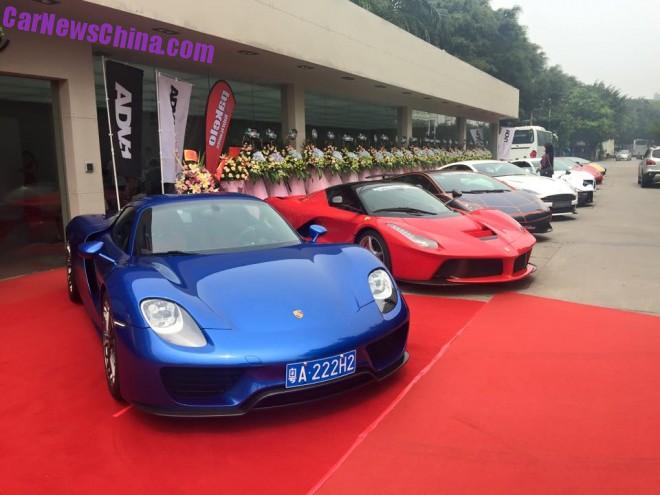 A beautiful blue Porsche 918 Spyder, flanked by a red Ferrari LaFerrari. They are both sold out now, but when new the 918 sold for 13.38 million yuan or $2.19 million. The LeFerrari topped that with 22.5 million yuan or $3.62 million.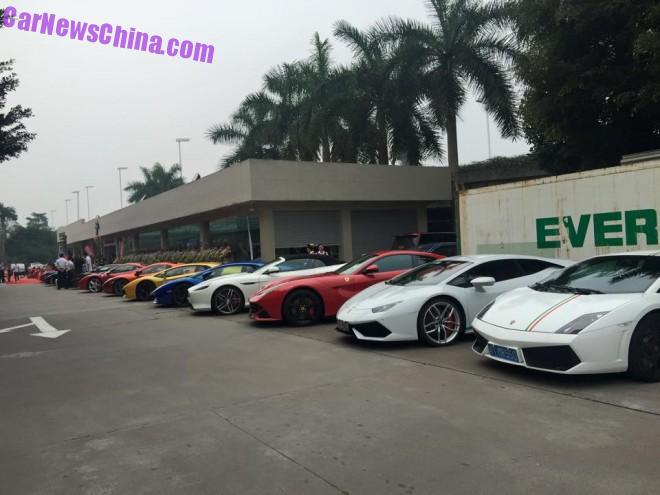 The rest on the line-up with a brand new Lamborghini Huracan second from right. Opening a wrapping shop in Guangzhou makes a lot of sense. The city is the capital of Guangdong Province, the giant manufacturing base of China, where everything from toys to shoes to iphones is being made. All this business brings in a lot of money, and Guangzhou and neighboring Shenzhen are therefore commonly called the 'Supercar Capitals of the World'.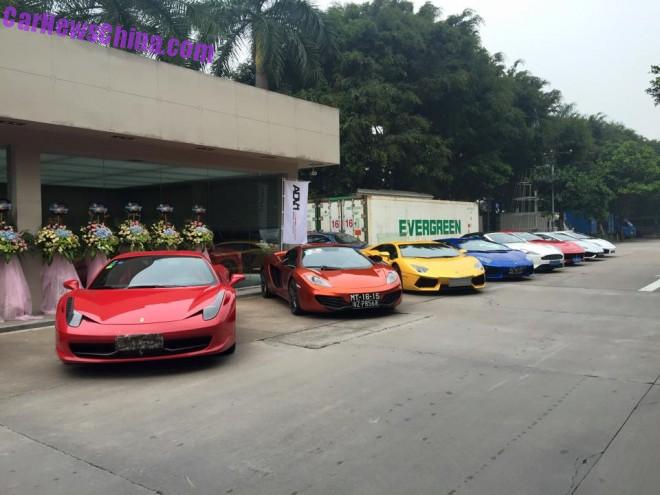 Ferrari 458, McLaren MP4, Aventador times two, and an Aston Martin.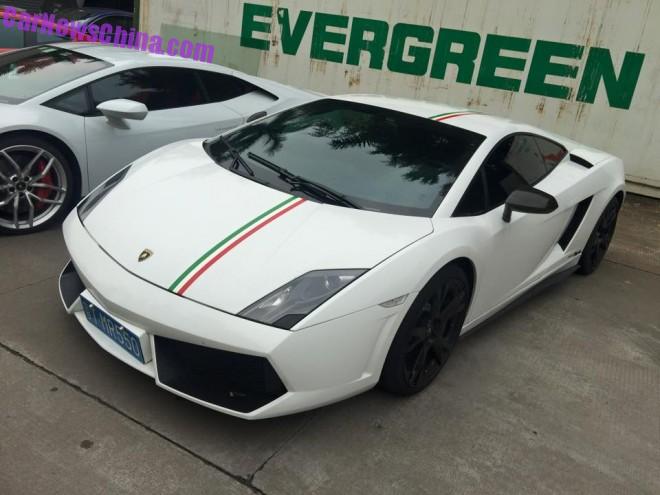 A rare Lamborghini Gallardo LP 550-2 Tricilore, a hardcore special edition rear-wheel drive variant of the famous Gallardo.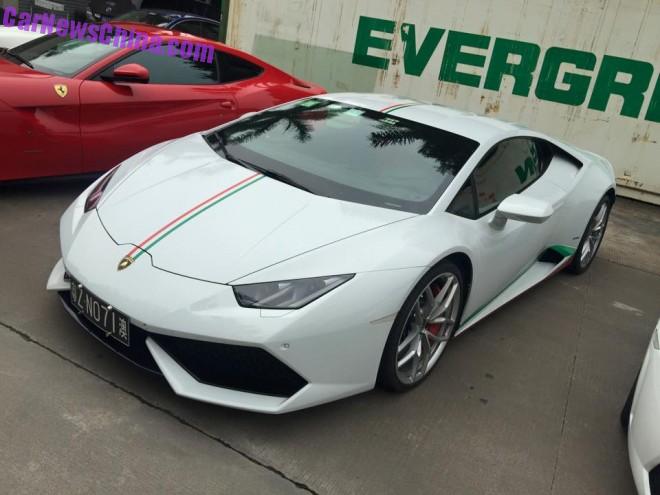 The Huracan with Tricolore-like racing stripes, but with red on the left and green on the right, and the same colors again at the lower air duct. Red brake calipers!
A wondrous white Aston Martin DB9 Volante.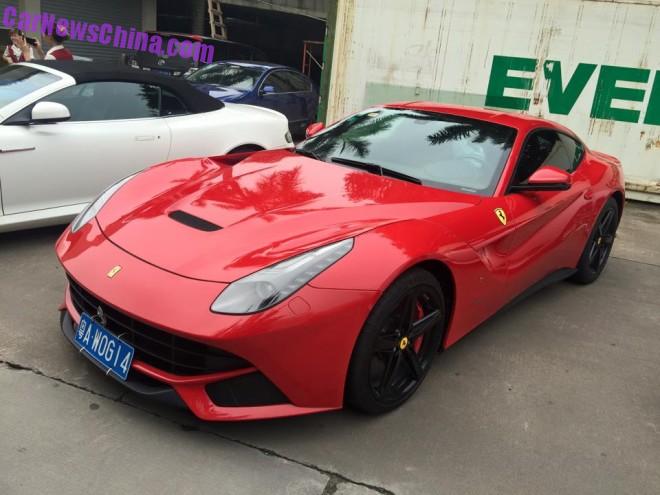 Ferrari F12berlinetta with darkened windows, black alloys, and red brake calipers.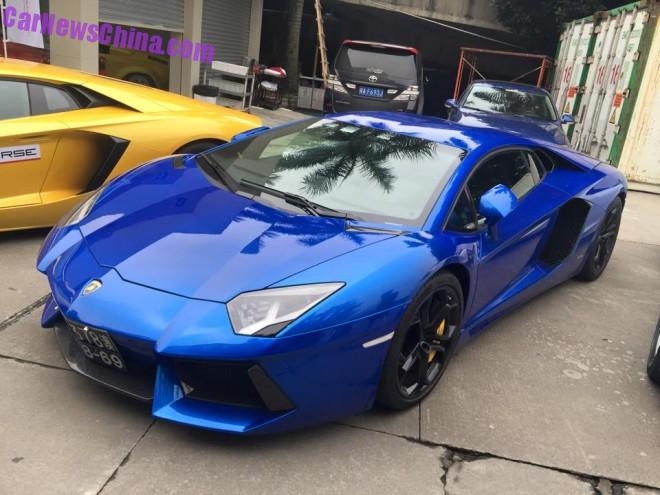 Dark blue Lamborghini Aventador with black alloys and yellow brakes.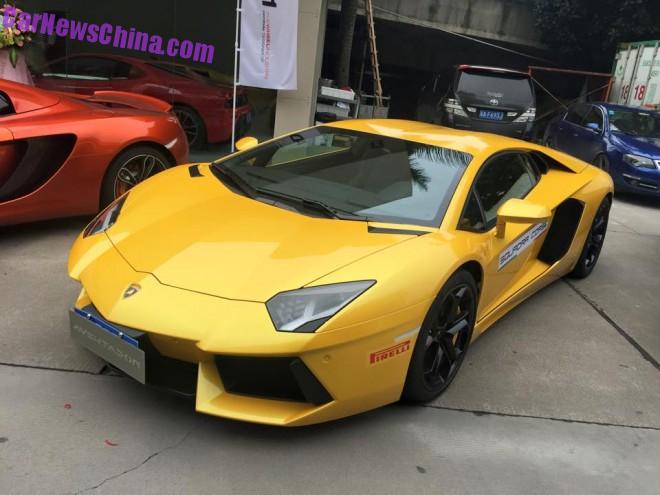 Yellow Aventador with black alloys and yellow brakes.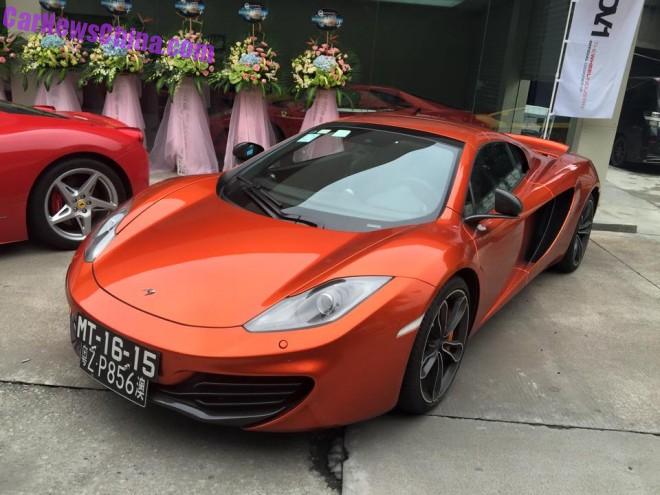 McLaren MP4.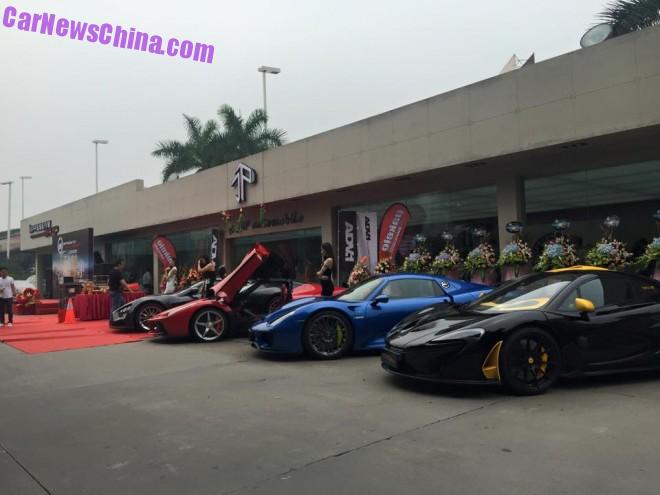 To the right the famous black-yellow McLaren P1.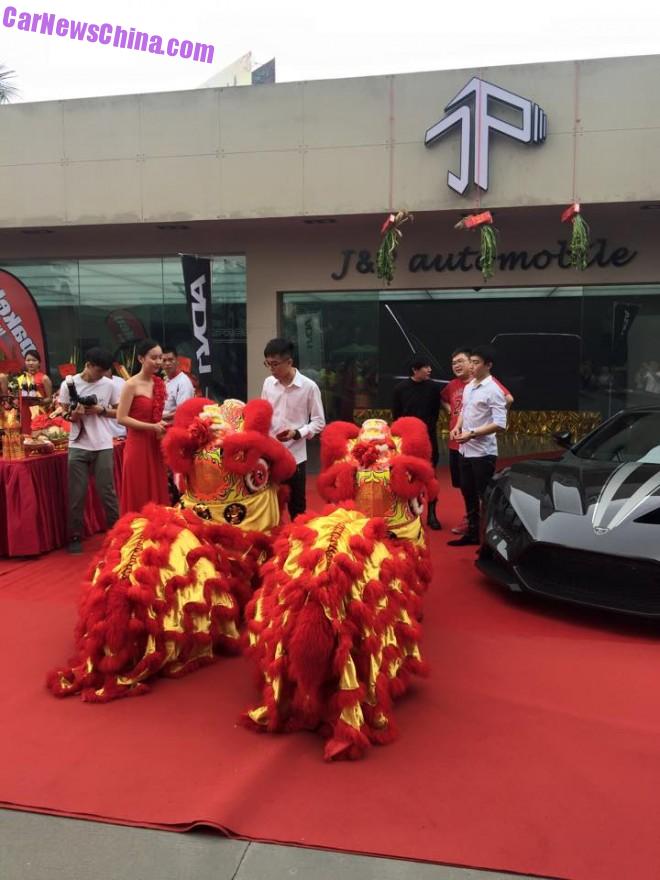 Traditional dragon dance to bring in good fortune and ward off evil ghosts.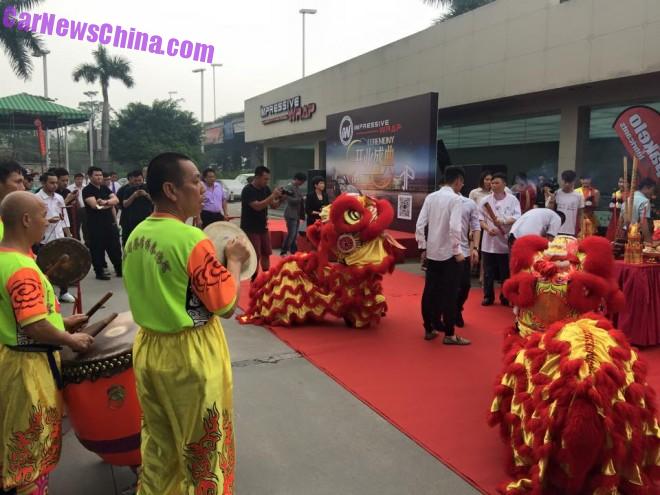 Drums too to scare those ghosts out of town. They should start all those cars at once and rev 'em up to 8000, and then you will never see a ghost again in the whole of China!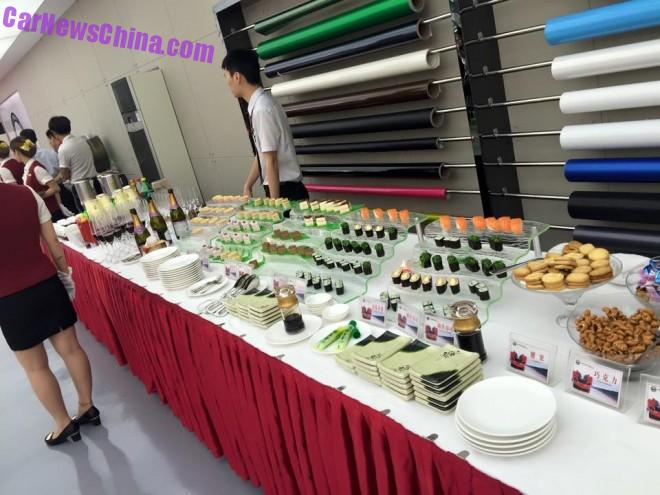 Inside the shop for dinner. Japanse sushi food, tsk tsk, French champagne, and some cookies.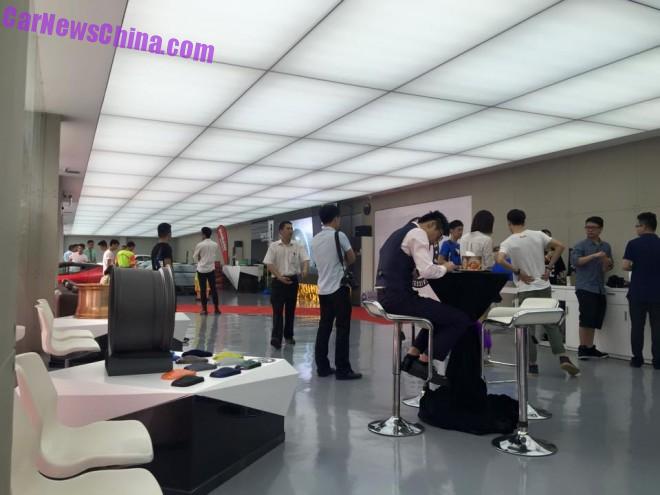 Extraordinary hip here.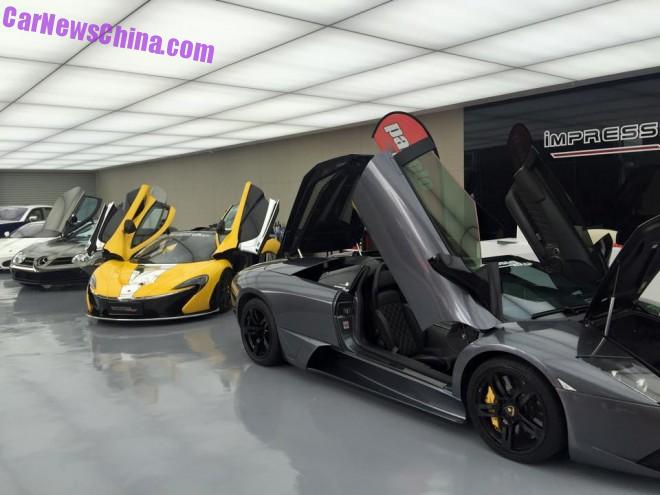 More supercars again! Lamborghini Murcielago, P1, and a McLaren SLR.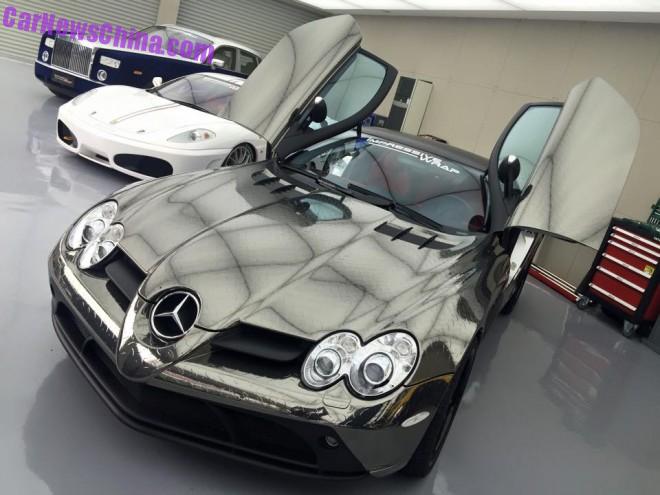 And that indeed is the first car we see that is actually wrapped. In some speedy dark silver.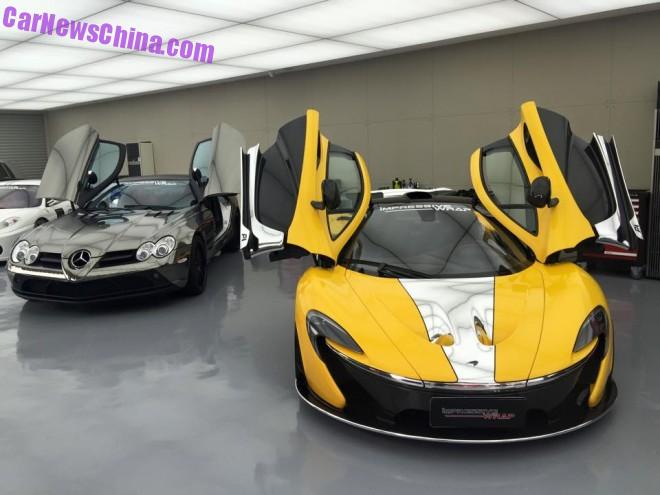 P1 is partly wrapped with silver bits on the bonnet and doors. We hope to see it on the road soon.