The facelifted Honda Accord sedan has been launched on the Chinese car market. Price starts at 169.800 yuan and ends at 237.800 yuan. The Chinese Accord is basically the same car as the North American Accord, but with a different front and rear. The facelift added a heavily chromed grille, new headlights, and new bumpers to the somewhat confusing mix of lines, angles and corners.
The outgoing car for comparison, with a much cleaner front.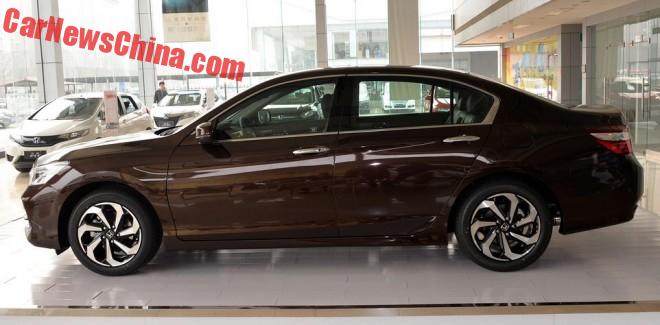 New alloys on wheels that seem a size or two too small.
The Honda Accord is available with two four-cylinder petrol engines: a 2.0 with 153hp and 190nm, and a 2.4 with 184hp and 243nm. Both engines are mated to a CVT.
Both engines are also rather old and not very powerful. It is furthermore surprising that Honda, a company specialized in making small high-output engine, is unable to put a smaller turbocharged engine under the bonnet of the Accord.
Big engines like the 2.0 and 2.4 are treated very unfavorable by the Chinese tax regime. General Motors for example got the message, plumping a 1.5 turbo in the new Chevrolet Malibu XL.
The Honda Accord is made in China by the Guangzhou-Honda joint venture.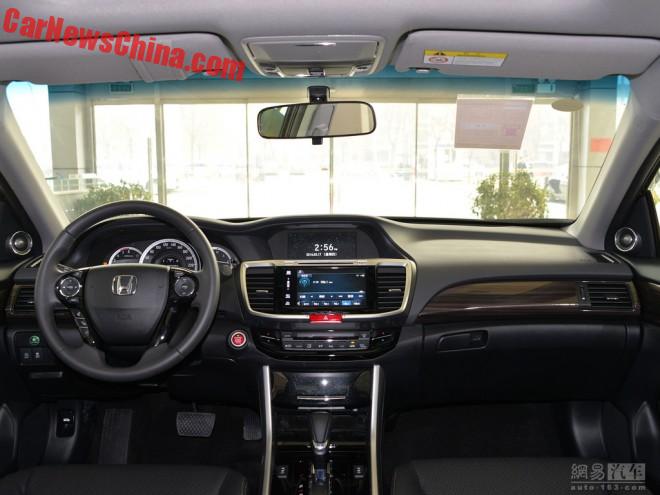 There is more bad news; the interior is not very modern. It mixes fake wood with cheap black plastics, far too many buttons on the steering wheel, which looks very 2012, simple black rubber pedals, analogue dials, and worst of all…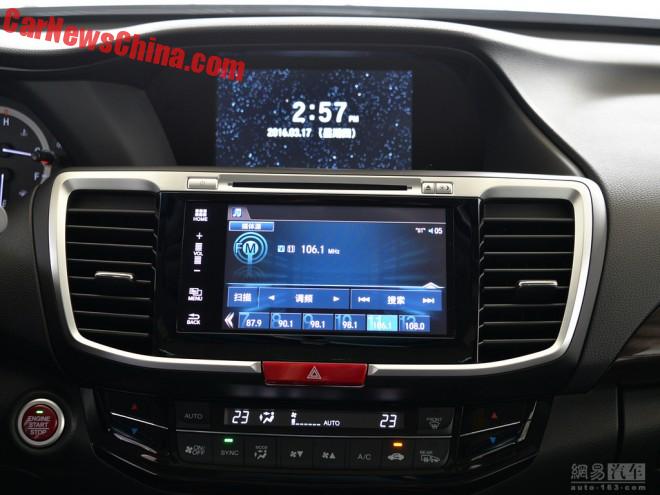 …. ah!!! Two tiny screens stacked on top of each other, sporting a different font, a different shape, and a different size. The top one is a laughable 7.5 inch, the lower one a still laughable 7.7 inch. That just doesn't cut it. Even the cheapest locally made Chinese cars come with at least 10 inches nowadays, and car buyers find that important because it looks techy and trendy. They will be disappointed when they see this mess in the Honda.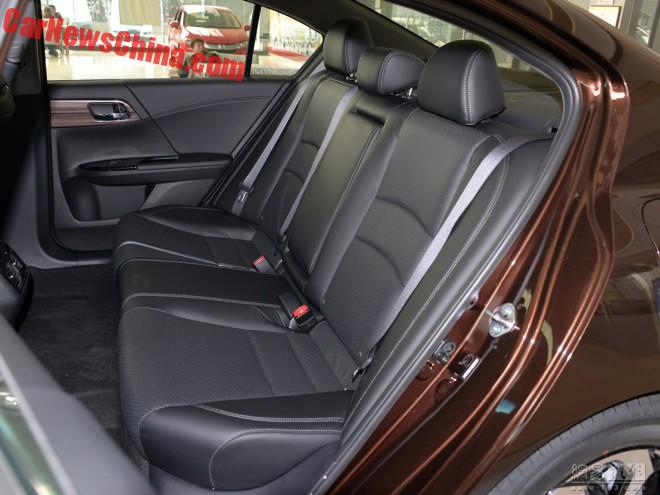 Enough space for three, but very dark thanks to the black and gray. Brown body doesn't help.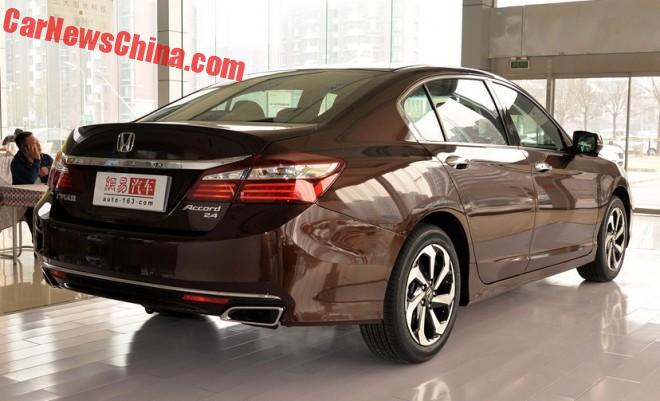 Giant rear lights are out of fashion too. Spoiler on the boot lid doesn't try to be subtle. Well, it takes some down force to keep 184 horses on the road…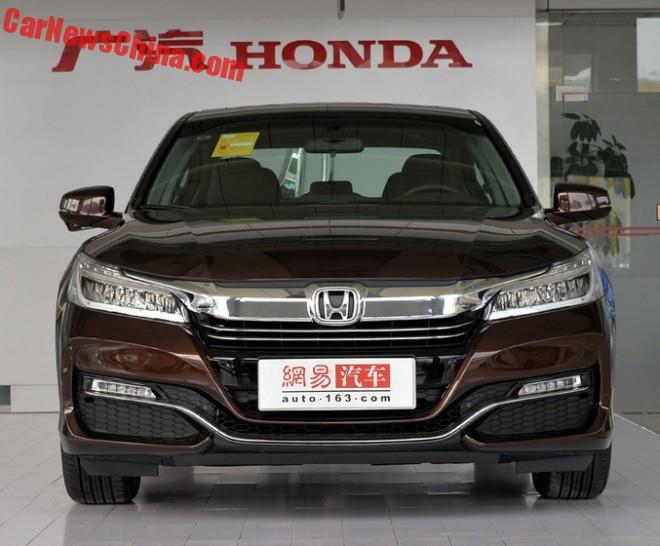 Air inlets in the bumper are fake. Shiny grille is actually quite nice, if they just hadn't slapped all those other lines around it.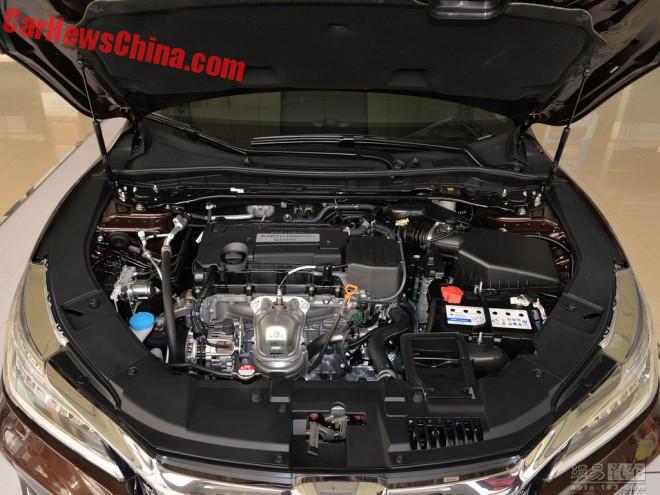 No engine cover for Honda, the engine bay is a mess like the front. This is the 2.4.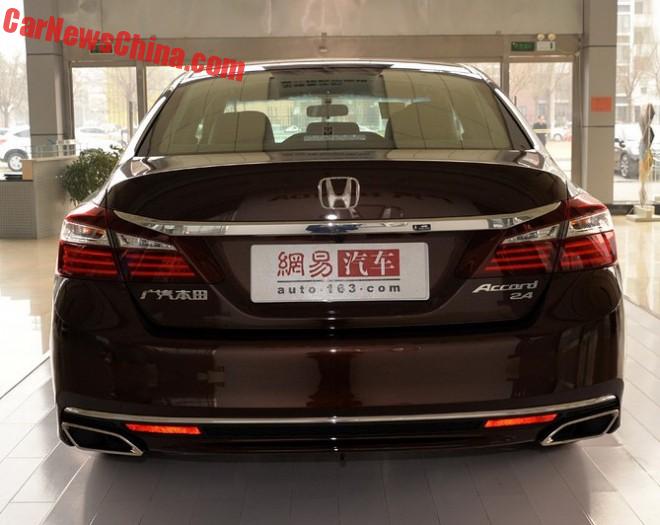 The pipes are real. That's a good thing.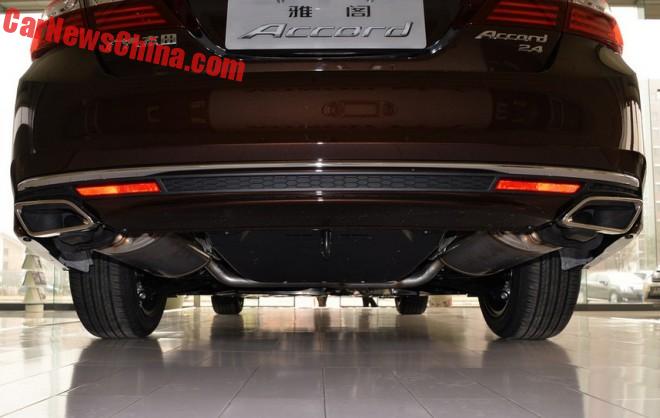 Check!