Last week we explored the early beginnings of the car industry in Guangzhou. We encountered two bus-making companies, Guangke and Yangcheng, and followed another company from making steam engines to forming a joint venture with Peugeot. At the end of the first episode that joint venture was in trouble, so let's pick up the story and see what happens next.
Only worth a single franc
It's late 1993. Peugeot's initially successful entry into the Chinese market has run into trouble. The brand's reputation is low, prices are high and sales are collapsing. The Guangzhou Peugeot Automobile joint venture (GPA) is just denied a factory upgrade by the State Planning Commission and is in danger of non-compliance with the regulations. GPA is racking up debt at an increased pace. French and Chinese managers have lost faith in each other. Something has to happen.
By early 1996, the fields around the factory were filling up with unsold cars, some sources say 8.000 of them. The Guangzhou City Council held a meeting to discuss the situation. They insisted on developing the car industry and wanted to push Peugeot into bigger investments, factory upgrades, and newer models. Or in case that strategy failed, finding a new partner. GPA proposed bankruptcy proceedings, but Peugeot and Guangzhou opposed that. GPA owed about RMB 500 million to Peugeot for unpaid parts and kits and a multitude of that amount to Guangzhou City in loans.
Finally, the State Planning Commission intervened. They proposed that Guangzhou City should buy Peugeot's share in GPA for one franc while threatening to take a hard look at Peugeot's other, much more successful joint venture Dongfeng Citroen. Still, the French resisted, because such a deal would be bad for their shareholder value. After long and difficult negotiations, Peugeot finally gave in. They would sell their share for 1 franc and receive an undisclosed amount in compensation for GPA's debt. In October 1997, GPA closed its doors.
Let's not forget the cars
That was a whole lot of politics, but GPA also produced some cars. So a quick round-up. The first model was the 504 Pickup. In France, the 1968 design was already discontinued when it appeared in China in 1985. The 504 has a reputation for being reliable and sturdy. Mainly in North Africa, it served many purposes for a long time. In Kenya, production continued until 2006! GPA offered both the single and double-row models, although the latter sold much better. Even Yangcheng assembled some double-row pickups and several factories made modifications.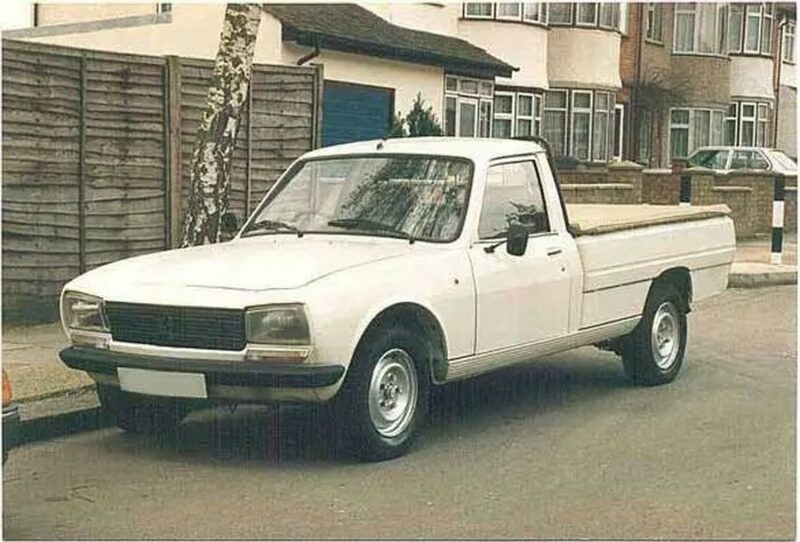 The second model was the 505SW, a station wagon with up to eight seats. The car was aimed at taxi services. This car also sold well up to the early nineties. The last model was the 505SX, the sedan version. Unfortunately, it appeared at a time when Volkswagen was already pushing out Santana's in Shanghai and Audi's in Changchun at large volumes. The party servants that should buy the 505 preferred the VW products instead.
Towards the end of GPA's existence, Peugeot tried to introduce the 405 and 605 models. A small number of these models reached China and were trial-assembled, but never sold, however.
A new partner
The Guangzhou officials already had a replacement for Peugeot lined up, when the joint venture broke down. They had been in talks with General Motors for the production of Opel cars. However, the city encountered opposition from the State Planning Commission, who deemed Opel an undesirable brand without any pedigree or name recognition in China. Instead, they proposed that Guangzhou would talk to Honda. It was rather surprising that Guangzhou itself didn't come up with the Japanese since they were already working together with them and Honda had previously tried to establish a joint venture in the city.
Guangzhou's dealings with Honda were based on two state-owned businesses: Yangcheng (which we met in episode 1 of this story) and a factory that saw the light as Guangzhou Bicycle Factory in November 1959. The output of the factory grew considerably over time and reached one million Wuyang-branded bicycles in 1982. Five years later, Wuyang first trial-produced a scooter and light motorcycle.
In 1988 the factory got properly incorporated as the Guangzhou Wuyang Bicycle Group Co., Ltd. and in 1992 it set up a joint venture with Honda. The joint venture company Wuyang-Honda produced Honda motorcycles, while the technology also underpinned Wuyang's own range of motorcycle products. Wuyang-Honda is now China's largest motorcycle manufacturer. Later Wuyang Bicycle became the Guangzhou Motorcycle Group Company.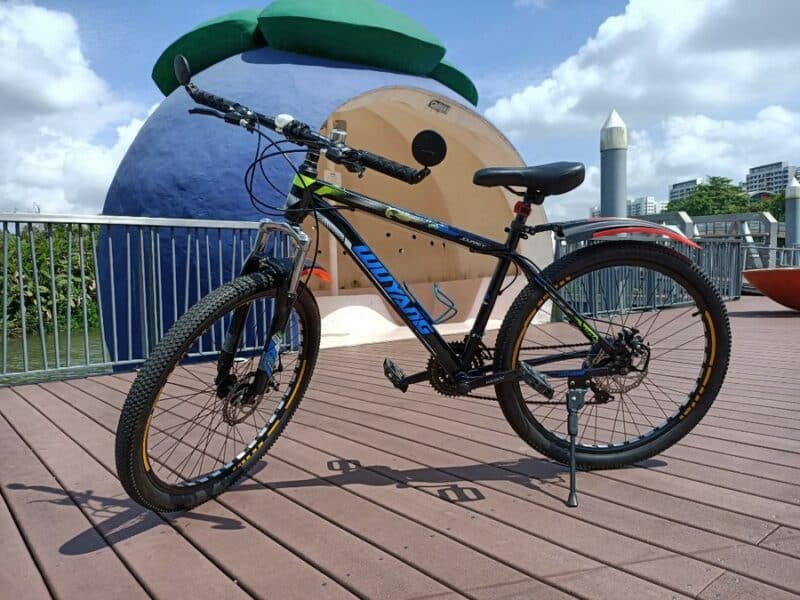 A Honda delegation visits Guangzhou in 1992 for the signing ceremony and the Japanese executives also express an interest in building cars in the city. The city officials take note and put them into contact with Yangcheng, the company that produces buses and Isuzu light trucks. There are ongoing talks between Honda and Yangcheng, but these get frustrated by the same amended state regulations on joint ventures, that partly derailed Guangzhou-Peugeot. The amendment says that no new car-producing joint ventures will be approved after 1993. Still, Guangzhou is convinced they can get approval and negotiations continue.
Yangcheng prepares for Honda production, taking advantage of local policies at the time. Imports of CKD kits are very much limited by state regulations, but Guangdong Province has much more lenient policies. It leads to an interesting episode, where car traders (starting in the early nineties) in Hong Kong buy batches of cars, strip off some parts like tires or door mirrors and ship them to Guangdong as CKD kits. There they license the production permit of a small Chinese manufacturer in some far away province to get the car on the road. This semi-legal procedure lasts until 1998 before the central government put an end to it. Cars like the Mitsubishi Pajero or Honda Accord thus appear under several brand names on China's roads.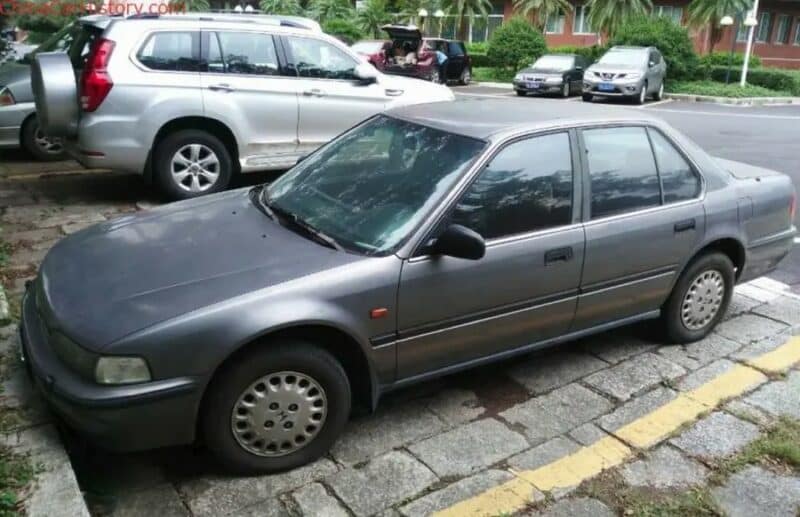 Under this scheme, Yangcheng imports several batches of Honda cars as kits. Contrary to Hong Kong traders, Yangcheng gets the kits directly from Honda, so it's close to an official import. Yangcheng assembles the Accord CB (1992-93), the Accord CD (1994-95), and the Civic EK (1996). By 1995, it was clear to all parties that the Yangcheng-Honda joint venture will not obtain state approval and the negotiations ended. Two years later, interest from Guangzhou reignites and Honda jumps on the opportunity.
The Honda network
On May 13, 1998, Guangzhou finally founded its joint venture with Honda. It was however not between Yangcheng and Honda, but between Guangzhou Automobile Group Corporation (GAGC) and Honda. GAGC was the company that held the joint venture with Peugeot and was returned to its parent (Denway Motors) for one franc. This time it was a joint venture on equal terms, both GAGC and Honda held 50% of the shares. Good to remember is that GAGC was a listed company in Hong Kong, minority-owned, but fully controlled by the city of Guangzhou.
Initially, the joint venture was named Guangzhou Honda, but that was quickly changed to Guangqi Honda Automobile. Production kicked off in a heavily updated factory in 1999. Honda introduced the Accord sedan (6th generation CF-model) and the Odyssey MPV (2nd generation RA model). Both models form the backbone of Guangqi Honda until today and have been updated regularly to keep in line with the international versions. Today, Honda offers the 10th generation Accord and 5th generation Odyssey. A crossover version of the Accord called Crosstour was produced from 2010 to 2017 and its successor, the Avancier, since 2017.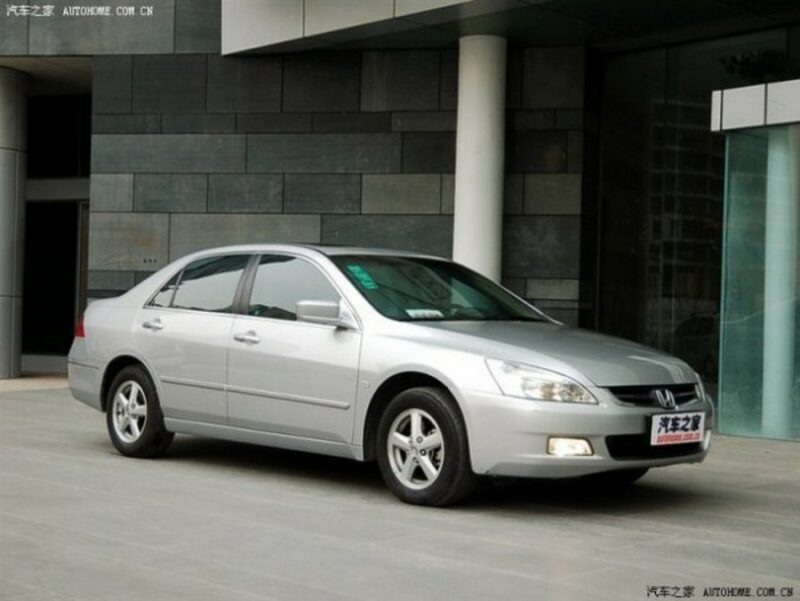 In 2003, Honda went down-market with the Fit (hatchback) and City (sedan) range of compact cars. These models are also produced today, in several different generations.  The City changed its name to Crider in 2013. A previous generation of the City was marketed under the sub-brand Everus as S1-series between 2011 and 2016, after which the Everus brand temporarily disappeared.
After that, it took until 2014 for Honda to expand its program further. The marque entered the highly lucrative compact-SUV market with the Vezel, a renamed model similar to the HR-V. The slightly larger CR-V was a huge success for Honda's other joint venture with Dongfeng, but Quangqi Honda only got the car in 2019 and named it Breeze. Based on the 2nd generation Vezel, Honda recently introduced the all-electric e:NP1.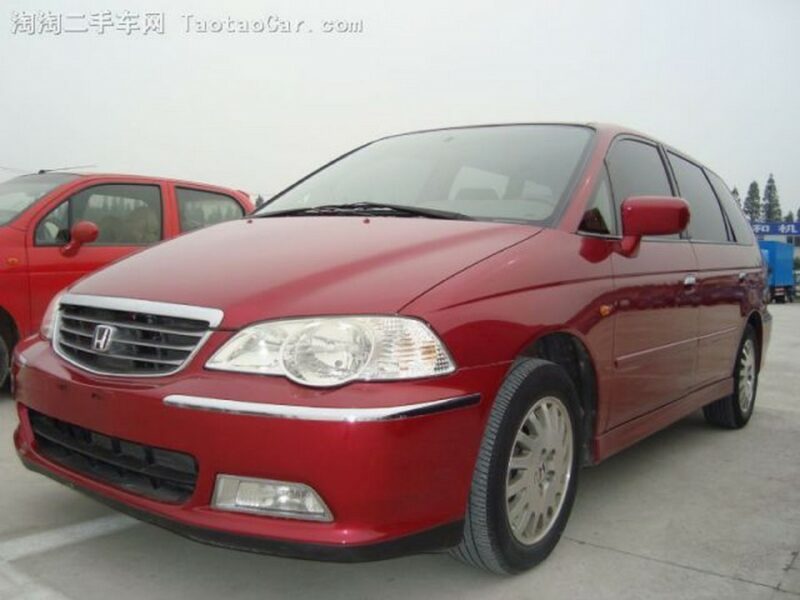 Guangqi Honda never produced a model based on the Civic, until the latest, eleventh generation appeared in 2022. While Dongfeng Honda continues to make the Civic, Guangqi Honda calls the car Integra.
A few years after Honda signed up with Guangzhou, it also set up a joint venture with Dongfeng. Initially, Dongfeng Honda was a part and engine-making business only, supplying the powertrains to Guangqi Honda. The Japanese brand is so successful in China, that it can use all the capacity it can get. So Dongfeng Honda soon starts assembling entire cars as well. Nowadays, Dongfeng Honda and Guangqi Honda produce pretty much the same cars, albeit under different model names.
In 2004 Honda establishes Honda Automobile China, a joint venture with both Guangzhou (25%) and Dongfeng (10%). The factory produces Honda models exclusively for export to Asia and the Middle East. This arrangement worked well for quite a while, but in 2020 Honda decided it needed some of the capacity for its China production. Dongfeng bailed out of the joint venture and Honda Automobile China became a subsidiary of Guangqi Honda.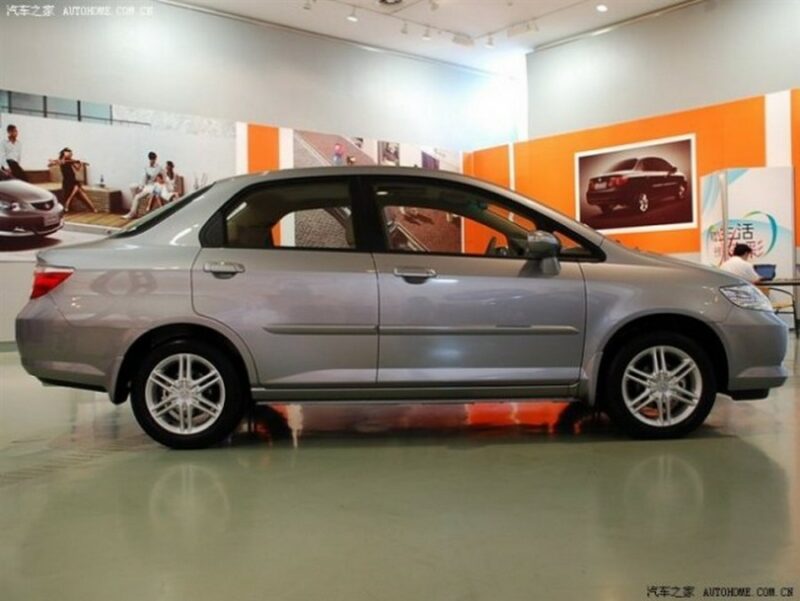 Since 2016, Honda has also produced some Acura models in China. Acura is Honda's luxury brand. Acura launched three models, the TLX-L (a stretched Accord), the CDX (based on the Vezel), and the RDX, a larger, stand-alone SUV model. Unfortunately, Acura failed to make a big impact in China, and in 2022 Honda decided the discontinue the brand. Instead, it will focus its efforts on a range of electric cars under the e:N-banner (e:NP for Guangqi Honda and e:NS for Dongfeng Honda).
Honda desperately needs more electric cars, because it's lacking NEV credits, part of China's regulatory efforts to de-carbonize the car industry. To deal with this problem, it already revived the Everus brand, producing a hastily converted Vezel as the electric Everus VE-1. This is the same car that Dongfeng Honda makes in several guises under the Ciimo brand. In the same category fall two models sold as GAC-Honda. Both are rebranded cars from their joint venture partner. The Trumpchi GS4 became the short-lived GAC-Honda Shirui PHEV and the still available GAC-Honda EA6 is a rebadged Aion S.
GAG becomes GAC
I started episode 1 with the founding of Guangzhou Automobile Group Ltd. (GAG) in 1997. That state-owned company brought together Guangzhou's three major car manufacturers: Denway Motors, Yangcheng Automobile, and Guangke Automobile. Now with the early history and the first joint ventures covered, it's time to tie it all together, because the establishment of GAG was the start of a decade-long, almost permanent transition of Guangzhou's automobile industry.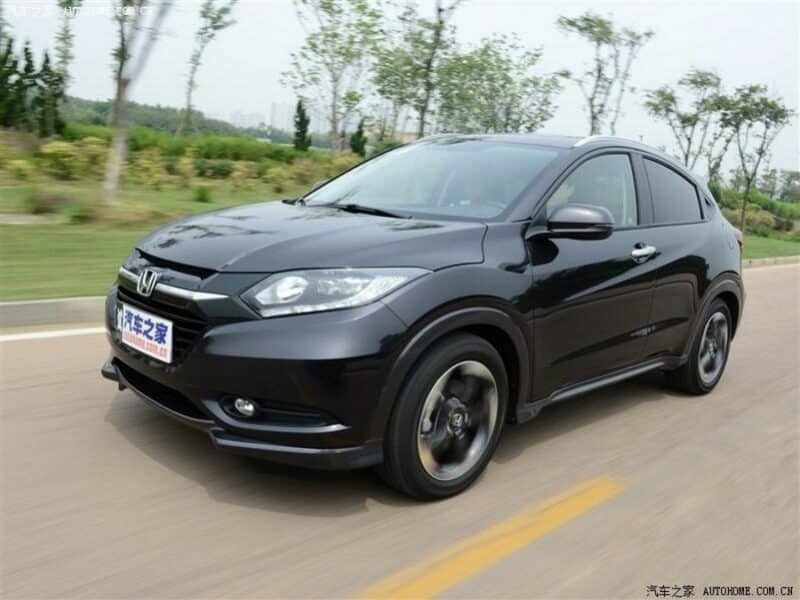 The city set up a new holding company in October 2000, called Guangzhou Automobile Industry Group Co., Ltd. (GAIC). This wholly state-owned holding unified the car business from GAG and the bicycle and motorcycle unit Guangzhou Motors Group under a single parent. The two and four-wheelers with strictly separated until 2011. Then Guangzhou Motors transferred its shares in the Wuyang-Honda joint venture to GAG but keeps making Wuyang-branded bicycles and motorcycles. GAIG also created Guangzhou Guangyue Asset Management and used that company to dispose of some of its oldest properties in 2004, including the Guangzhou Bus Factory, the Guangzhou Yangcheng Automobile Factory, and the Guangdong Provincial Bus Factory.
Next, let's talk about the buses. GAG owned two bus divisions, Guangke Automobile, and Denway Bus Manufacturing, which was split off from Denway Motors (the Peugeot joint venture) in 1993, but shared the factory until 2001 when it was finally relocated. In 2000, GAG turned Guangke into a joint venture with Isuzu (GAC Isuzu Bus), but it wasn't very successful and in early 2008 Isuzu decided to pull out of it. GAG regained full control and turned it into GAC Yuelong Bus. A few months later GAC Yuelong and Denway Bus merged to form GAC Automobile Group Autobus Co., Ltd.
This company soldiered on for a few years, but couldn't regain the former glory of Guangzhou bus manufacturing. An opportunity arose in the early 2010s. Government policies heavily subsidized electric buses and GAC decided to turn its bus company into a joint venture with established bus maker BYD. In 2014 the company became Guangzhou GAC Group BYD New Energy Bus Co., Ltd., owned 51% by BYD and 49% by GAC. The company produced BYD buses under the GAC brand until 2019. Then the government slashed subsidies and GAC-BYD halted production. Formally the company still seems to exist, but they haven't made any vehicles since May 2019.
Trucks then. Yangcheng produced trucks based on Isuzu technology until 2007. In November of that year, GAC turned Yangcheng into a joint venture with Hino, the Japanese truck maker owned by Toyota. GAC Hino Motor also owned a bus factory in Shenyang for a while, but closed it down in 2016 due to lack of success. Instead, it set up an engine plant in Shanghai called Shanghai Hino Engines Co., Ltd. The long-running Yangcheng name was discontinued in 2008 and many of the unused assets were disposed of in 2009 through Guangyue Asset Management.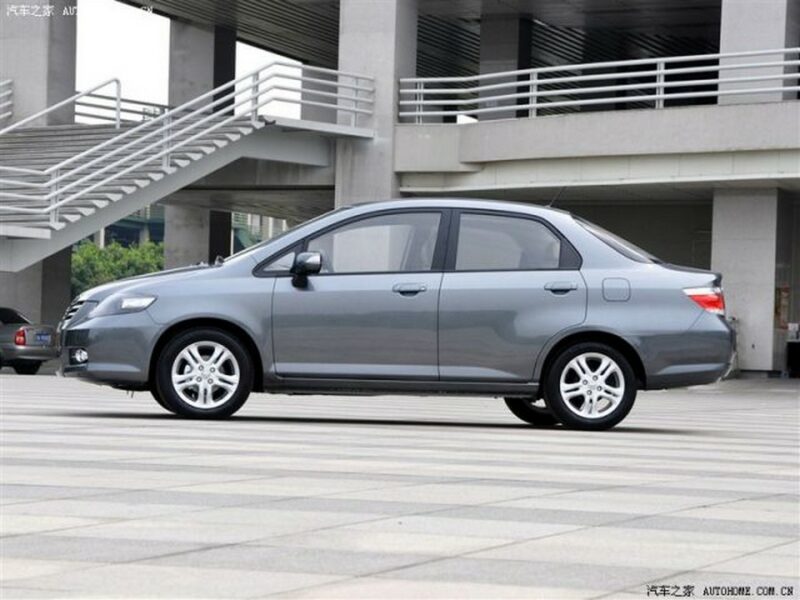 On the passenger car front, GAG started a new joint venture with Toyota in 2004 (more on that next time). So now GAG had three car factories: GAC Toyota, Honda China, and Guangqi Honda. The latter was owned through the listed, Hong Kong-based Denway Motors company. In 2005, GAG became a joint stock company, with GAIG bringing in four minority shareholders. Together they held less than 10% of the equity. GAG changed its name to Guangzhou Automobile Group Co., Ltd. and from that point, it is referenced as GAC rather than GAG.
It probably doesn't come as a surprise that by then GAC is considering its own, self-branded range of passenger vehicles. It founds GAC Motor Co., Ltd. to that effect in 2008. Details will follow later, but setting up a new car brand from scratch is not cheap. So GAC can use some additional funds. At the same time, the company is not entirely happy with its business structure. Most of the operating companies are under the direct control of GAC, except its most important one, the joint venture with Honda. Guangqi Honda is indirectly owned through a Hong Kong investment fund and a listed company, of which GAC has only 38% of the shares (but majority voting rights). So they decide to kill two birds with one stone.
The chosen solution is an equity swap between Denway Motors (the listed company) and GAC. The swap take place in 2009 and Denway is subsequently de-listed. Instead, GAC itself becomes a Hong Kong-listed company. After the transaction, GAIG owns about 60% of GAC, 8% is for the four shareholders introduced in 2005 and the rest goes to the former Denway shareholders.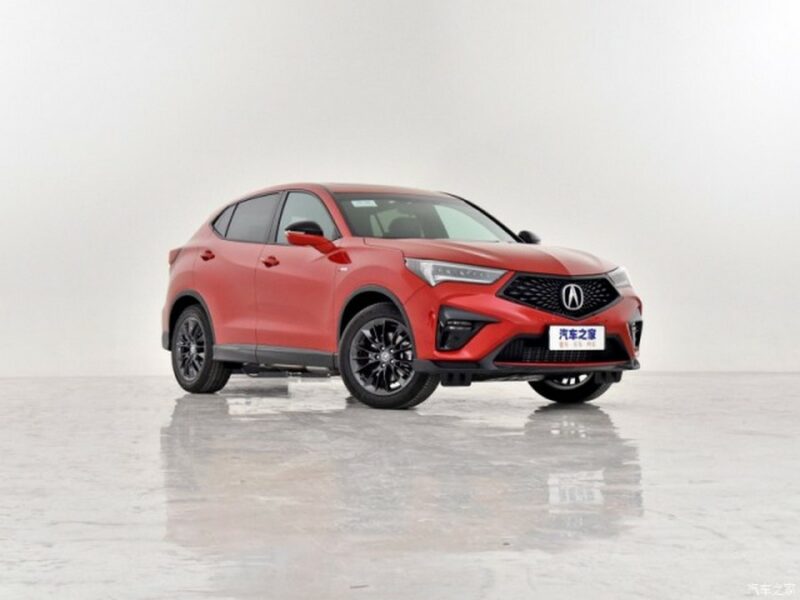 In the next years, GAC interacts with some smaller Chinese car makers, both in search of production capacity and as preparation for their self-owned brand. One of these small manufacturers is Changfeng Automobile, which manufacturers off-roaders under the Liebao (Cheetah) brand and holds a joint venture with Mitsubishi. In 2009 GAC buys 29% of the Changfeng shares, becoming the largest shareholder. Changfeng is listed on the Shanghai stock exchange and this leads to the final chapter in GAC's ongoing reorganization.
In a complicated series of transactions in 2012, GAC acquires the entire outstanding share capital of Changfeng. After that, GAC and Changfeng merge. The company retains the GAC name, but the Changfeng name disappears (for a while). This way, GAC has gained a backdoor listing on the Shanghai exchange. Currently, GAIG owns about 53% of GAC, 71,6% of the Shanghai A-shares, and 9,5% of the Hong Kong H-shares. This second listing ends GAC's decade of change.
Next week
Next week will be joint venture time. After teaming up with Honda, GAC got the taste for joint ventures and added some more. In the next episode, we explore how that worked out.