The most beautiful car on the 2016 Beijing Auto Show is the… Beijing Auto ArcFox-7, an electric supercar concept that looks ready for the race track and for the boulevard. The car has scissor doors, wild wings and spoilers, and screens front and rear that can communicate things, like saying "hello, future".
ArcFox stands for Arctic Fox, an small white-furred fox-like animal that lives up in arctic circle. The ArcFox name will eventually morph into a sub-brand under Beijing Auto. This supercar is ArcFox-7 and there was also an ArcFox-1, a small convertible EV concept, more on that one in a later post.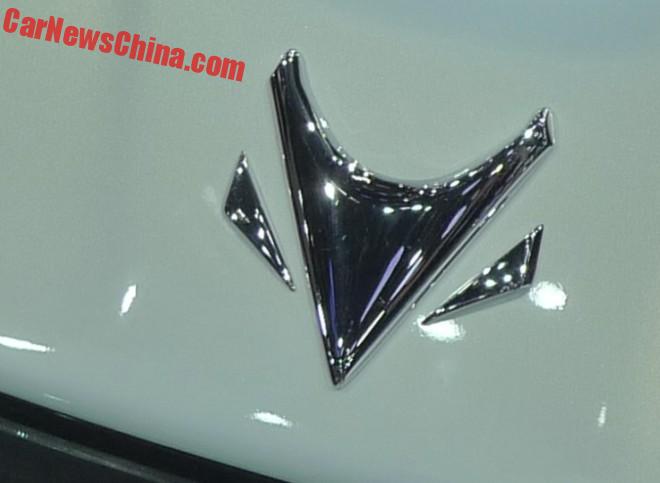 The logo depicts the head of that fox.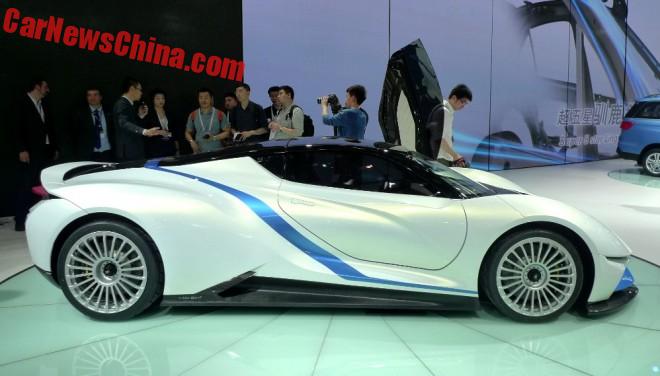 Brilliantly beautiful from the side.
The electric supercar has been designed and developed by BAIC BJEV R&D Center Barcelona, a joint venture between the Beijing Auto Industrial Corporation (BAIC) and Campos Racing of Spain.
BAIC is the parent company of Beijing Auto. BJEV is the company responsible for the development of electric vehicles within the BAIC empire. Campos Racing is a well-established racing firm, founded in 1997 and currently active in Formula E, GP2, GP3, EuroFormula Open, and WTCC.
The ArcFox-7 is loosely based on the platform that also underpins the NextEV Team China Racing Formula E racecar. NextEV (web) is a team with close connections to China. It was founded by the Chinese Ministry of Sports when Formula E was still a country-against-country cup, then called 'A1 GP'.
The team today is led by Steven Lu and managed by Campos Racing. Their current car, the 'Spark-NextEV TCR FormulaE 001' has also been designed and developed by Campos.
There was a delegation of Campos Racing on the Beijing Auto booth when I took these photos. They were all Spanish, they were guarding their car and watching Beijing Auto bobo's talk to Chinese media. They didn't seem to do anything else, and they were not very willing to chat.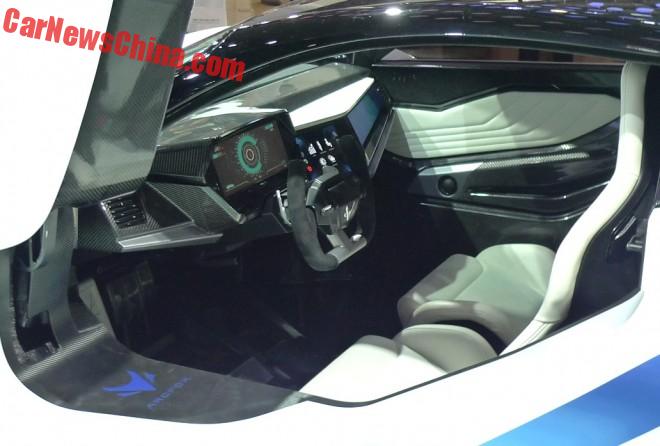 The interior was properly racy with a flat bottomed steering wheel, loads of carbon fiber, a digital instrument panel, a large touch screen, another screen in front of the passenger seat, and a blue ArcFox logo on the door sill.
Tech talk now. Beijing Auto claims the following: the electric motor has an output of 603hp and 1050nm. Range is 298 kilometer. Zero to hundred takes 2.8 seconds and top speed is 260 kilometer per hour. Weight is 1775 kilo. Battery is 66.6 kWh. Brakes: six-piston calipers up front, four-piston calipers at the rear. Four-wheel drive. It has three driving modes with varying ground clearances: racing (80mm,) comfort (100mm), and economy (120mm). Size: 4570/2040/1214 (!), and wheelbase is 2800.
The motor of the Formula E cars have a maximum output of 270hp, so it seems likely that Beijing Auto and Campos used another power plant for the ArcFox-7.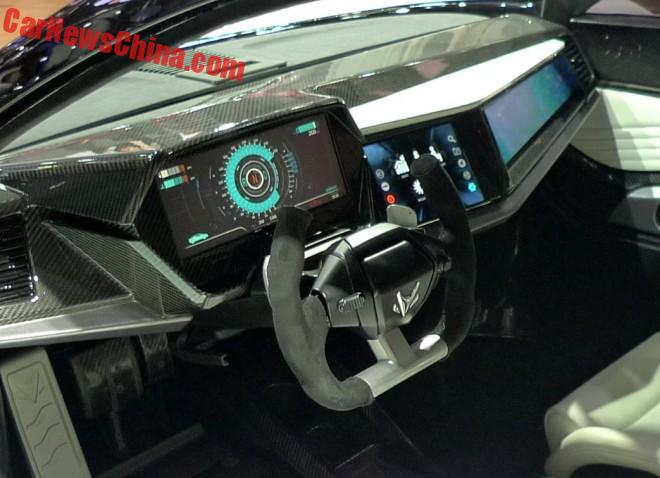 The interior wasn't quite finished, look at the steering wheel, but it looked 'used' at the same time, as if it had been driven. When asked whether the ArcFox-7 would see production a Beijing Auto bobo said 'not yet', indicating they were working on something. I wouldn't be very surprised if Beijing Auto is going to build this car, in small numbers for track-use only. It would do marketing miracles for their electric car range and wealthy tech-loving Chinese car buyers would love to pay big for it.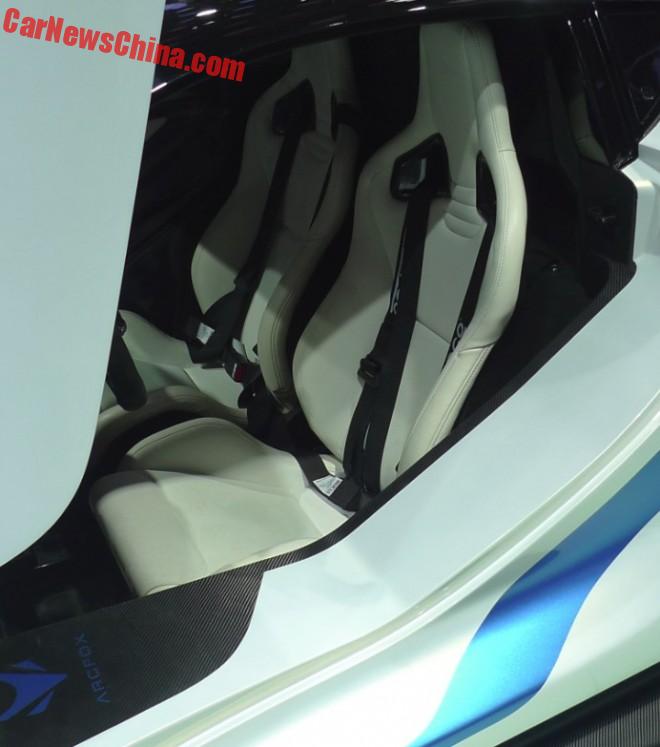 Seats in beige leather.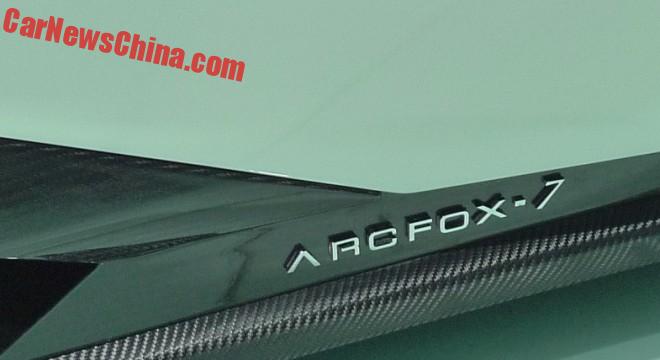 In front of the rear wheel.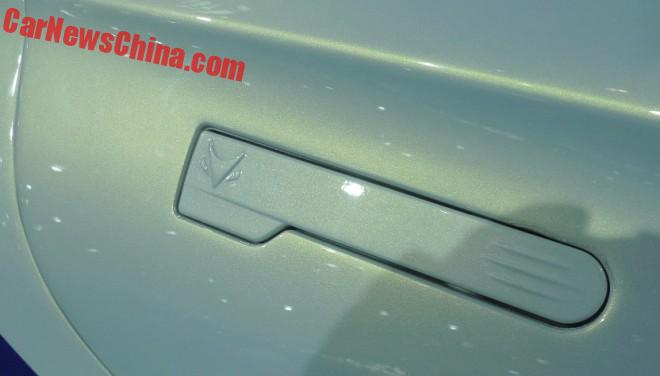 The logo on the door handle. We love this kind of attention to detail, great work there, and it too indicates the project is probably rather serious.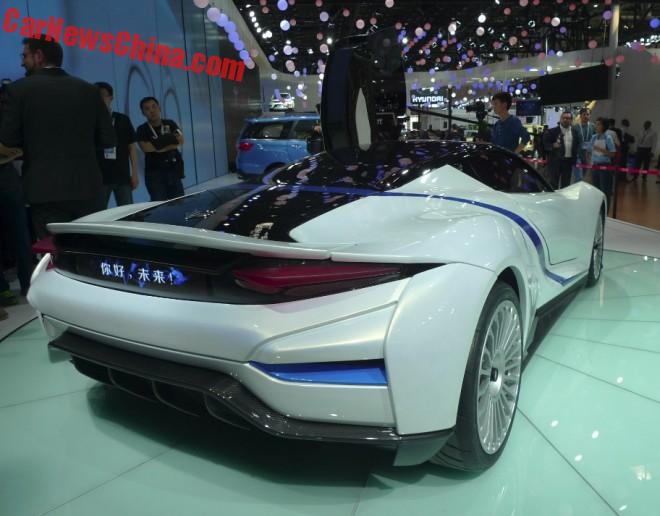 Looking very racy from behind, with a big wing and a diffuser. Screen says 'hello, future' in Chinese.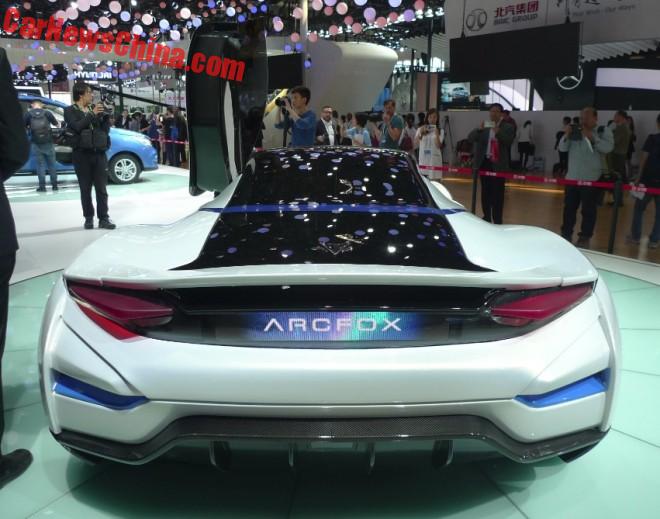 And here it says its brand name. See how the blue strip functions as a border between the window and the rear deck. Rear lights are a work of art.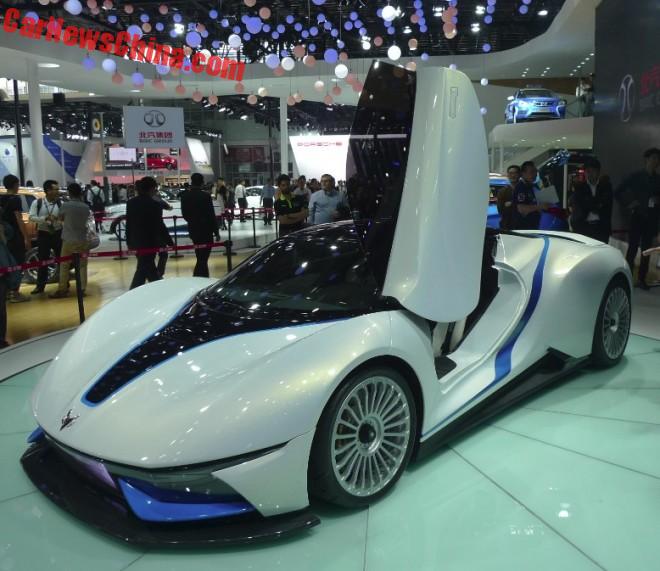 One Campos man can be seen in the background, wearing a polo shirt with a yellow color, and a beard. Let is all hope the ArcFox-7 will make it to the real world, with a big electric motor under that speedy Chinese-Spanish bodywork.