The LeSee LeEco Tesla killer from China had its North American debut in San Francisco last night. It didn't go without a hitch but eventually LeEco managed to get the new LeSee Pro on stage. Th LeSee Pro is an updated version of the LeSee concept that debuted in Beijing in April. The Pro has a slightly more realistic front, new wheels, new side skirts, and a new rear bumper with a diffuser.
The LeSEE has been developed by LeEco.  LeEco is the new name of LeTV, China's largest internet-television company, often compared to .
LeEco is like Alphabet for : a holding incorporating various businesses, such as Le.com, the original internet TV activities, LeMall.com, a web shop with LE-branded electronics, LeCloud cloud computing, LeEco Microcredit internet-finance, and LeAuto, a connected-car system maker.
LeEco also oversees three car-making ventures: Faraday Future in the U.S., an electric version of the Aston Martin Rapide, and this new LeSEE electric sedan. In China, LeEco owns a stake in Beijing Electric Vehicle Corporation (BJEV), an EV maker under the Beijing Auto Industry Corporation (BAIC). The deal with BJEV includes the embedding of LeEco's EcoLink connected-car software in BJEV's cars.
In the future LeEco wants to connect the products of its companies into a digital ecosystem, hence the Eco in LeEco.
For Q1 2016 LeEco reported a 117% increase in revenue and a 20% increase in profit. LeEco is listed on the Shenzhen stock exchange, but trading has been suspended since December 2015. At that moment market capitalization was about $16 billion. Founder and CEO Jia Yueting reportedly lent LeEco billions of dollars, using 70% of his 36.79% share as collateral.
Jia Yueting is the founder, CEO, and largest shareholder of LeEco. He is worth an estimated $4.8 billion. Jia was born in 1973 in Shanxi Province and started his career at a local taxation bureau. In 2002 he moved to Beijing and worked for Bell and Oracle, before founding LeTV in 2004. Jia is often called the "Chinese Steve Jobs" and now also the "Chinese Elon Musk". Jia is known to appreciate the comparison, but that doesn't stop him from criticizing Apple. Jia is married to Chinese movie star Gan Wei.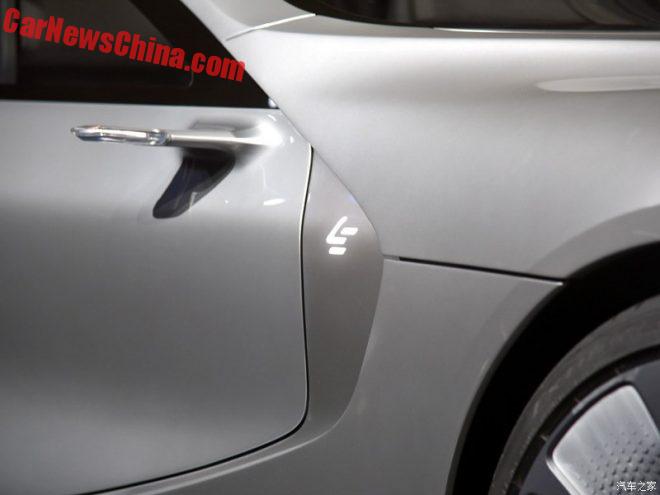 This is new too; an ultracool LeEco logo lightening up on the front fender.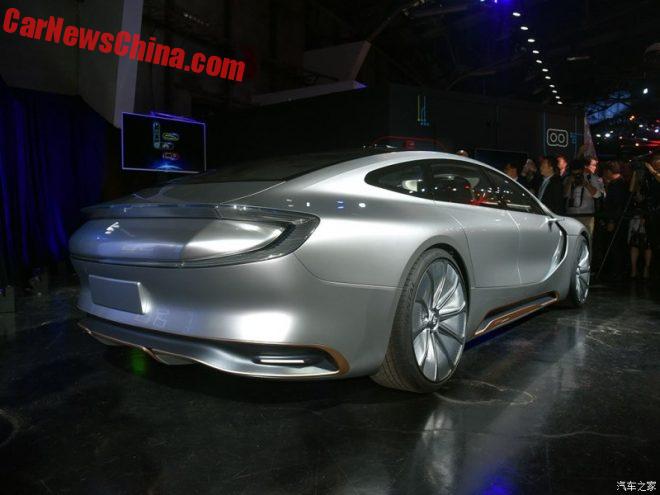 The LeSEE concept car is a four-door sedan-coupe with suicide doors. The original LeSee concept was able to move under its own power and it could be remote-controlled with a smartphone. This was demonstrated during a media event in Beijing in April. U.S. media said the LeSee Pro didn't move or start, which however doesn't necessarily mean it can't.
LeEco says the concept car is fitted with autopilot technology for autonomous driving, with sensors located in a roof-based pod. In autonomous mode the steering wheel folds into the dashboard. This indicates the LeSEE is fully autonomous and not semi-autonomous like the Tesla Model S where the driver still needs to keep his hands close to the wheel.
The eventual LeSEE production car is primarily intended for the Chinese market. It will be manufactured in a brand new factory in Huzhou City. LeEco has said it will have a top speed of 211 km/h, and that it will be cheaper than the Model S, which starts at 730,000 yuan in China ($112,000). LeEco doesn't say when production will start, but has said that the production car has entered the "testing phase".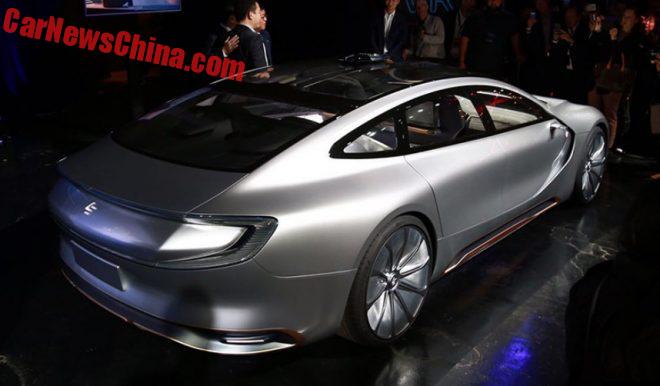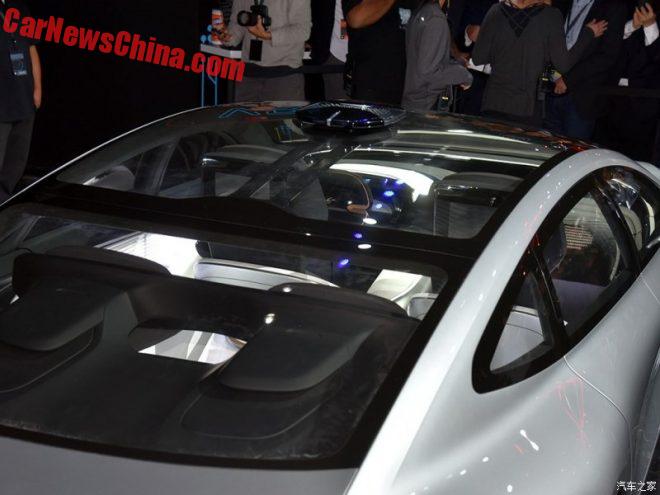 Interior of the LeSee Pro seems the same as in the LeSee.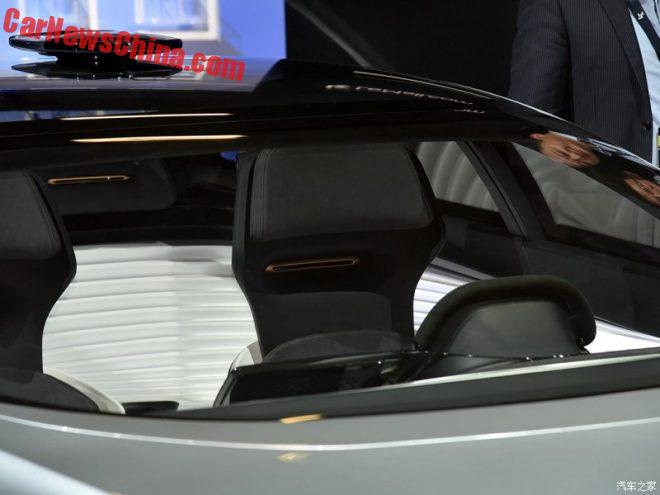 Still no rear bench. Nasty in a four-door car…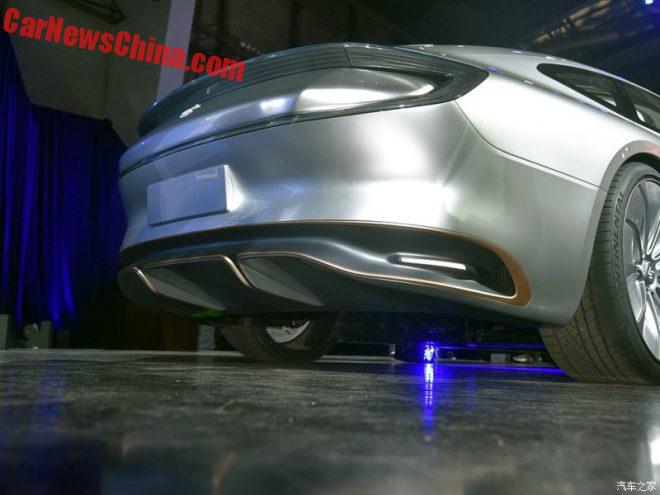 The new diffuser.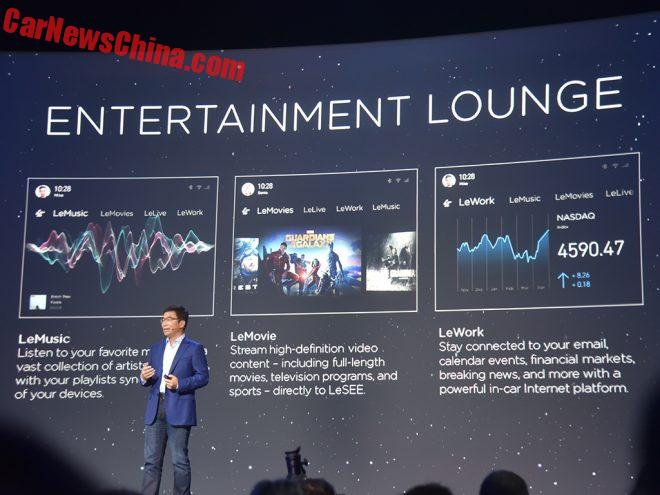 Sadly LeEco didn't say anything new about the power train. Instead they talked a lot about their ecosystem. The production car will be fitted with an "entertainment lounge" which will include LeMusic, LeMovies, and LeWork. Since when is work entertainment?!?! Anyway, all these services will be offered by LeEco via the cloud to make driving in an autonomous car a bit less boring.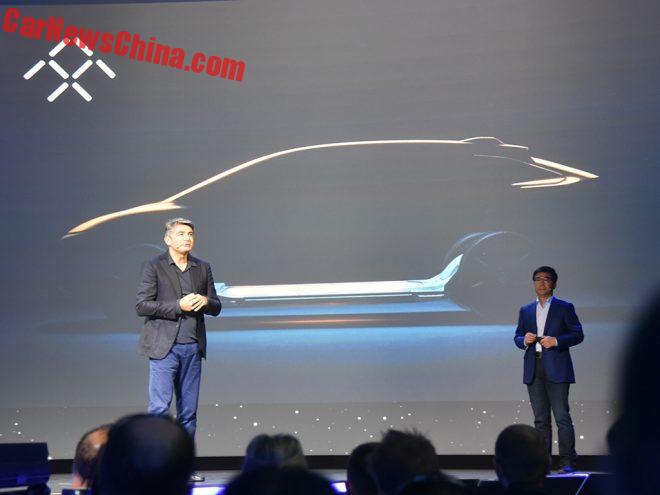 Faraday Future came on stage as well, announcing they would show their first car, an electric SUV that will compete with Tesla Model X, on the 2017 CES in January in Las Vegas. Last year they showed the manic FFZero1 there.
Great to see LeEco is still on track with the LeSee. We expect another updated concept on the Beijing Auto Show next April. Production is set to start sometime late next year. No production date set for Faraday Future yet. One might also wonder: one company has an electric autonomous sedan, the other an electric autonomous SUV. Why not combine them under one brand? We bet that will eventually happen in the future, as for now it seems Jia Yueting isn't boss enough at Faraday to make it happen.