GM China has released a teaser of the Buick Velite concept car that will debut on the Guangzhou Auto Show later this month, with sharp looking lights and a blue-glowing grille. But we are very sure the production version won't get any of that.
It is indeed very odd that Buick bothers with a concept at all because the real thing is ready to go. Buick probably doesn't want the Velite to take away attention from the new GL8, which is one of Buick's biggest moneymakers in China.
And here she is, the production version of the Buick Velite.
The Velite is a variant of the Chevrolet Volt, with a different front and rear. The Velite will be manufactured in China by the Shanghai-GM joint venture.
The plug-in hybrid drive train seems to be exactly the same as in the Volt. The 1.5 liter petrol engine is rated at 99hp and fuel consumption is rated as 0.9 liter per 100 kilometer.
Size: 4579/1811/1494, wheelbase is 2694, and curb weight is 1610 kg.
Volt: 4580/1810/1430, wheelbase is 2690, and curb weight is 1607 kg.
The Chevrolet Volt was sold in China as an import between 2011 and 2014, but it was far too expensive so sales were slow; really slow, like a dozen per year slow. The Velite will be much cheaper but the exact price is yet unknown. It will launch on the Chinese car market sometime in the first half of 2017.
The Velite name was first used on a 2004 roadster concept, and in 2014 there were rumors that Buick was going to use the name for the U.S. version of the Opel Cascada. But that didn't happen, and the Velite went to China instead.
Interestingly, the first time we heard the Volt was going to be a Buick in China was way back in 2010. At the time it was assumed that General Motors was going to rebadge the Opel Ampera as a Buick. The Ampera is the European variant of the Chevrolet Volt.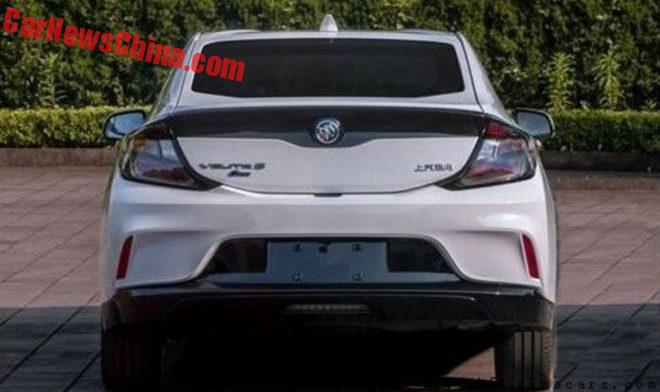 Velite name on the left, Shanghai-GM badge on the right.