Back in August, BYD launched its pure-electric Tang SUV for the European markets. It held a launch event by delivering to its first 100 customers. Now, BYD has reached a milestone point in sales in the European markets. That is, the brand has just shipped its 1000th pure-electric BYD Tang SUV to Norway. BYD is one of the world's leading EV manufacturers. To meet its customer demand, BYD has shipped 450 more units of the pure-electric Tang SUV to the Norway Market. These cars were imported from Guangzhou Port. BYD is planning to deliver 1500 more units of Tang SUV to the Norway market in 2021.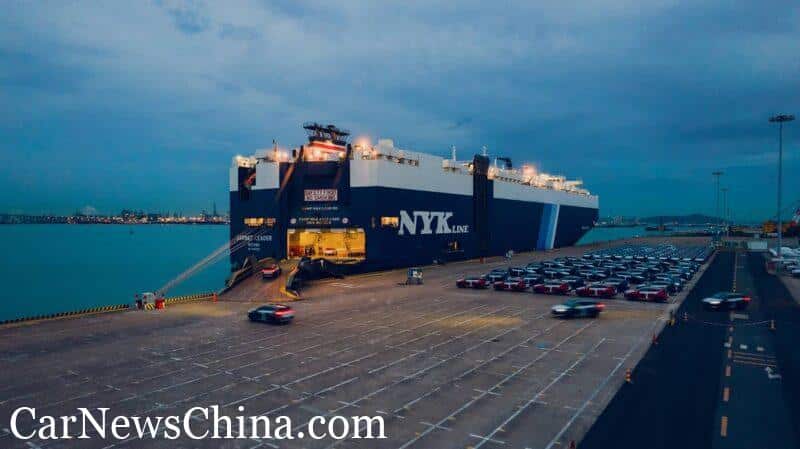 BYD now has more than 43 dealers in various parts of Norway. BYD's largest dealer in Norway, i.e., the RSA, provides sales, aftersales, parts, and service support to BYD Tang SUV customers throughout Norway. The pure-electric all-wheel-drive Tang SUV features class-leading technology, including its 86.4kWh Blade Battery. The brand advertises it as the safest battery. The seven-seater Tang SUV has a range of 528km (WLTP City) and 400km (WLTP combined) with an impressive acceleration of 0-100km/h in under 4.6 seconds.
It also has rapid charging by which one can charge from 30% to 80% battery capacity within 30 minutes using the 110 kW DC charger. In addition, the SUV gets an 8-year / 160,000km extended battery warranty. The BYD Tang comes equipped with an all-wheel drive as standard to provide excellent performance and safety in all weather conditions. The pricing of the pure-electric BYD Tang SUV starts at 599,900 NOK. Apart from the seven seats and cavernous 1,655L interior, the car has a 12.8-inch rotatable touch screen, DIRAC Live function with 12 loudspeakers, 31-colour ambient lighting, premium ventilated leather seats with heating and position memory, and wireless phone charging capability. BYD now has a presence in more than 300 cities and 50 countries. BYD is trying to electrify vehicles with its products.
In related news, recently, Geometry exported more than 2000 Geometry C to the European and Israel markets. NIO has also entered the Norway market by shipping 100 ES8 to Norway. Tencent backed Aiways also exported 2500 EVs to European markets. Xpeng also exports 100 G3 and P7 to the European markets. In short, most of the Chinese EV brands have been contributing to the electric markets outside China.
Source: BYD