The new Cadillac Lyriq EV was seen without any camouflage on the parking lot of the exhibition hall of the 2021 Guangzhou Auto Show in China. The hotly anticipated Cadillac Lyriq will be officially unveiled on a media event later today (17-11) and will have its public debut on the show starting November 19. But we cannot wait that long! So here is the China-spec Cadillac Lyriq out in the open, seen from all sides and inside.
Update: price is 439,700 yuan ($68.930).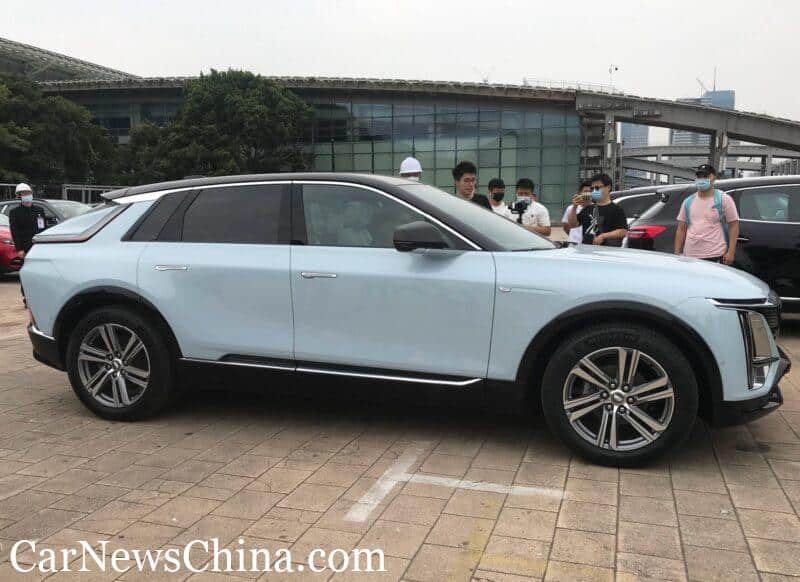 This is the China-spec car, manufactured locally by the SAIC-GM joint venture. Cadillac will also open the order books for the Lyric today with deliveries expected to begin in late Q1 2022. The Cadillac Lyriq is a large full electric crossover. Size: 5003/1978/1635, with a 3094 millimeter wheelbase. Tires are Michelin e-PRIMACY 265/50R20.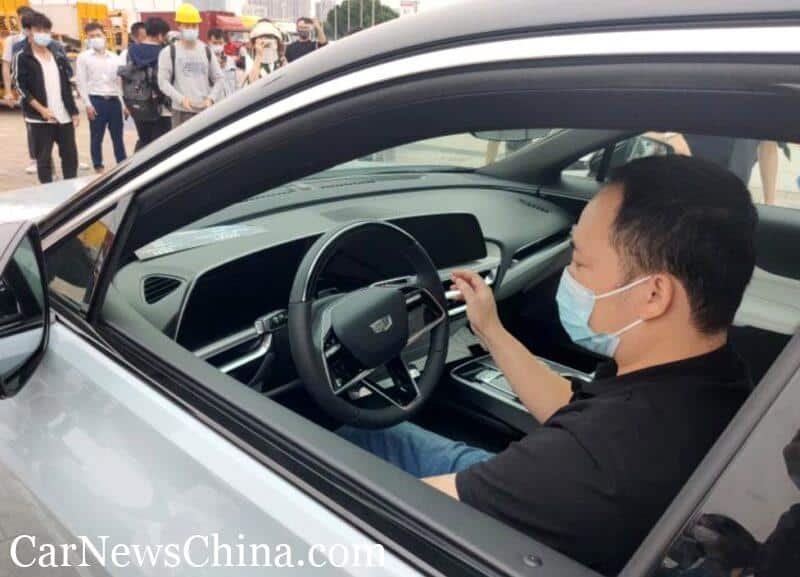 The 'IQ Smart Cockpit' with a 33-inch curved LED screen with a 9K resolution is very eye-catching but it isn't very large compared to the screens in many new high-end Chinese electric cars. The various electronic systems are controlled by a Qualcomm 8155 chip set. The Lyriq is equipped with a 14-speaker sound system with an output of 1400 watt. That'll boom nicely! It also has 5G connectivity and a WiFi hot spot. Finally, it comes standard with GM's Super Cruise and OnStar.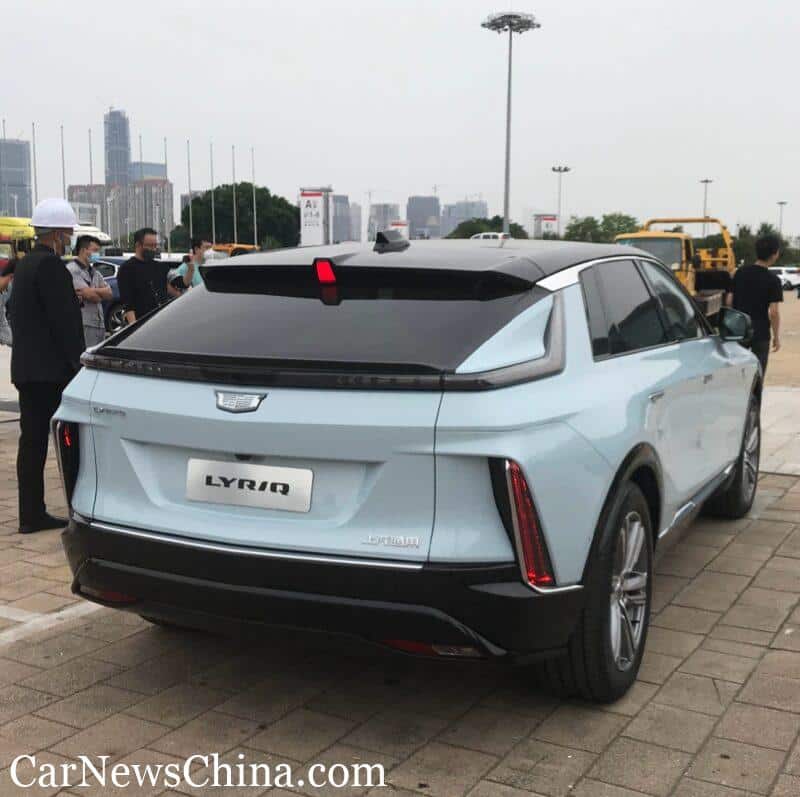 The design of the Cadillac Lyriq is very progressive, especially from the rear. The Lyriq is the new flagship car for Cadillac in China. General Motors claims a range of 650 kilometers CLTC. That refers to a Chinese standard called China Light-duty vehicle Test Cycle. However, this standard is not widely used in China at the moment so it is curious that Cadillac didn't provide the more commonly used NEDC standard.
Power: single motor, rear wheel drive. Output is 346 hp (255 kw), good for a 0-100 in 6.9 seconds and a top speed of 190 kilometers per hour. That's surely fast enough for everyday driving but the numbers aren't as impressive as one may expect from a high-end EV in 2022.
The battery capacity is 95.7kWh and the power consumption per 100 kilometers is 15.6kWh. For charging, Cadillac uses a somewhat odd standard too. On a fast charger, it takes "0.67 hour" to charge from 20 to 80% battery. At home, a full 0-100% charge takes 10.3 hours on 11kW/16A or 15.5 hours on 7.2kW/32A.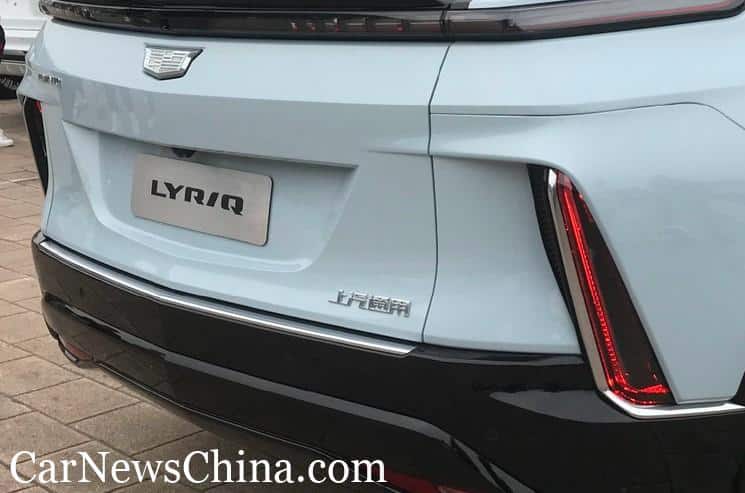 Badge: 上汽通用, short for SAIC-GM.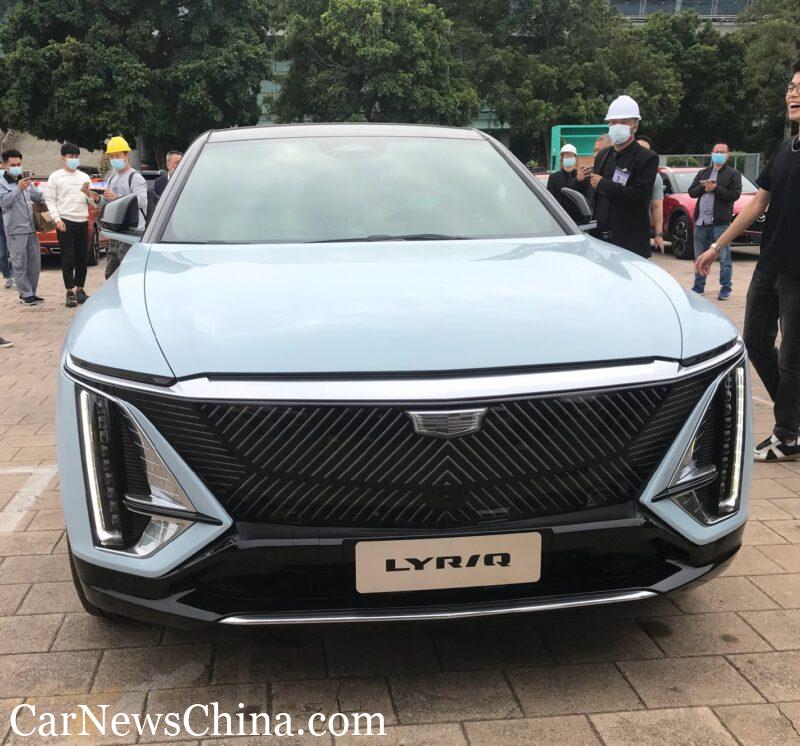 Details about pricing will be announced later today or this week. We will update this story as soon as we get the numbers.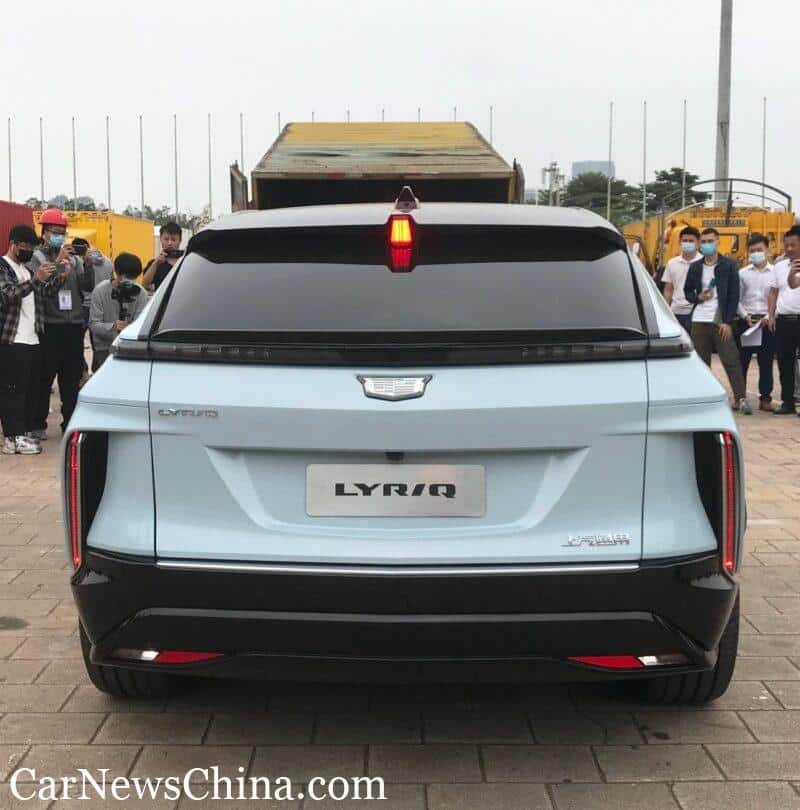 The new SAIC-GM Cadillac Lyriq is a much needed car for General Motors in China, where startups and existing automakers alike are launching ever more powerful and luxurious electric vehicles every day. However, the specs and the interior of the Lyriq are both a bit of a disappointment. Much will therefore depend on pricing.